These Pizza Crescent Rolls are the perfect appetizer or snack. The pizza rolls are so warm and gooey! The flaky crescent roll is buttery and savory.
Whether you are hosting a football tailgating party or need an afternoon snack for kids, these baked pizza rolls will be a big hit! There is nothing better than a flaky, buttery crescent roll.
These pizza stuffed crescent rolls are so good! Baked crescent rolls are stuffed with pizza ingredients, like pepperoni and mozzarella.
They are easy to make and cleanup will be a breeze. If you need something quick to whip up, this is it. It only takes 10 minutes to bake.
This recipe will walk you through how to make the best pizza roll ups that everyone will love. They are truly hard to stop eating! Save some pizza sauce for dipping. Mmmm! I'm even tempted to dip them in this Yum Yum Sauce. Scroll down to the bottom to print this recipe. You will definitely want to keep this pizza roll recipe.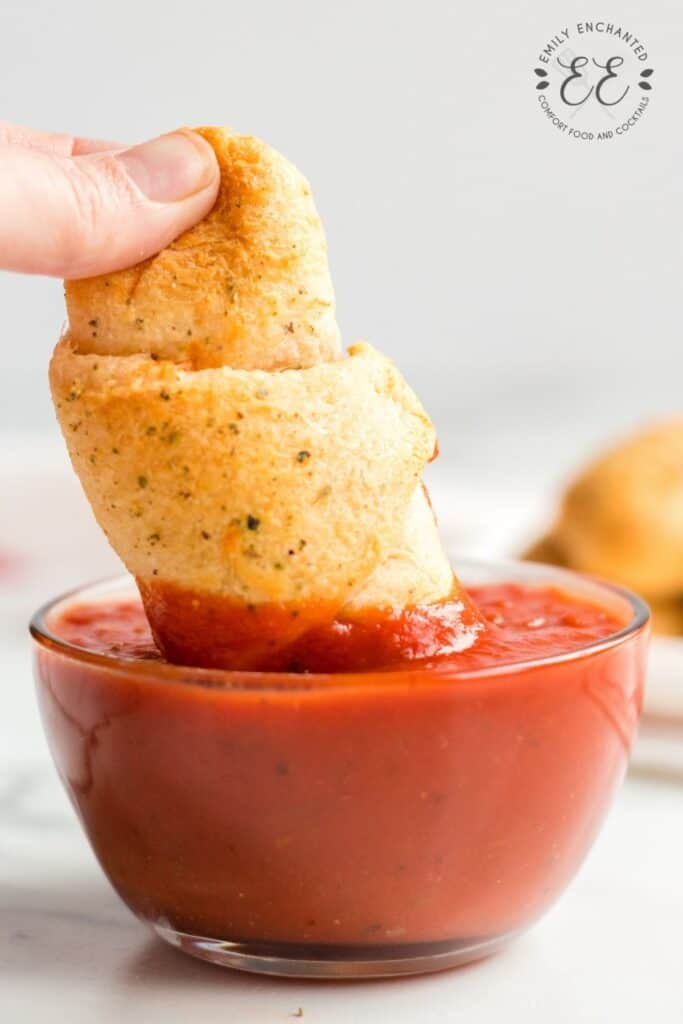 Pizza Crescent Rolls Ingredients
Baked Pepperoni and Cheese Crescent Pizza Rolls are easy to make and have pretty basic ingredients. No need to make a dough for this recipe! Just buy quality crescent rolls from the grocery store.
Crescent rolls
Pepperonis
Mozzarella cheese
Pizza sauce
Butter
Italian Seasoning
Garlic salt
How to Make Pizza Rolls
Baked Pepperoni and Cheese Crescent Pizza Rolls don't take a lot of prep time. You just roll all the ingredients together, spread butter on top, and bake for 10 minutes. Quick and easy!
Preheat oven to 375 degrees. Line a baking pan with parchment paper.
Separate crescent dough into 16 triangles. Starting at the widest part of the triangle place 2 pepperoni, side by side. Top with mozzarella (about 1 tablespoon) and lightly top with pizza sauce, about ½ teaspoon.
Roll the ingredients up in the crescent roll, tucking in the edges and pinching together to seal. Repeat until all crescent rolls are made. Place rolls on baking sheet with parchment paper.
Melt butter in a microwavable bowl and stir in Italian seasoning and garlic salt. Brush melted butter and seasoning on each crescent roll.
Bake 10 minutes at 375 degrees. Warm up the rest of the pizza sauce in a sauce pan on the stove.
Serve warm crescent rolls with pizza sauce for dipping!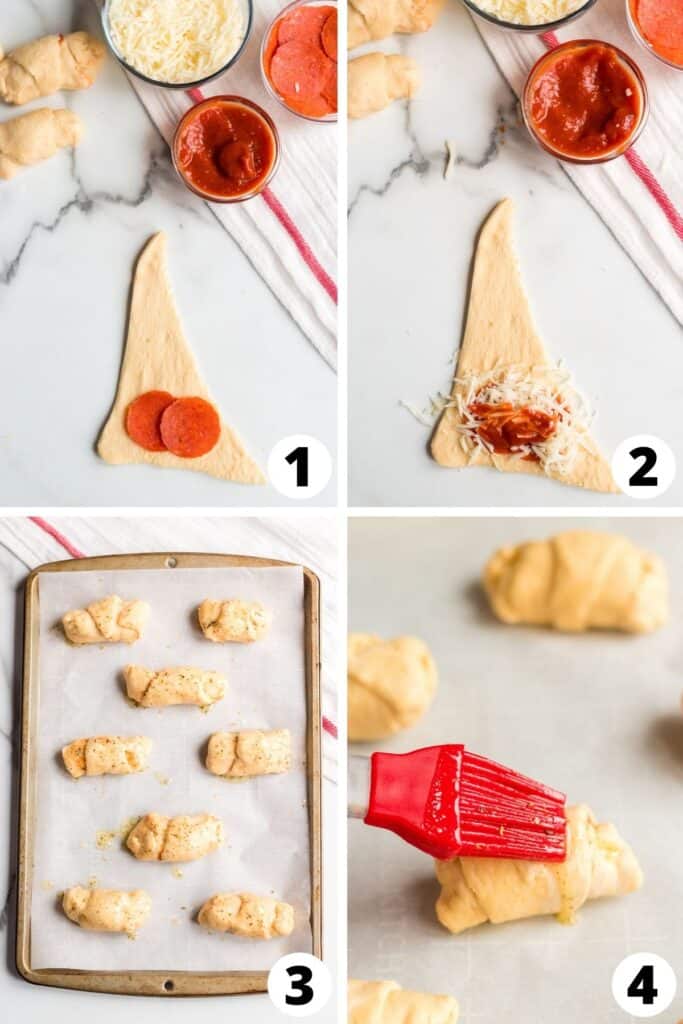 Tips for Pizza Rolls
Don't add too much sauce to the inside of the pizza roll. The sauce gets very hot when baked. You can eliminate it from the filling entirely and just use it for dipping.
Feeling adventurous? Try different combinations of pizza ingredients. You can do a green pepper and onion with cheddar, or sausage and Parmesan pizza rolls.
Using parchment paper ensures that the rolls don't stick to the pan or burn on the bottom. Note that parchment paper is different from wax paper. It makes for easy clean up too!