Air Fryer Jalapeño Poppers are bacon and cream cheese stuffed jalapenos that are fried to perfection in the air fryer.
Finger food appetizers are perfect for football parties. Serve with ranch dressing for dipping.
I love making a spread of appetizers for parties. Some of my favorites are Pizza Dip, Chicken Bacon Ranch Skillet Dip, and Bacon Wrapped Smokies.
Air Fryer Jalapeno Poppers Ingredients
To make cheesy jalapeno poppers, you will need the following ingredients from the grocery store (see the recipe below for exact amounts and instructions):
Cream cheese: I use Philadelphia cream cheese. It spreads and tastes the best.
Lime juice: Lemon juice also works.
Garlic powder
Onion powder
Cayenne pepper
Cheddar cheese: Feel free to switch up the type of cheese that you use. If you would like a spicier jalapeño popper, you can sprinkle on pepper jack cheese. If you would like a milder flavor, use mild cheddar cheese or Parmesan cheese.
Bacon: You can use store bought bacon bits, but I prefer to make my own.
Jalapeños
Cilantro
How to Make Jalapeno Poppers in an Air Fryer
Preheat the air fryer to 370 degrees.
In a bowl, mix the cream cheese, cheddar cheese, ⅓ cup of the bacon bits, lime juice, garlic powder, onion powder, and cayenne pepper. Set aside for now.
Prepare the jalapeños by cutting them in half lengthwise and de-seed them. If you want them to be super spicy just scoop out the seeds and leave the membrane intact. If you want a medium spice, run a paper towel through the center of each jalapeño to remove some of the spice.
Scoop some of the cream cheese filling into each jalapeño. Wash hands thoroughly after finishing.
Fry them in the air fryer for 7 minutes at 370 degrees Fahrenheit. Do not overcrowd the fryer.
Once done, remove and let cool. Top with the rest of the bacon and chopped cilantro (optional). Plate and serve.
Tips for Making Jalapeno Poppers
I highly recommend wearing gloves during this process depending on the strength of your jalapeños. Do not touch your eyes after handling jalapeños!
You can also cut the jalapeños in half to make them shorter and more bite size. I personally like smaller, bite size poppers more.
How Do I Store Jalapeño Poppers?
If you have any of these left, store them in the refrigerator for a few days in an airtight container. To reheat, use the air fryer or the oven. Your jalapeño poppers can also be stored in the freezer for up to three to six months for best quality.
What Are The Best Bacon Bits?
Real bacon, cut up and made into bacon bits, is definitely the best way to go for this recipe. I like to heat the oven to 400 degrees and cook the bacon on a sheet pan with some parchment paper for 18 minutes. About 6-8 pieces of bacon will be best for this recipe.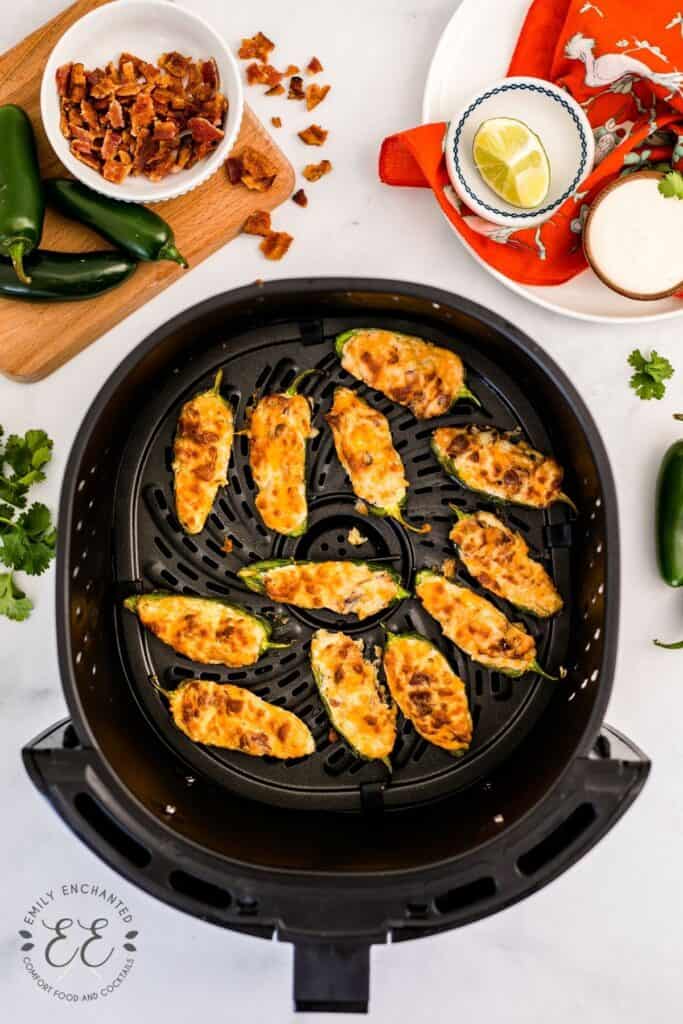 How Do I Handle the Jalapeños Safely?
Wear gloves when handling jalapeños because they will stay on your skin for a very long time after cleaning them off and washing them. Be careful when de-seeding them to make sure you don't squirt juice in your eye or over anything else.
Rinsing open jalapeños will not make them less spicy, and the fumes that come from rinsing the jalapeños can be quite potent. Feel free to rinse your jalapeños before you cut them open.