Creamy and flavorful, Hot Dog Pasta combines seared hot dogs and pasta in a savory sauce. Perfect for a quick and easy weeknight dinner, this dish is sure to satisfy the whole family.
Having a large family, my mom always put hot dogs in the mac and cheese. This classic favorite kid food was an easy hack to make the food go further. And it has simple ingredients you probably already have in your pantry and refrigerator.
Now you can enjoy a grown up version of this nostalgic pasta dish. Sauteed onions, tomato sauce, and three kinds of cheese really amp up the flavor in this mac and cheese with hot dogs. Kids and adults alike will love this recipe!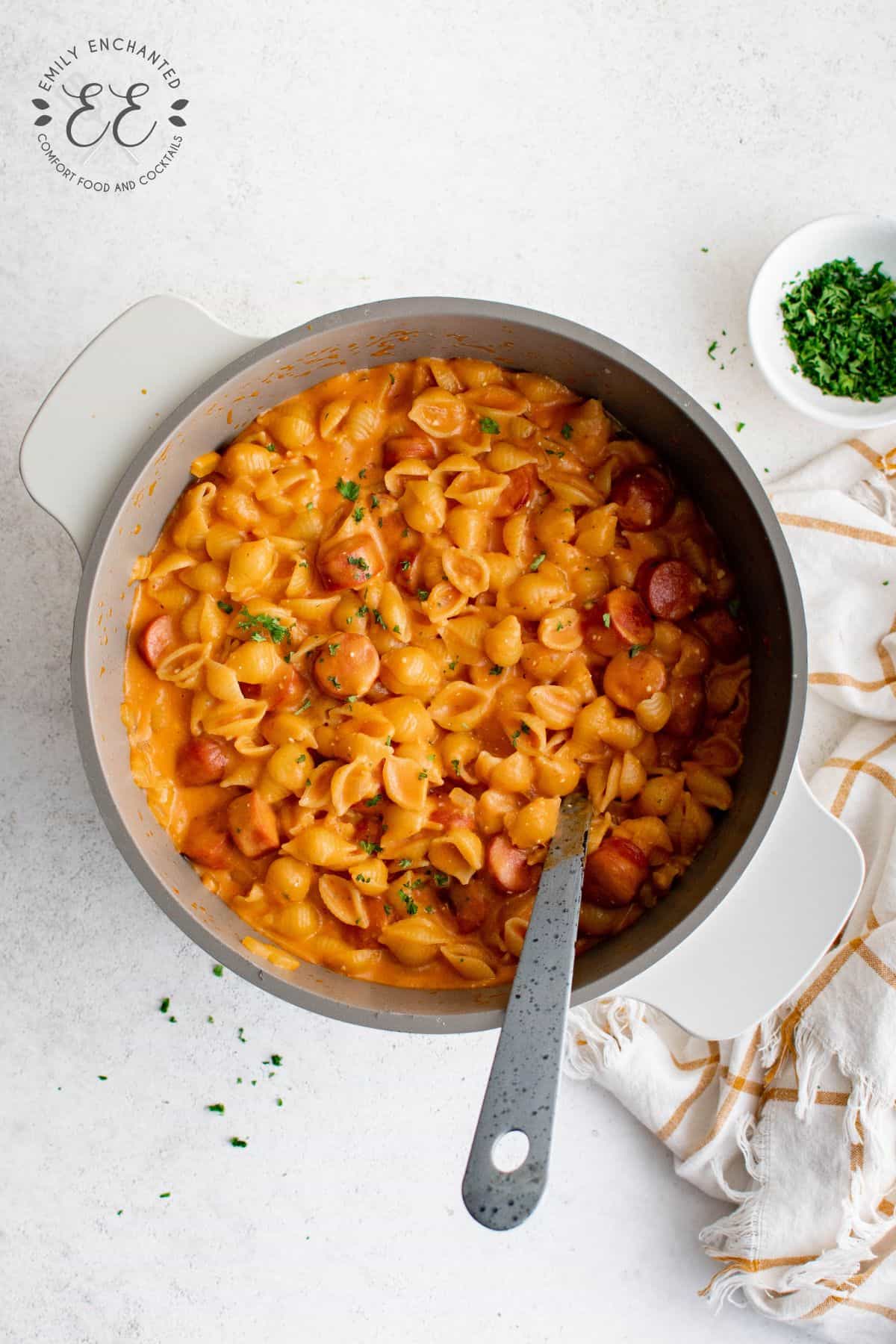 Hot Dog Pasta Ingredients
To make this hot dog pasta recipe, you will need the following ingredients (see the recipe card at the bottom of this post for exact amounts):
Macaroni pasta: elbow or shell noodles work great for this recipe as they trap the sauce, making sure you get the perfect bite every time.
Hot dogs: try making hot dogs in the air fryer.
Butter
White onion
Garlic
All-purpose flour
Salt
Milk: I used whole milk. You may even use heavy cream.
Tomato sauce: this adds a really nice savory layer to this recipe.
Cheddar cheese
Mozzarella
Cream cheese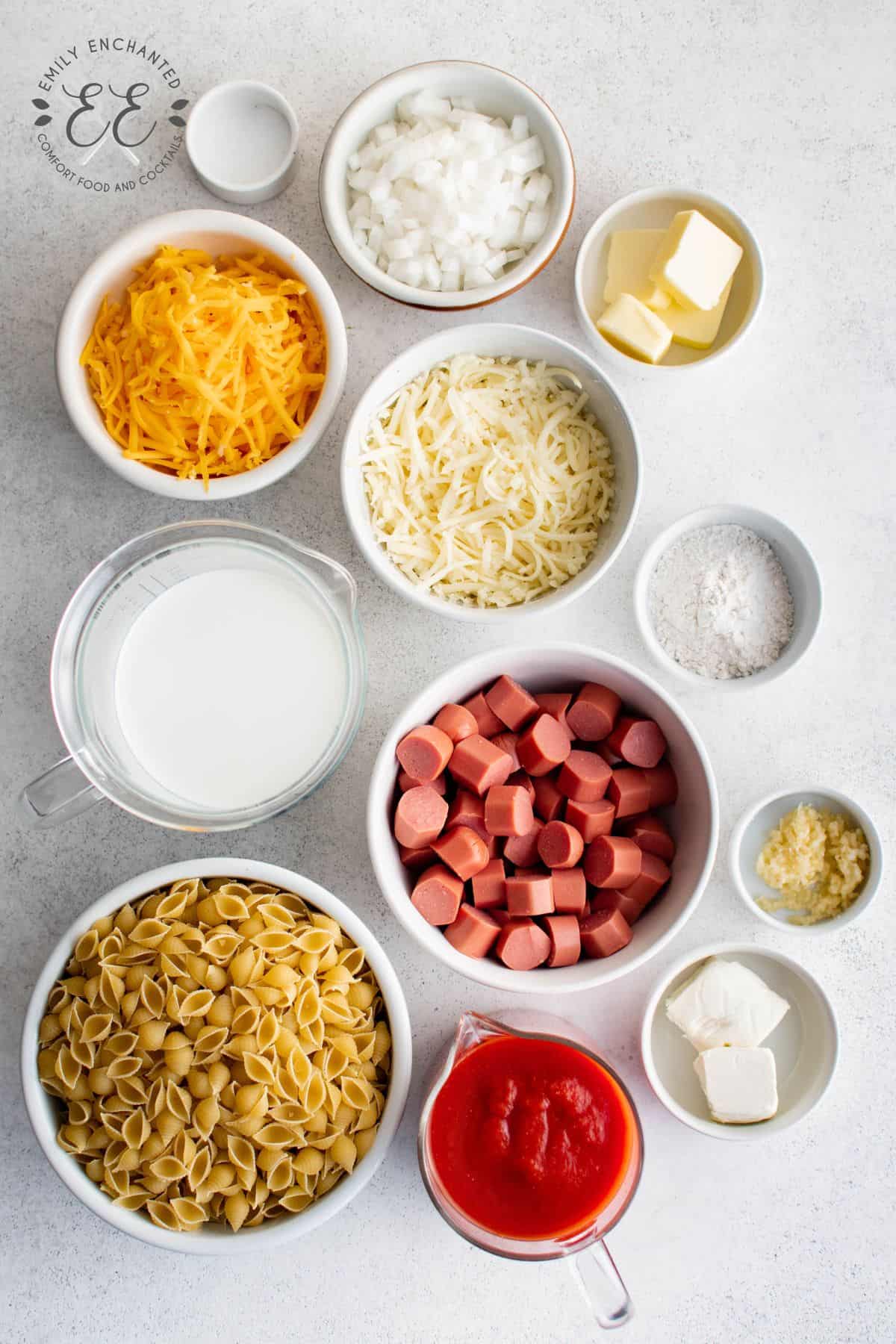 How to Make Pasta with Hot Dogs
Bring a large pot of salted water to a boil, cook the macaroni according to the package instructions until al dente then drain and set aside.
In the meantime, heat a separate large pot over medium heat and cook the hotdogs for 3-5 minutes or until the fat starts to render and they start to crisp up and brown.
Remove the hot dogs from the pot using a slotted spoon to reserve as much of the fat as possible then set aside.
Melt the butter in the same pot, add the diced onion and cook until translucent, about 3 minutes.
Add the minced garlic and cook for 30 seconds or until it becomes fragrant.
Stir in the flour and salt, and cook for 2 minutes, stirring constantly.
Gradually pour in the milk, whisking continuously until the mixture thickens and starts to simmer, about 5 minutes.
Stir in the tomato sauce and cook for 5 minutes, until the sauce starts to simmer.
Fold in the cheddar cheese, mozzarella and cream cheese and mix until well combined.
Add the hot dogs and the pasta to the sauce and stir to combine.
Garish with freshly chopped parsley if desired.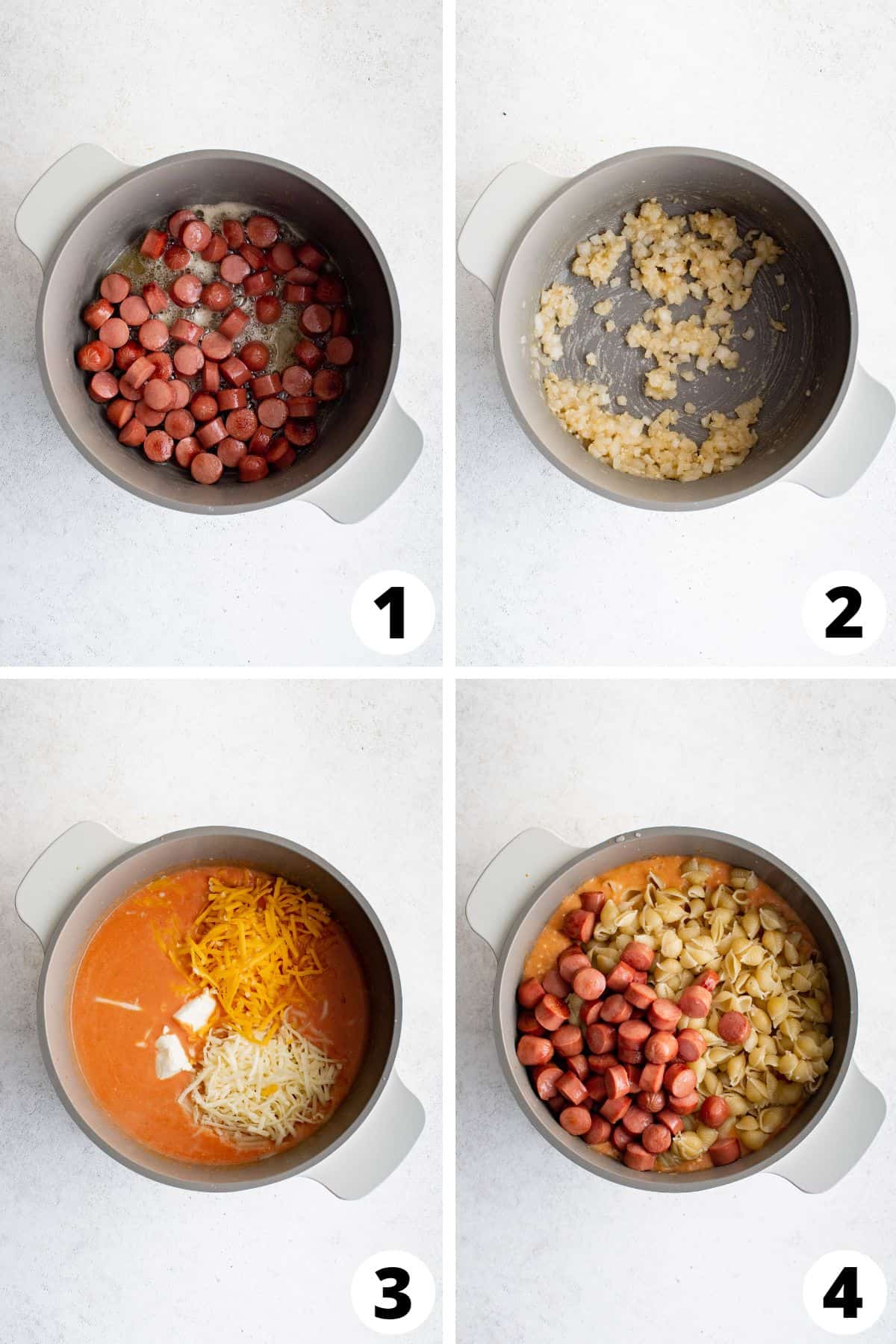 Storage Instructions
This hot dog pasta can be stored in an airtight container in the fridge for up to 3 days.
More Mouthwatering Mac and Cheese Recipes