Air Fryer Pigs in a Blanket are super easy to make with just 2 ingredients. Mini hot dogs are wrapped in a crescent roll and air fried to perfection.
These bite sized pockets of goodness are so irresistible! Perfect as a game day appetizer, everyone will love dunking these wrapped lil smokies in their favorite sauce.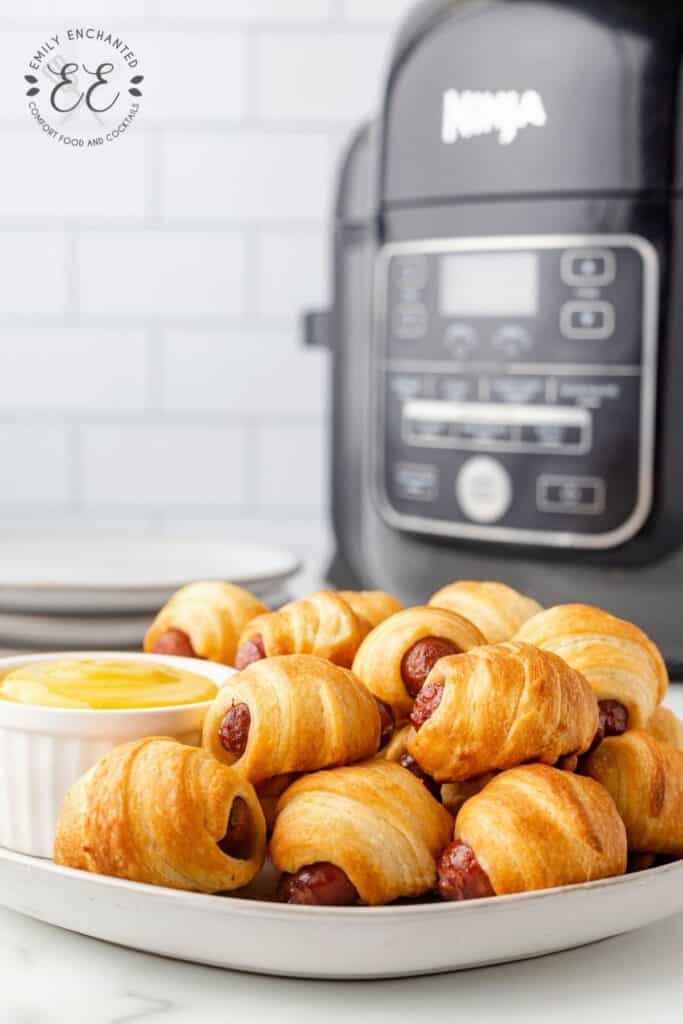 Air Fryer Pigs in a Blanket Ingredients
To make air fried pigs in a blanket, you will need the following ingredients (see the recipe card below for exact amounts):
Crescent rolls
Mini cocktail weiners: I use the Lil Smokies
How to Make Pigs in a Blanket in an Air Fryer
Open your can of rolls and separate the rolls along the dotted lines. Cut the rolls in thirds lengthwise with a sharp knife or pizza cutter.
Wrap each weiner with a strip of the dough.
Place as many of the weiners into the air fryer's basket, making sure they don't touch. Turn the air fryer on to 350°F for 3 minutes. Flip the weniers over and set for an additional 3-4 minutes until they are golden brown.
Remove them from the basket and repeat with the remaining weiners.
FAQs
What air fryer do you use?
I used the Ninja Foodi, but you can use whatever air fryer you have. Just be aware some of your settings may be different.
What are some sauces I can serve with Pigs in a Blanket?
You can think of what you might serve with a classic hot dog. Of course, you can't go wrong with ketchup. Some out the box dips would be ranch, cheese sauce, bbq sauce, or a mix of relish and mustard.
Can I use other flavors of the little Smokies?
Yes, I've made these with the turkey little Smokies and the classic beef little Smokies; another great option is to use the little cheddar Smokies for an extra burst of flavor.
Can I make these with an average size hotdog?
Of course, you can. Instead of cutting the crescent roll into thirds, leave it whole and wrap the entire hotdog. Keep an eye on it. You might need to add another minute or two to the cooking time.