This easy Strawberry Fudge recipe is chewy, gooey, and oh so decadent. Add sprinkles on top and this pink fudge is perfect for Valentine's Day.
If you prefer hard fudge, try my Circus Animal Fudge recipe.
Strawberry Fudge Ingredients
To make this soft fudge recipe, you will need the following ingredients from the grocery store (see the recipe below for exact amounts and instructions):
Marshmallow crème
Red food coloring
Strawberry puree
White chocolate chips: you can also use white candy melts.
Salted butter
Red and pink sprinkles
Tools Needed to Make Fudge
Candy Thermometer – When making candy, it is very important to make sure that the candy has reached the correct temperature. This candy thermometer clips right to your pot.
Microwave Safe Bowls – This ceramic mixing bowl set is microwaveable, perfect for melting chocolate in the microwave.
Baking Pan – 8 x 8 square pans or 6 x 9 rectangular pans are both acceptable sizes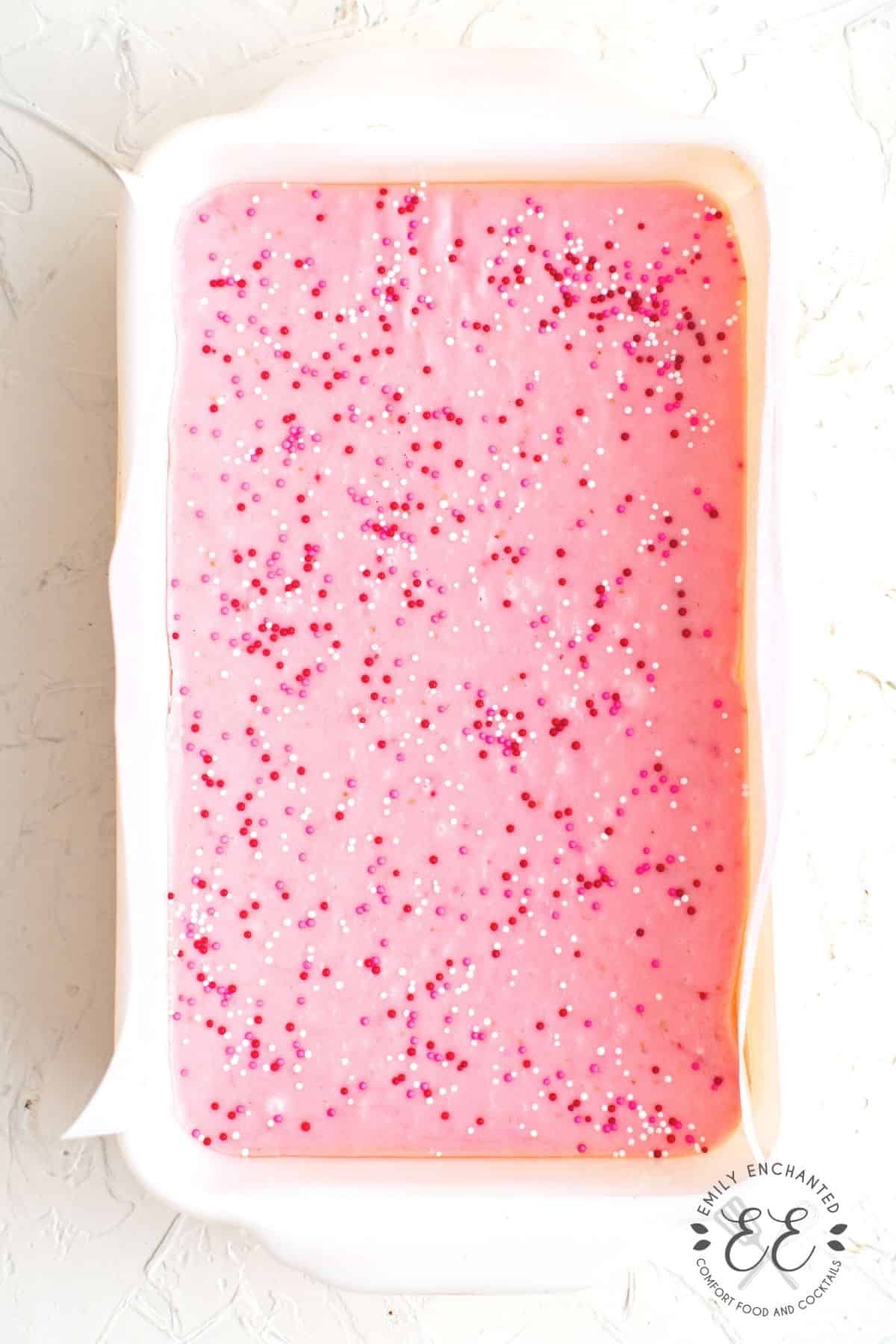 How to Make Pink Strawberry Fudge
This delicious strawberry fudge recipe is not too difficult, just follow these steps.
Melt the marshmallow fluff in the microwave for 15 seconds, then add it and the red food coloring (if using) to the strawberry puree and stir to combine.
Melt the white chocolate chips in the microwave for 30 seconds, stir and microwave again for another 30 seconds and stir again. Repeat this process until it is fairly smooth.
Melt the butter in a separate bowl in the microwave or in a saucepan over medium heat until it reaches around 235-240 degrees Fahrenheit.
Pour the butter and the strawberry marshmallow mixture over the melted white chocolate. Stir and let the mixture sit for five more minutes to allow the chocolate to fully melt.
Stir the fudge mixture until well combined then check that the temperature of the fudge has reached 235 degrees Fahrenheit with a candy thermometer. If it hasn't, heat it in the microwave for 20 seconds, stir and check again. Repeat this process until the chocolate reaches 235 degrees Fahrenheit.
Line an 8×8 or 6×9 baking pan with parchment paper and spray with non-stick butter spray. Here is a great video to watch on how to line a pan with parchment paper.
Pour the fudge into the prepared baking dish and sprinkle on the sprinkles.
Refrigerate for 3-4 hours or until set. Slice and serve immediately.
What If My Fudge Doesn't Set Properly?
If your fudge does not set properly, simply add the fudge to a saucepan over low medium heat and stir until the chocolate has melted down a bit, then add 2 tablespoons of heavy cream to the pan, stir and heat again until it reaches around 235-240 degrees Fahrenheit. Add it back to the cooling pan and let it set up in the fridge.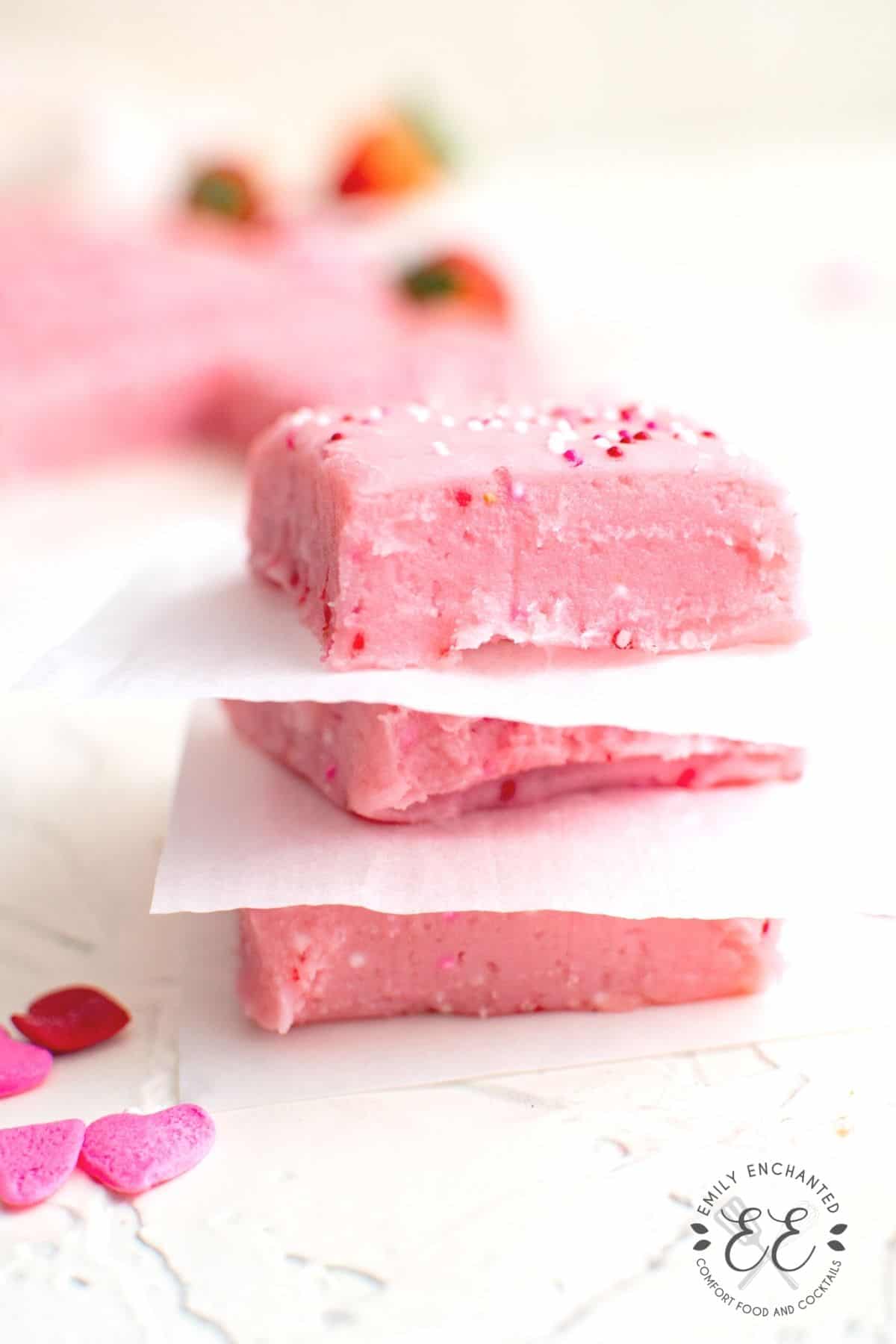 Storage Instructions
Store this fudge in an airtight container for up to 2 weeks.