Air Fryer Mac and Cheese Balls are little bites of crispy and cheesy goodness that you won't be able to stop popping in your mouth.
Mac and cheese balls are a perfect appetizer for game day or an after school snack for the kids. They are fun to dunk in ranch dressing or your favorite sauce.
Air frying is a healthier way to to fry foods. You still get the crunch without all the oil.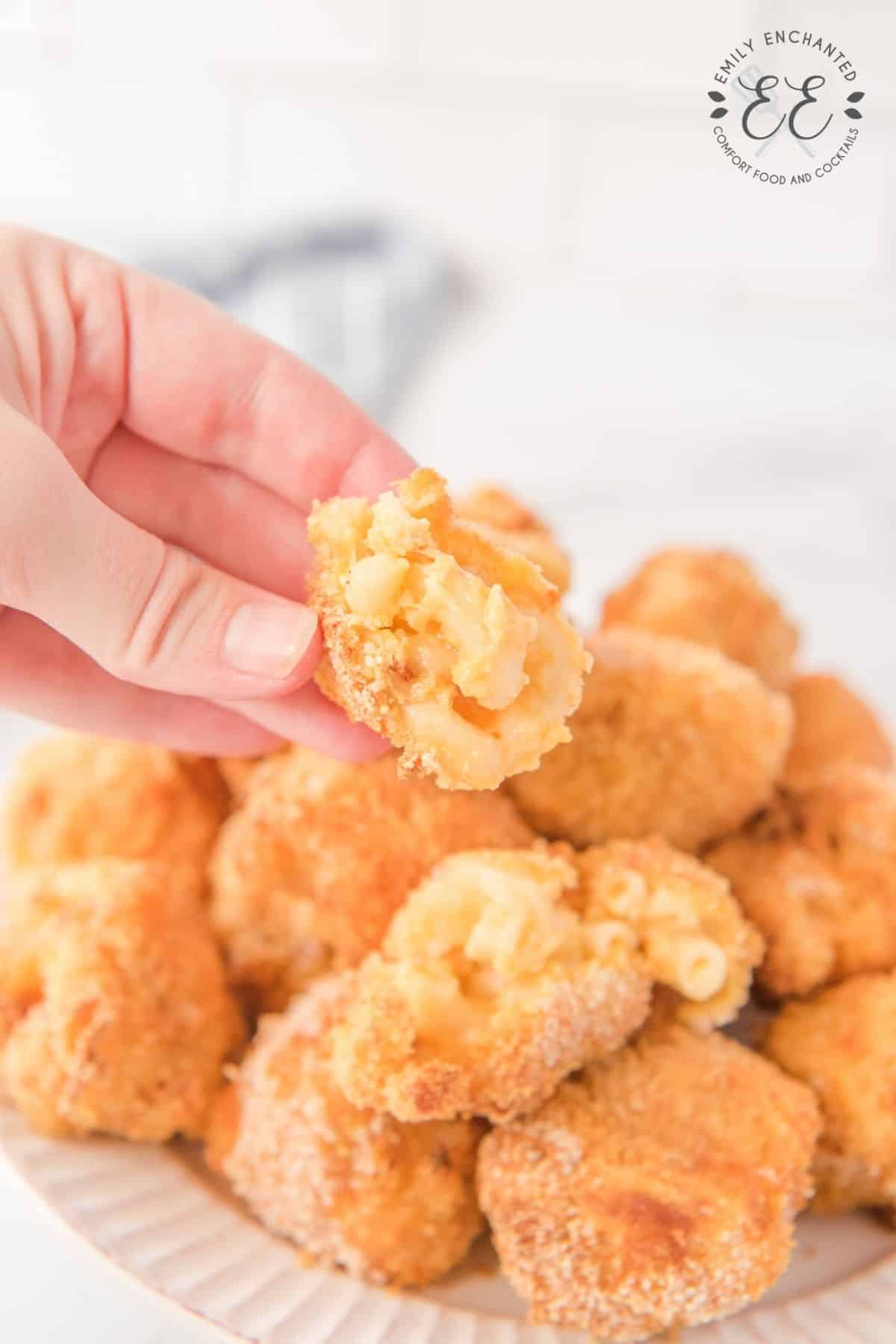 Air Fryer Mac and Cheese Balls Ingredients
To make this mac and cheese appetizer, you will need the following ingredients (keep scrolling to the recipe card for exact amounts):
Macaroni and cheese: You can use homemade baked mac and cheese or boxed macaroni and cheese. Remember to get all the ingredients listed on the box needed to make the mac and cheese.
Eggs
Milk
Bread crumbs
Salt
Paprika
Garlic powder
How to Make Macaroni and Cheese Balls in an Air Fryer
Begin by taking a handful of your leftover mac and cheese and squeezing into about a 2 tablespoon ball. Do this until you run out of mac and cheese. Set aside.
Beat the eggs into a bowl. Whisk in your milk. Set aside.
In a separate bowl or on a plate, mix together your bread crumbs and seasonings.
Grad a ball of mac and cheese, place in the egg & milk mixture until fully coated. Then roll around in the breadcrumb mixture until fully coated. Place on a sheet of parchment paper. Repeat this for each ball.
Once all of your balls are coated in both your egg mixture and the breadcrumbs, place in the freezer for 30 minutes.
Remove from the freezer and place in the air fryer. Make sure the balls do not touch.
Cook each round of mac and cheese bites on 360 degrees for 8-10 minutes or until golden brown.
When the timer is up, remove from the air fryer and serve immediately.
Tips for Mac and Cheese Bites
Make sure your balls are not dripping with the egg wash before placing them in the breadcrumbs.
Use a variation of flavored or spiced bread crumbs to give this dish more of a kick.
These bites dip really well with Ranch.
More Air Fryer Appetizers