Snickerdoodle Hot Chocolate tastes just like your favorite Christmas cookie! White sugar, white chocolate chips and cinnamon take your hot cocoa to the next level.
This delicious Snickerdoodle Hot Chocolate will leave you unable to drink any other type of hot chocolate with satisfaction.
Snickerdoodles are sugar cookies that have been rolled and dipped into a mixture of white sugar and cinnamon. This hot chocolate has that base of white sugar with the granulated white sugar and white chocolate chips. Add the cinnamon, and voila! Beautiful hot chocolate, reminiscent of the delicious snickerdoodles.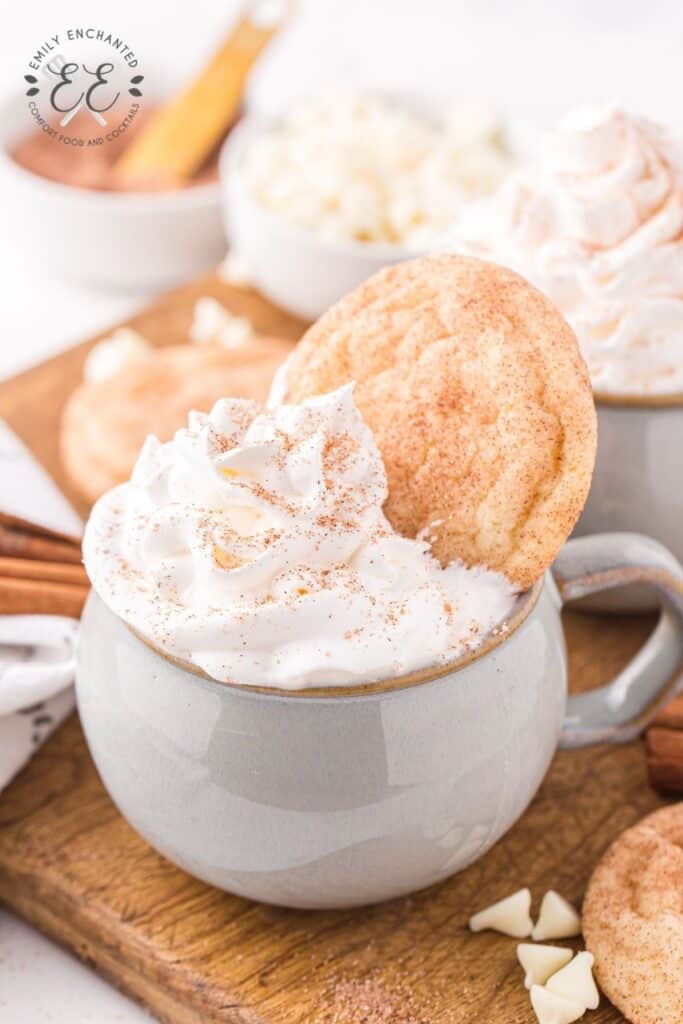 This post contains affiliate links.
Snickerdoodle Hot Chocolate Ingredients
To make cinnamon sugar hot chocolate, you will need the following ingredients (see the recipe card below for exact amounts and directions):
Half and half: Feel free to use another type of milk such as, whole milk, 2%, soy, almond, oat, coconut, or rice milk.
Heavy cream: Replace with more half and half or milk.
Sweet cream creamer: You will find this creamer amongst other coffee creamers in the dairy aisle. Feel free to experiment with different creamer flavors.
White chocolate: If you prefer, you can use white baking chocolate or almond bark.
Cinnamon: For more cinnamon flavor, add a cinnamon stick to the milk as it is heating up.
Granulated white sugar: Switch this out for brown sugar or another type of sweetener if you prefer.
Whipped topping: You can make homemade whipped cream with cold heavy cream and powdered sugar.
How to Make Snickerdoodle Hot Chocolate
Heat up the half and half, heavy cream, sweet cream creamer, and white chocolate chips in a saucepan over low heat. Stir continuously and cook until the chocolate melts, about 2-3 minutes. Add in 1 teaspoon of divided cinnamon and stir. Keep on low heat and let it simmer for 3-4 more minutes or until it is heated all the way through. Do not heat it to a boil or you may scald the milk.
Pour into mugs and set aside.
Make cinnamon sugar by adding the remaining teaspoon of divided cinnamon into a small bowl with the granulated white sugar. Stir until combined.
Top the mugs with whipped topping and cinnamon sugar, optional. Let cool to your preferred temperature and enjoy!
Storage Instructions
Due to the nature of hot chocolate, it's best if you drink it right away. However, just in case you can't, place any extra hot chocolate in the refrigerator for up to 3-4 days. Reheat on the stove or in the microwave when ready. Make sure to stir the hot chocolate since its ingredients will have separated.
What Mugs Should I Use for Hot Chocolate?
For me, a good cup of hot cocoa is only as good as the mug it is in. The mug is part of the experience! Here are some of my favorite hot chocolate mugs.

More Amazing Hot Chocolate Recipes