Unicorn Hot Chocolate is a white chocolate drink with unicorn colors, fun sprinkles, and a lollipop that looks like a unicorn horn.
This post contains affiliate links.
Unicorn Hot Chocolate Ingredients
To make this magical hot chocolate recipe, you will need the following ingredients (see the recipe card below for exact amounts):
How to Make Pink Hot Chocolate
The key to dyeing hot chocolate is to make it from scratch with white chocolate. If you use regular chocolate, the dye will not mix well with the brown color.
Step 1. Rim the Glass
Line rims of mugs with tubed frosting. Pour a small amount of the colored granulated sugar onto a flat plate. Turn the mug upside down and lightly press the frosting-covered rims into the granulated sugar. Do not press too hard. When pressing the frosting-covered rims into the granulated sugar, use a feather-light touch! If pressed down too hard, it will smush.
Step 2. Make the hot chocolate
In a small saucepan, heat the whole milk, heavy cream, white chocolate chips, and vanilla extract on a medium-low setting. Whisk continuously, making sure that the chocolate melts but does not burn.Add pink food dye until desired color is achieved. Remove from heat.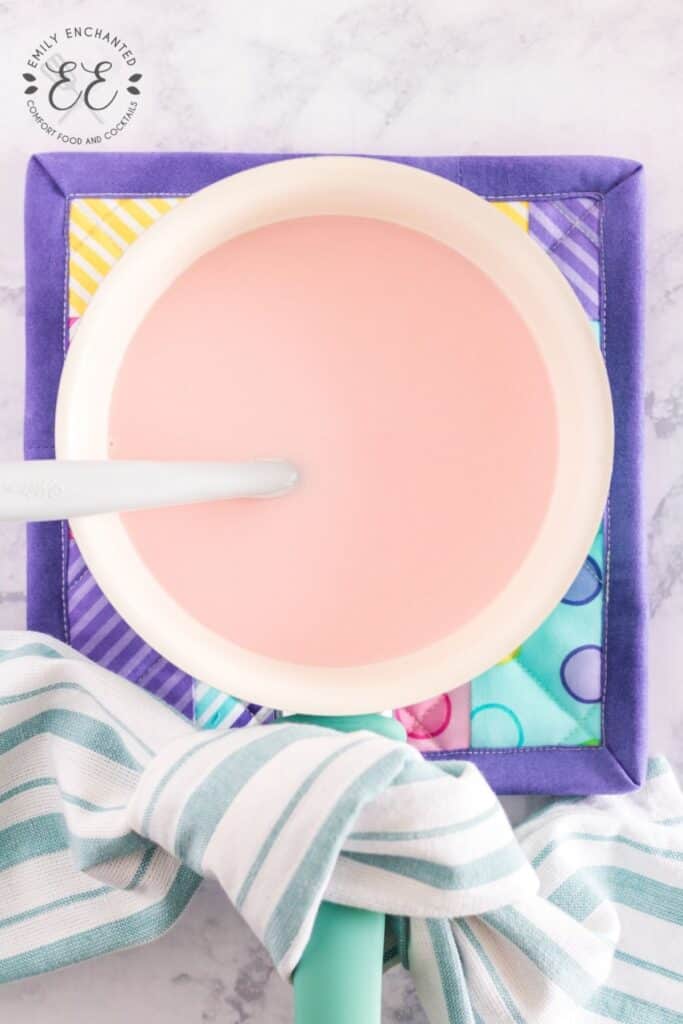 Step 3. Assemble the unicorn drink
Pour the hot chocolate into the mugs and top with whipped cream, sprinkles, candies, and a large lollipop. You can even drizzle a little more of the purple icing on top.
Other Fun Hot Chocolate Recipes
Red Velvet Hot Chocolate – this red hot chocolate is perfect for Valentine's Day.
Mexican Hot Chocolate – sweet and spicy doesn't just apply to food. You must try this delicious drink.
Hazelnut White Hot Chocolate – a fun twist on a classic drink.