If you like sweet and spicy, you will love this Mexican Hot Chocolate recipe. This made from scratch hot chocolate drink will make you never want to buy pre-packaged mix again.
This recipe takes your traditional hot cocoa and adds a little heat of another kind – chili powder.
This Christmas drink combines quality ingredients – milk, heavy cream, chocolate, and spices – to create a delicious hot beverage that will warm you inside and out. This will be your new favorite hot drink recipe!
Mexican Hot Chocolate Ingredients
To make this spicy hot chocolate recipe, you will need the following ingredients (go to the recipe below for exact quantities and instructions):
milk
semi-sweet chocolate bar
heavy whipping cream
ground cinnamon
ground nutmeg
ground chili powder: For even more spice, add cayenne pepper.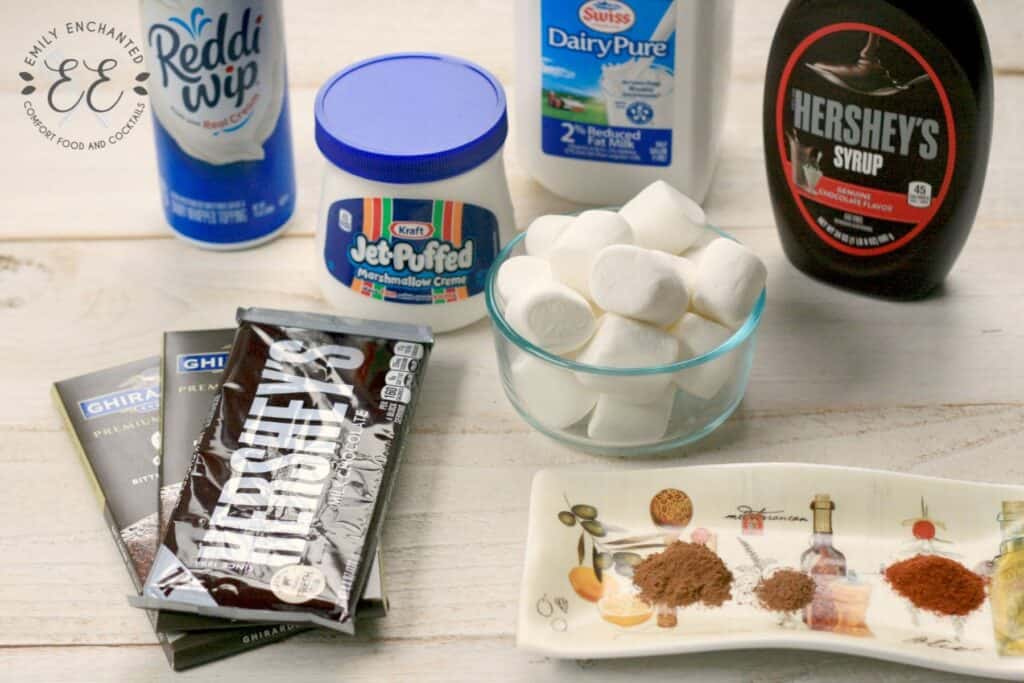 How to Make Mexican Hot Chocolate
This recipe does require a little patience. But it is well worth the wait and effort!
Melt chocolate in the milk. Break the chocolate bar into large chunks. Combine milk and chocolate in a sauce pan over medium low heat. Stir continuously. This is a slow process and cannot be rushed or the chocolate will seize up.
Add rest of ingredients. Once chocolate is fully melted, increase heat to medium and add whipping cream, cinnamon, nutmeg and chili powder. Simmer for 5 minutes or until desired thickness is achieved.
Pour and serve. Pour into mugs and leave room for toppings! Add toppings of your choice. My personal favorite is whipped cream and nutmeg. You can even make these Marshmallow Pops to use as stir sticks.
You can add more or less of each ingredient to your liking. Everyone's taste and preference is different, so perfect this recipe and make it your own!
FAQs
Is this Drink Spicy?
The heat can vary depending on the brand, type of chili peppers used, and other ingredients. Chili powder is a great way to add spice and flavor to any recipe. In this drink, the chili adds a ton of flavor without too much heat.
Can I Make this Recipe More Chocolatey?
If you are a chocoholic and want even more chocolate flavor, try adding some cocoa powder.
Best Hot Chocolate Toppings
One of my favorite winter things to do is to create a hot chocolate bar with all the fixings. I love to pick and choose different fun things to add. Here are some great ideas to get you started:
Whipped Cream
Milk Chocolate, shaved
Cinnamon Sticks
Nutmeg
Marshmallows
Chocolate Syrup
Marshmallow Cream
More Delicious Hot Cocoa Recipes