Cranberry Jalapeno Dip is a delicious holiday cream cheese appetizer perfect for serving at your Christmas party. The sweet and spicy flavors pair perfectly in this festive recipe.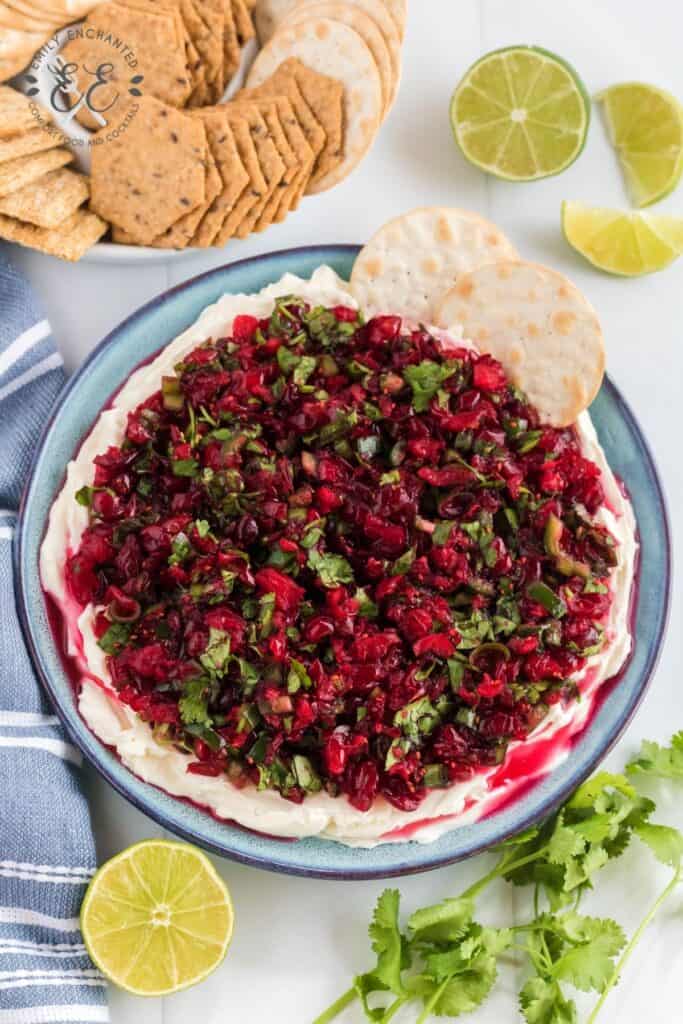 Cranberry Jalapeno Dip Ingredients
To make Christmas appetizer dip, you will need the following ingredients (see the recipe card below for exact amounts and directions):
cranberries
green onions
jalapenos
cilantro
sugar
lime juice
cumin
salt
cream cheese
crackers
How to Make Cranberry Jalapeno Cream Cheese Dip
Add the cranberries to a food processor. Lightly pulse the cranberries until they look roughly chopped. You do not want them to be too smooth or blended.
Finely chop the green onions, jalapenos, and cilantro.
In a large bowl, combine the cranberries, green onions, cilantro, sugar, lime juice, cumin, and salt. Gently stir.
Spread the cream cheese onto a plate in a ½-1 inch thick layer.
Spread the cranberry jalapeno mixture on top of the cream cheese.
Serve chilled with your choice of crackers.
More Delicious Holiday Dips
Hot Crab Dip
Red Velvet Cake Dip
Christmas Tree Pull Apart Bread
Christmas Booty Dip
Pecan Cranberry Cheese Ball Bites