Sweet and Spicy Oven Roasted Pecans are the perfect snack. They are delicious, filling, and healthy for you!
I don't like the dryness of nuts, so I like to add a little something to them. This recipe is perfect if you agree with me. This is super quick recipe and is very easy.
This snack is very popular in fall and around Christmas time. The aroma that fills the house is simply amazing!
Roasted Pecans are great for giving as a gift to teachers, neighbors, and friends! You can also serve at parties in bowls or on a charcuterie board.
This post contains affiliate links.
Roasted Pecans Ingredients
To make this toasted pecans recipe, you will need the following ingredients (see the recipe card below for exact amounts):
salt
unsalted butter
light brown sugar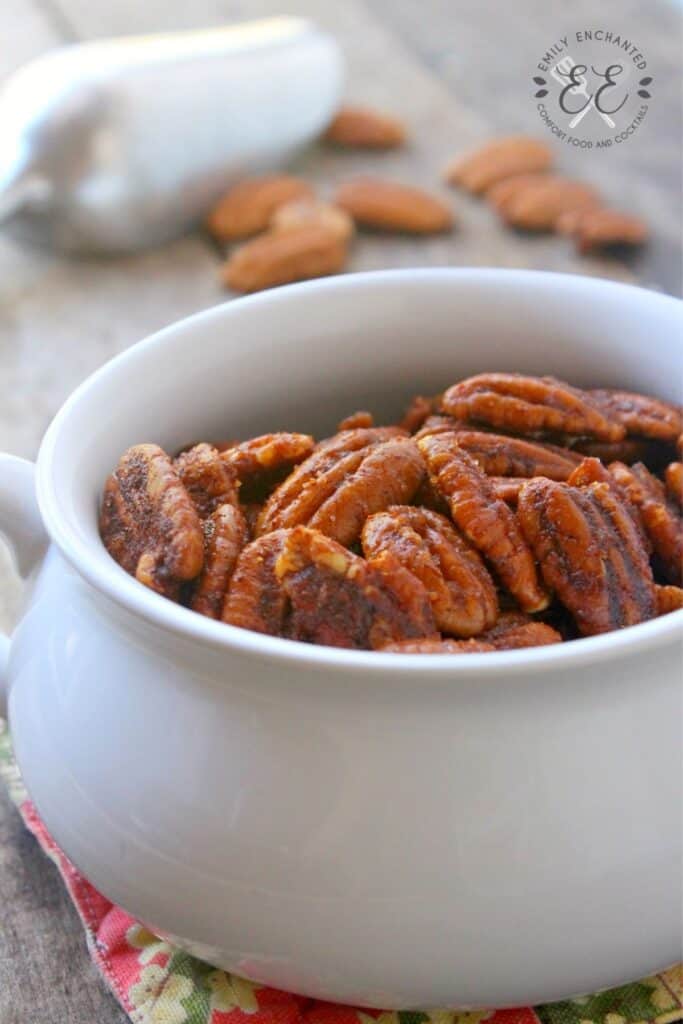 How to Make Sweet and Spicy Pecans
Preheat oven to 400ºF.
Spread pecans on baking sheet in a single layer. Roast for 8-10 minutes, shaking pan occasionally making sure they do not burn.
While nuts are roasting, combine cinnamon, chili powder, cumin, cayenne, ginger and salt in a small bowl.
Transfer the roasted nuts to a bowl. Toss with melted butter, brown sugar and spice mix while nuts are still hot.
Lay them back out on the baking sheet to dry slightly, and cool before serving.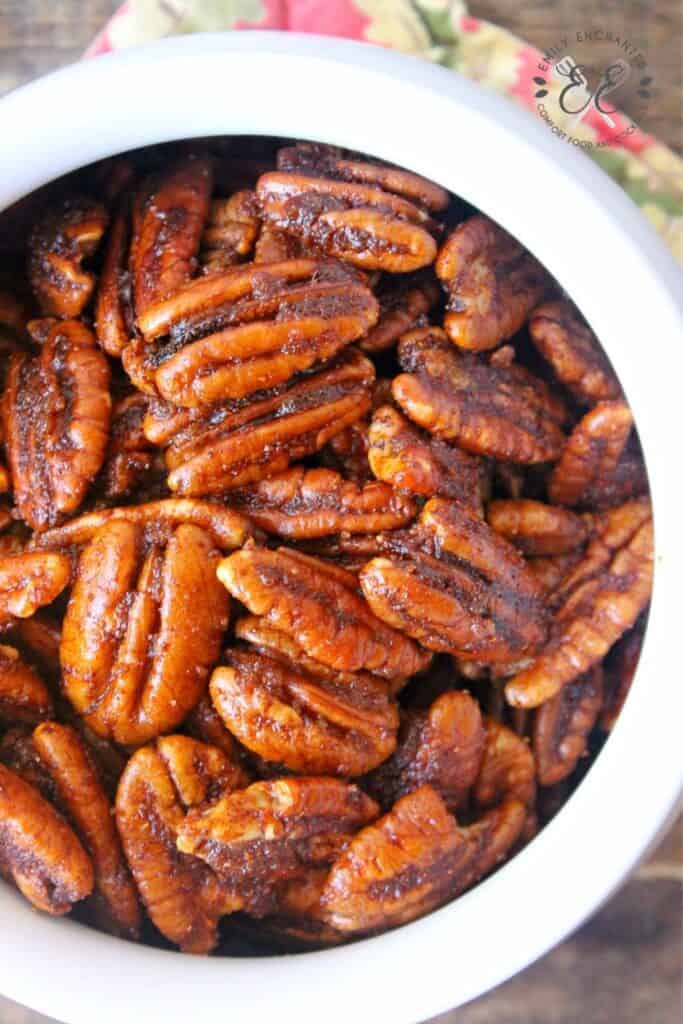 Serving Suggestions
Candied pecans make a great snack just by themselves but they are also very versatile! Here are some other yummy ways to use them:
FAQs
Can I Make These Less Spicy?
Yes, you can eliminate the cayenne and reduce the chili powder for a less spicy version.
What are the Health Benefits of Pecans?
Pecans are high in healthy unsaturated fat and can lower "bad" cholesterol. They also contain vitamins A, B, and E, folic acid, calcium, magnesium, phosphorus, potassium, and zinc. Pecans are also rich in age defying antioxidants.
More Delicious Pecan Recipes