Peanut Butter Overnight Oats with Fig are a delicious and filling breakfast that is easy to make ahead and grab and go when you are on the move in the morning.
If you are looking for a great way to make a filling breakfast that is packed with nutrients, then you have to try overnight oats. The flavor possibilities are seemingly endless, but I am partial to peanut butter.
Make breakfast for the week ahead of time and grab one when you are on the go!
This post contains affiliate links.
Overnight Oats Ingredients
To make this easy overnight oats recipe, you will need the following ingredients (see the recipe card below for exact amounts):
Greek vanilla yogurt
Milk
You will also need 8oz mason jars for this recipe.
How to Make Peanut Butter Overnight Oats
In a medium bowl mix together oatmeal, yogurt, milk and peanut butter.
In two small glass jars put in 1 tablespoon of graham crackers, top with a quarter mixture of oatmeal, add in a ¼ cup of figs, then top with a quarter of the oatmeal mixture. Repeat process in the other jar. If desired, garnish the top with additional graham crackers (about a ¼ teaspoon), figs, and peanut butter (a ¼ teaspoon of each).
Tighten lid of jar and refrigerate 2 hours and up to 5 days. When ready to eat, microwave for 30 seconds to a minute.
Recipe Tips
The peanut butter will make the oatmeal thicken, so it may look like too much liquid, but it will thicken up overnight. If desired, add in more milk after heating when ready to eat.
If you don't have mason jars, you can make it in a bowl as well.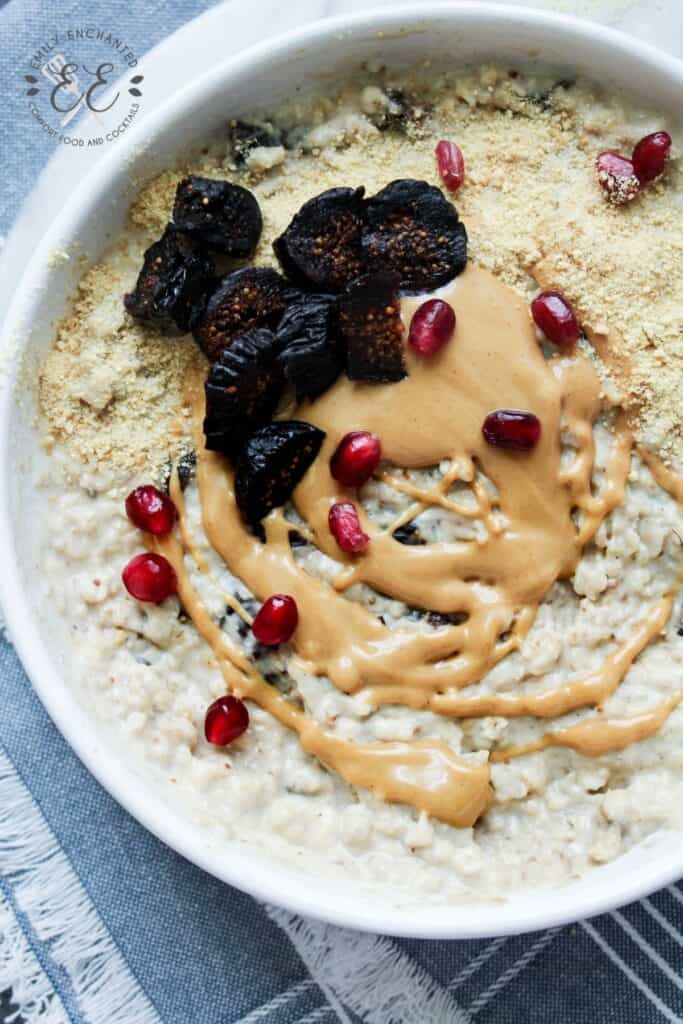 FAQs
What are Overnight Oats?
Overnight oats are pretty much what they sound like. You prepare them the night before and let them sit overnight. In the morning, you have a perfect breakfast! The oats will soak up all the liquid and be ready in the morning for consumption. I love to meal prep and this is a great breakfast meal prep idea.
More Overnight Breakfast Recipes
Want more overnight oats? They these Coconut Overnight Oats.
Looking for something more hearty? Try my Overnight Breakfast Casserole.