Orange Bundt Cake is a rich, creamy cake made with your favorite orange soda, orange juice, and orange zest. It is bursting with flavor!
You may also know this orange dessert as orange soda cake or pop cake. There are so many combinations of cake you can make with soda pop. This moist cake recipe is like an orange creamsicle in cake form. It is delicious!
Bundt cake recipes are so easy to make and don't take much time. All you have to do is mix the ingredients, pour into a bundt pan, and let the pan do all the work. When it is done baking, you have a beautifully formed cake!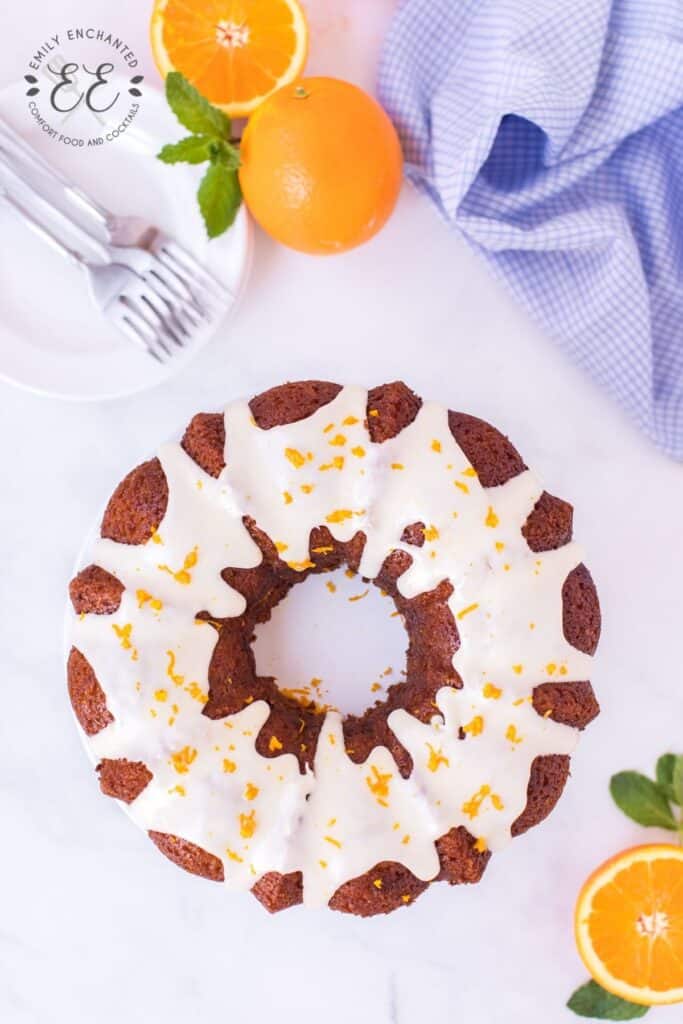 This post contains affiliate links.
Orange Bundt Cake Ingredients
To make this sweet orange dessert, you will need the following ingredients (go to the recipe below for amounts and directions):
Boxed yellow cake mix: if you don't love yellow box mix, you can substitute yellow cake mix for your favorite box mix. Feel free to experiment and tell me how it works out for you in the comments below!
Instant vanilla pudding: The pudding isn't completely mandatory for this cake to work, but it does add a richness that you don't want to miss out on!
Mayonnaise: Mayonnaise sounds like an unlikely ingredient, but it provides the fat needed to have a moist, rich cake. This is the best substitute for eggs and butter. And don't worry, you won't taste the mayonnaise at all. Once you try a mayonnaise cake, you won't want to go back!
Orange soda: This can be Fanta, Orange Crush, or a generic off brand orange soda. If you don't have orange soda on hand, you can also use a clear soda such as sprite, 7 up, or ginger ale.
Orange zest: The orange zest gives this orange cake a classic orange flavor. It's also a beautiful garnish! You could also technically use orange extract, but I feel that it sometimes comes off as too artificial and haven't tried it in this recipe.
Powdered sugar: powdered sugar and confectioners sugar are the same thing
Orange juice: This can be freshly squeezed orange juice or from concentrate. My preference is fresh orange juice for best flavor.
Special Tool Needed
You will need a bundt pan for this recipe. I love this Nordic Ware bundt pan.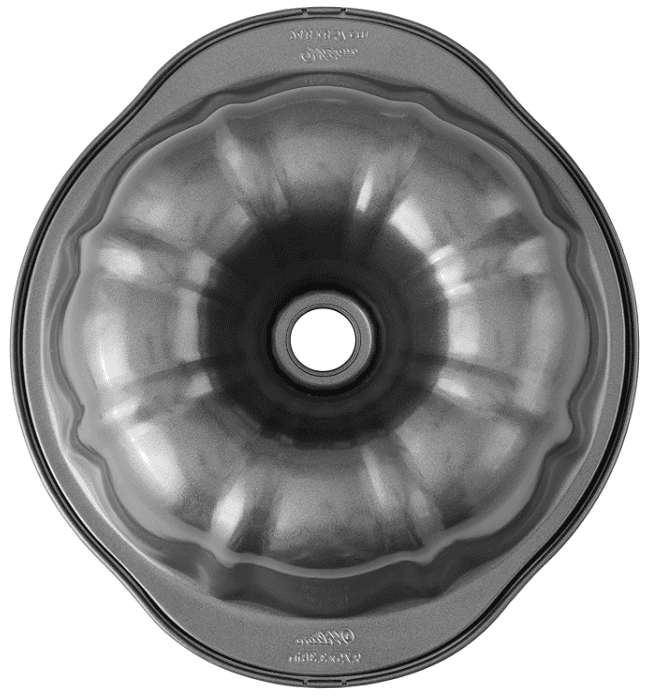 This Wilton Bundt Pan is affordable and has handles for easy use.
How to Make Orange Cake
This cake is super easy to make because all you have to do is pour glaze over the baked cake. You do not have to spend any time frosting a cake.
Preheat oven to 350 degrees F.
Make cake batter. Whisk together cake mix, pudding mix, mayonnaise, orange soda, and orange zest until combined.
Bake the cake. Grease a Bundt pan very well, making sure to get in all the creases. Pour batter into greased bundt pan. Do not let cake sit out more than 10 minutes before placing it in the oven to bake. Bake in oven for 40-50 minutes or until a toothpick comes out clean.
Cool the cake. Let the cake cool completely. Once cake is cooled, gently take a butter knife or an offset spatula and release the cake from the sides of the cake pan. Flip cake over onto a serving plate.
Make orange glaze. Whisk together confectioners' sugar and orange juice until combined. Add in more confectioners' sugar as necessary until the glaze has the consistency of molasses or honey.
Decorate the cake. Top cake with orange glaze and sprinkle with optional orange zest. Enjoy!
Tips for Orange Soda Cake
Here are some things you should know before making pop cake:
This cake has a slightly denser consistency instead of being light and fluffy. It has an almost creamy texture. It's very important that once the cake is mixed together, it doesn't sit for more than ten minutes before putting it in the oven. It loses its fluffiness the longer it sits out. The first time I made this I let it sit on the counter for 1 hour before baking and it took much longer to cook and had a very dense consistency once it cooled.
It's okay if the cake sinks a little during the cooling process. That's completely normal!
The soda you use should be a freshly opened carbonated drink. If you tried to use the soda when it's been out a couple of days and has gone flat, it's not going to provide the bubbles needed to give the cake a good rise. The orange soda doesn't add much in terms of orange flavor, but it provides color and the lift needed to make this kind of cake work.
How Do I Prevent my Cake From Sticking To My Bundt Pan?
There are a couple of things to consider when coating your bundt pan. Here are a couple of methods that I use to make sure that my cake doesn't stick:
Be thorough when coating the bundt pan. Don't leave any parts of the pan uncovered and get in all the creases and crevasses.
Make sure your bundt pan is in good condition: If your pan has scratches and pieces of nonstick missing from the nonstick coating, the cake will be more likely to stick in those areas.
Use a nonstick spray with the addition of flour: This method uses coating the bottom of the pan a breeze and you won't get clumps of flour when you pull out the cake from the pan. (I use Pam Baking Spray.) You can also coat the pan with shortening and dust it with flour if you don't have a great nonstick spray.
Storage Instructions
You can store orange cake for up to 4-5 days at room temperature. Make that it is stored in an airtight container.
Can I Freeze Cake?
You can also store your cake in the freezer for up to 3 months. You may want to consider adding the glaze after it's thawed for best flavor and quality.
Other Bundt Cake Recipes
Strawberry Bundt Cake
Black Forest Cake
Mardi Gras Bundt Cake
Chocolate Zucchini Bundt Cake
Walnut Carrot Cake
Red Velvet Cake
Cranberry Pecan Pound Cake
Rainbow Bundt Cake