This Olympic Rings Fruit Platter is perfect for your Olympics viewing party. Colored fruit are formed into the shape of 5 rings.
The Olympic Games is one of the most exciting sports events. It is the time of year where everyone becomes experts on sports they never watch. [C'mon, admit it!] Whether it is the Winter Olympics or Summer Olympics, there are so many exciting sports to watch.
This post contains affiliate links.
>>>From Gold Medals to the Olympic Flag, get all your Olympics party decorations HERE.<<<
Olympics Fruit Tray Ingredients
Here is a list of fruit you will need to make your fruit platter. See the recipe card below for exact quantities I used.
Bananas: The curvier, the better!
Lemon
Blackberries: If blackberries are not in season, you can also use really dark purple gapes, black currants, or dried plums.
Raspberries
Cherries
Green grapes
Green star fruit: If you cannot find star fruit, use kiwis. Peel the kiwi, slice it, and cut out star shapes with a knife or star cookie cutter. Cutting it into a star shape is totally optional.
Blueberries
How to Make This Olympics Appetizer
Step 1. Get Prepped!
Chose a very large cutting board or platter, or you can prepare this right in the center of a table or counter. It ends up to be about 2.5 feet by 1.5 feet.
Use a basic bowl that is about 5.5 inches in diameter to form the circles. The size of your bowl will make a difference in the final size of the rings and how much fruit you will need to create it, so keep this in mind when choosing everything.
Wash the fruit, slice the lemon and star fruit into thin pieces.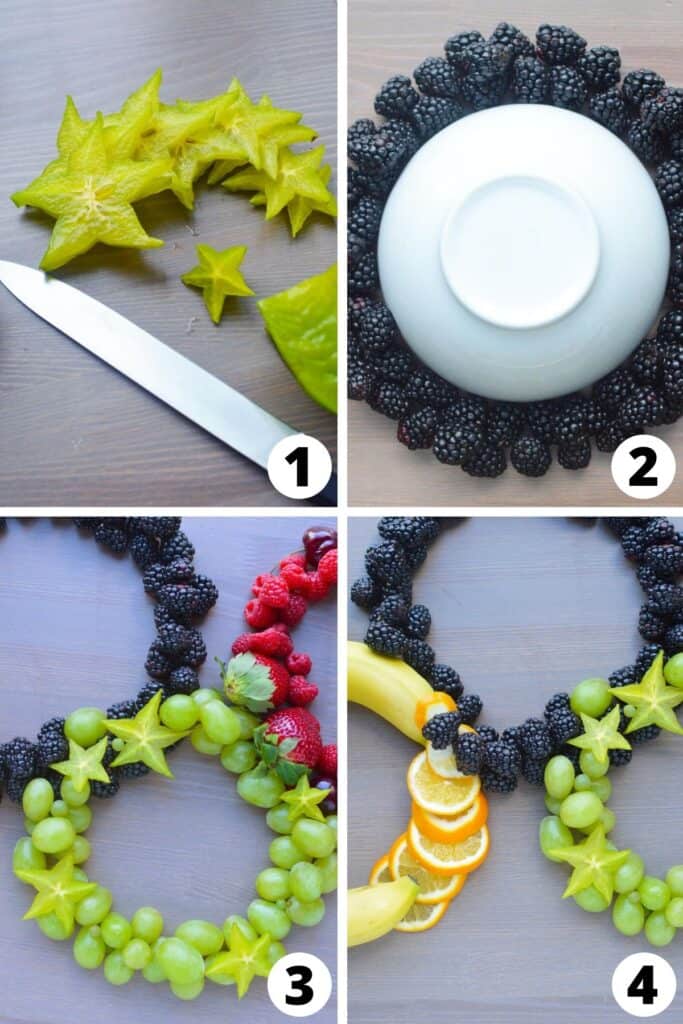 Step 2. Assemble the Rings
Start with the center black ring and work out from there. That will help you best gauge the space available.
Set the bowl where you want to start and circle the blackberries around it.
Follow with the blue and red rings.
The yellow and green rings should sort of cross over with the top blue, black and red rings as much as possible. For this you'll need to play with the spacing and different fruits so you can create the look while still trying to keep everything looking full and staying in place.
Tips for Making this Recipe
Try resting fruits on top of each other, building around larger pieces and get creative!
This took about 35 minutes to set up so make sure you give yourself enough time before guests arrive.
Alternatively, you could create this with veggies and put little dipping bowls in the circles. The possibilities are endless!
More Delicious Appetizers
Every sports viewing party needs an assortment of tasty appetizers. I love easy finger foods and dips. Here are some of my favorite appetizers to eat while watching the Olympics: