Fruit Kabobs with Cream Cheese Dip are a delicious snack or dessert with cantaloupe, kiwi, strawberries, blackberries, and blueberries.
If you are looking for fruit skewer ideas, you have come to the right place! These easy fruit kabobs are perfect for after school snacks, a cool snack on a hot day, and backyard picnics!
Strawberry cream cheese and vanilla Greek yogurt make for a creamy and delicious dip for fruit kabobs.
You can use long wooden skewers, you can use short sticks for mini fruit kabobs, and you can even grill these amazing fruit kabobs.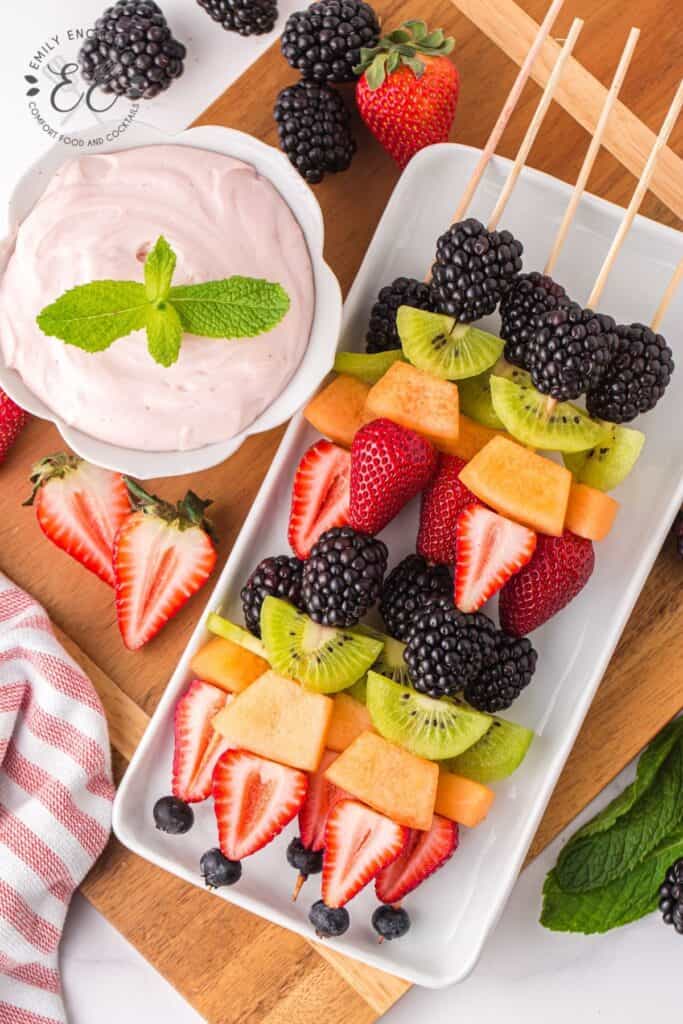 Fruit Kebabs or Kabobs?
Which way do you spell it? Either way is okay! Kebab, kabob, kebob, or kabab – you do you.
Fruit Kabob Ingredients
To make this fun fruit recipe, you will need the following ingredients (see the recipe card below for exact amounts):
Cantaloupe: Feel free to mix and match the fruit you use on your skewers. The sky is the limit on fruit combinations!
Strawberries
Blackberries
Blueberries
Kiwi: Make sure your kiwi are sliced thick or else they will fall apart when putting them on the skewer.
Strawberry whipped cream cheese: You can also use a mixed berry cream cheese in place of the strawberry cream cheese. If you want a less "fruity" dip, you can use regular cream cheese instead. If you do, you may want to increase the amount of powdered sugar or another of the sweeteners.
Powdered sugar
Vanilla Greek yogurt: You can use regular vanilla yogurt as well. However, the consistency might be slightly different.
Honey: Replace with agave nectar or maple syrup instead.
Lemon juice: Lime juice is a perfectly acceptable substitute for this, regardless if fresh or from concentrate.
How to Make Fruit Skewers with Fruit Dip
Skewer a blackberry, followed by a kiwi, then a cantaloupe, strawberry, and lastly a blueberry. Include two sets of fruit on each skewer.
Repeat until all 8 skewers are full. Refrigerate until ready to serve.
With a mixer, beat together the cream cheese, powdered sugar, vanilla Greek yogurt, honey, and lemon juice until light and fluffy, about 2-3 minutes.
Plate and serve with skewers. Best when served cold.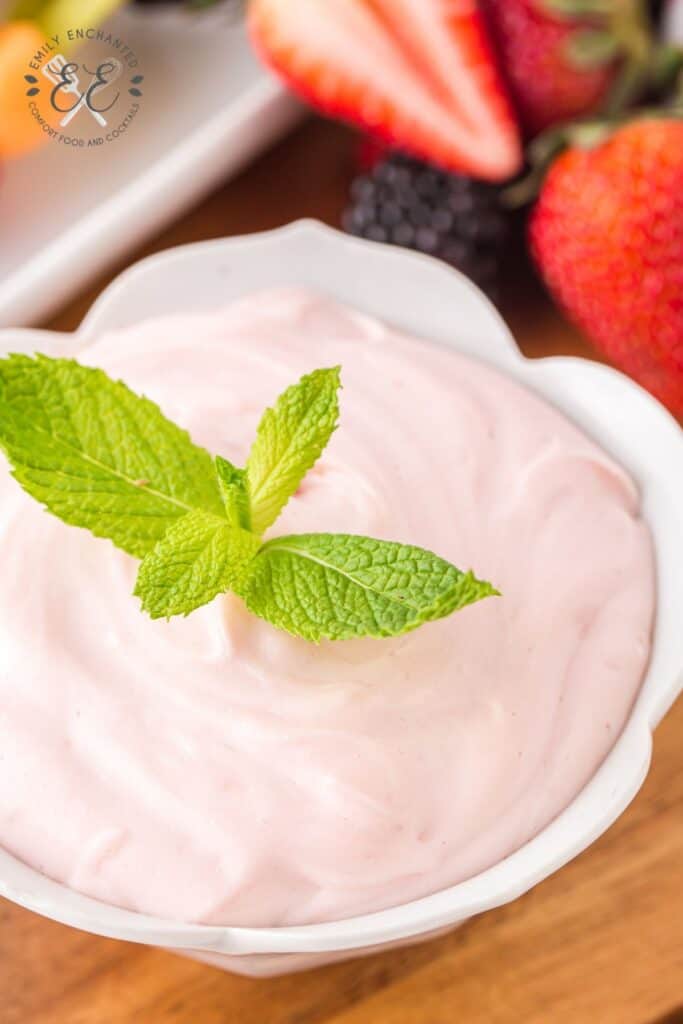 Can I Make Individual Servings?
Another optional way of serving these are on smaller bamboo skewers with individual fruit dip cups! Both options are great for parties and you can customize it any way that you would like!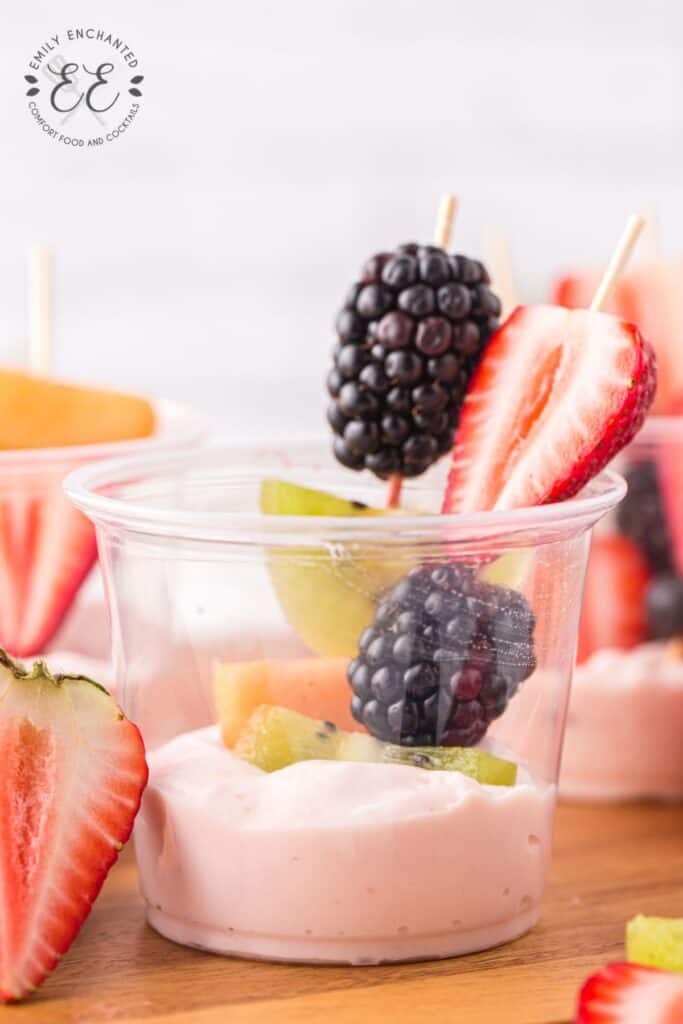 Storage Instructions
The fruit skewers will be a little tricky to store. I would recommend taking the fruit off the skewers and storing the fruit in the refrigerator for no more than two days. Make sure you keep the fruit covered, and not packed too tightly, otherwise the fruit will spoil more quickly.
The dip can also be refrigerated, but in a separate container for 3-4 days. However, it doesn't freeze very well, so make sure to use it all up soon!
Optional Substitutions
You can use pretty much any fresh fruit for this skewer that you would like. Some popular choices include slices of banana, cantaloupe or honeydew melon, red grapes, green grapes, watermelon, raspberries, apples, pears, or even chopped mango.