Pull Apart Pizza Bread is a savory and cheesy monkey bread recipe with dipping sauce. This appetizer is perfect for game day and family parties.
I am all about finger foods when it comes to parties where you might not necessarily be sitting in one place. For things like the Super Bowl and New Years Eve, I love to grab a plate, fill it with appetizers, and roam the party talking to everyone.
Everyone will love this doughy, gooey cheesy bread. It is so fun to pull it apart, get that cheese stretch and then dip in your favorite sauce.
Pull Apart Pizza Bread Recipe Ingredients
To make this pizza bread recipe, you will need the following ingredients (see the recipe card below for exact amounts):
Refrigerated biscuits: This acts as the pizza dough and doesn't need any prep! Of course, you can make pizza dough from scratch if you prefer.
Pepperoni slices
Mozzarella cheese
Parmesan cheese
Butter
Olive oil
Oregano: You can also use Italian seasoning
Garlic powder
Black pepper
How to Make Pizza Pull-Apart Bread
Prepare your oven and dish. Preheat oven to 350 degrees and grease the bottom of an oven safe dish. Place a small dipping saucer in the middle of the dish. This will be for your marinara sauce for dipping when your pizza is done. Cut the biscuits into quarters.
Mix all ingredients. In a large mixing bowl, mix together all of your ingredients, except for the marinara. Pour the mixture into the bottom of your oven safe dish, around the dipping saucer in the middle. Spread mixture evenly.
Bake your bread in the oven. Bake for 20 minutes or until the top of your pull apart bread is golden brown. The "pizza dough" should have risen a little.
Add sauce and serve. Remove from the oven, pour the marinara inside the saucer in the middle of the dish and serve immediately.
What to Serve with Pizza Pull Apart Bread
This appetizer makes a great finger food or you serve it on appetizer plates. No matter how you eat it, don't forget the sauce!
Marinara – This thick, chunky sauce is great for ultimate flavor.
Pizza Sauce – Slightly thinner than marinara, pizza sauce is great for coating your bread.
Ranch dressing – Mix it up by dipping in ranch dressing.
Yum Yum Sauce – This sauce is traditionally used for Asian dishes, but I put it on everything!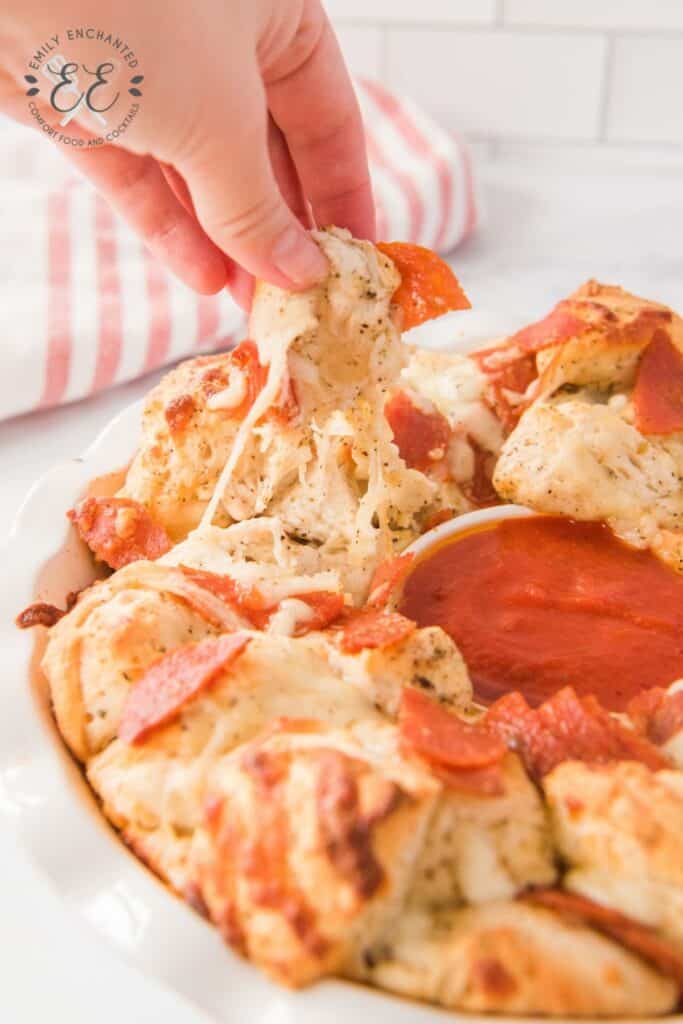 Can I Add Other Ingredients?
You sure can! Think of traditional pizza toppings that you love and add them to the recipe. This could be onions, bell peppers, sausage, or mushrooms.
Can I Make this Recipe in A Bundt Pan?
Yes. A bundt pan can also be used to bake your pull apart bread. Just remove from the pan when done baking and transfer to a serving plate.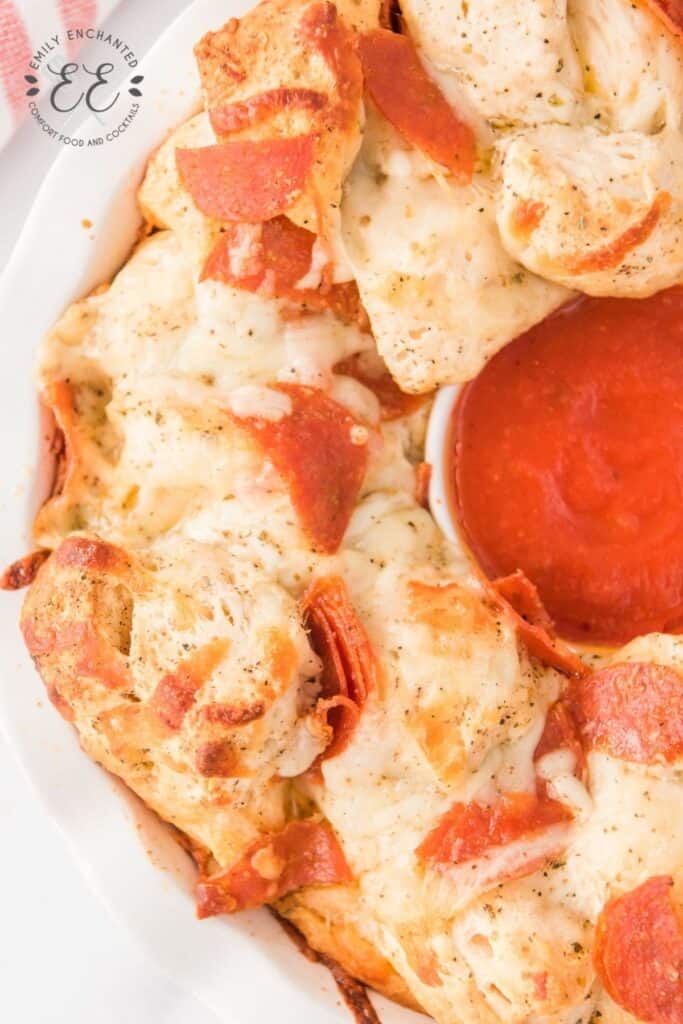 More Amazing Pizza Recipes
If you love pizza with a twist, here are some recipes you have to try.