Making Christmas cookies is one of my favorite things to do. I love to make a ton of cookies and hand out Christmas cookie tins to friends, family and coworkers. These Christmas Sugar Cookies with Christmas lights are the cutest cookies and will be a big hit with everyone!
These cute Christmas cookies are great to make with kids, as they are colorful. The kids can put the M&Ms (or "lights") on the cookies. Making Christmas cookies as a family is one of the best memories I have and is a great family tradition.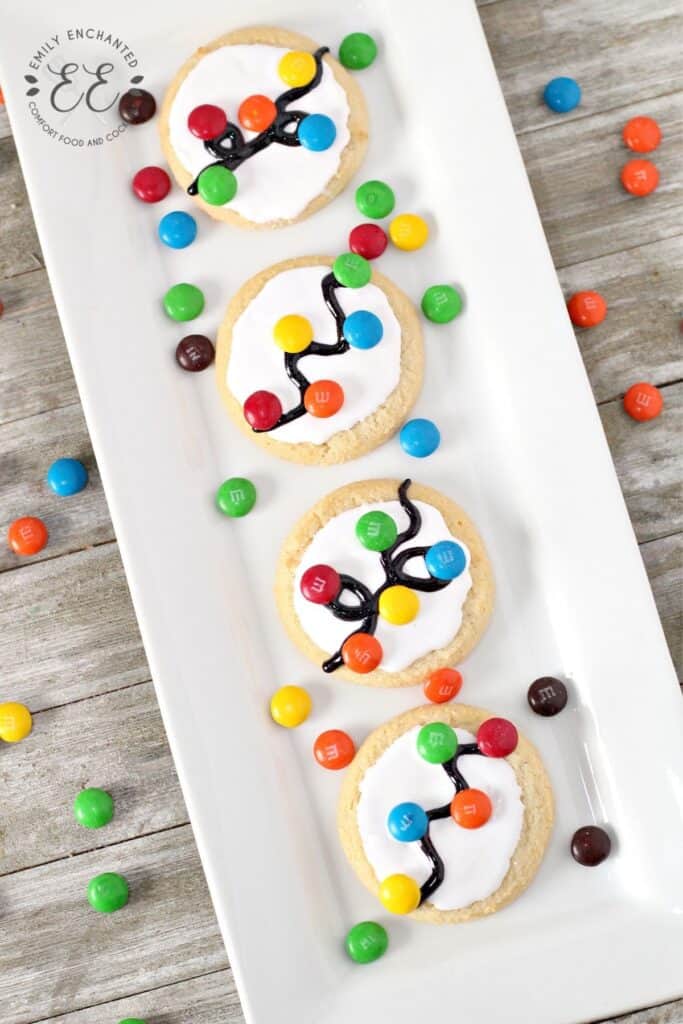 Sugar Cookie Ingredients
This is an easy recipe that is convenient and required few ingredients because you will not be making the sugar cookies from scratch. If you prefer to make your sugar cookies from scratch, you can use this recipe and just eliminate the step where you coat the cookies with sugar or sprinkles.
Prepackaged Sugar Cookie Dough or Prepared Sugar Cookies
White Cookie Icing
Family Size Bag of M&M's
Tube of Black Gel Icing
How to Make Christmas Sugar Cookies
First, bake your sugar cookies if you are using prepackaged dough.
Starting on the outer edge of the cookie and working your way to the center, ice each cookie with the white cookie icing. Make sure it's a fairly thick layer. Let the white icing harden and set.
Take the gel icing and carefully make strands from one side of the cookie to the other. You can make your lines straight or curled or both.
Before your gel icing sets, place one of each color M&M on your black icing. For a cleaner look, make sure the "m" is facing down.
Let your cookie set at room temperature, or you can place them in the freezer just for a brief time.
More Cute Christmas Cookies