Lemon Poke Cake with lemon pudding and whipped cream topping is a refreshing dessert perfect for summer. This cake is so easy to make!
Lemon is such a refreshing flavor. I love to serve this cake out on the patio after a nice dinner.
Lemon Poke Cake Ingredients
To make this lemon pudding cake, you will need the following ingredients (see the recipe card below for exact amounts):
Lemon cake mix
Water
Vegetable oil
Eggs
Instant lemon pudding mix
Milk
Whipped topping
Lemons
How to Make Lemon Poke Cake
Preheat the oven to 350 degrees and prepare a 9×13 inch baking pan with a light coating of cooking spray. Set aside.
In a large bowl, combine cake mix, water, vegetable oil and eggs. Mix until thoroughly combined. Pour batter into the prepared baking pan and bake for 25 minutes or until a toothpick inserted in the center comes out clean.
Allow the cake to cool, then using the handle of a wooden spoon poke holes over each inch of the cake. Set aside.
In a medium bowl, combine the pudding mix and milk. Whisk together until smooth.
Pour pudding over cake and spread evenly. Refrigerate for one hour.
Spread the whipped topping over the pudding layer. Top with sliced lemons and zest. Serve.
Can I Put Other Filling in Poke Cakes?
One common filling for poke cakes is jello. You could use a lemon jello packet mixed with water. Then, use a spoon to pour the liquid jello mix into the holes. Refrigerate until the jello has soaked through or become solid.
Another option is making a cream cheese filling. Yum!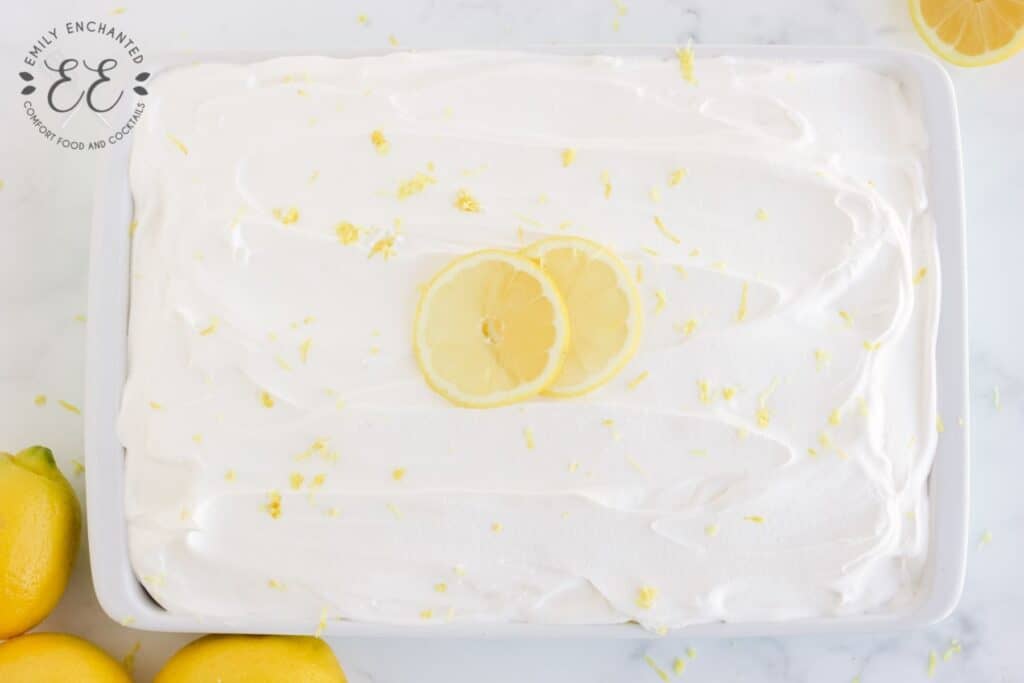 Fun Poke Cake Flavor