Strawberry Cinnamon Rolls are a homemade traditional cinnamon roll filled with fresh strawberries and topped with a cream cheese frosting.
The berries and cinnamon rolls mixture becomes soft and "ooey" or "sticky" after baking. These moist and flavorful rolls are perfect for dessert or a sweet breakfast.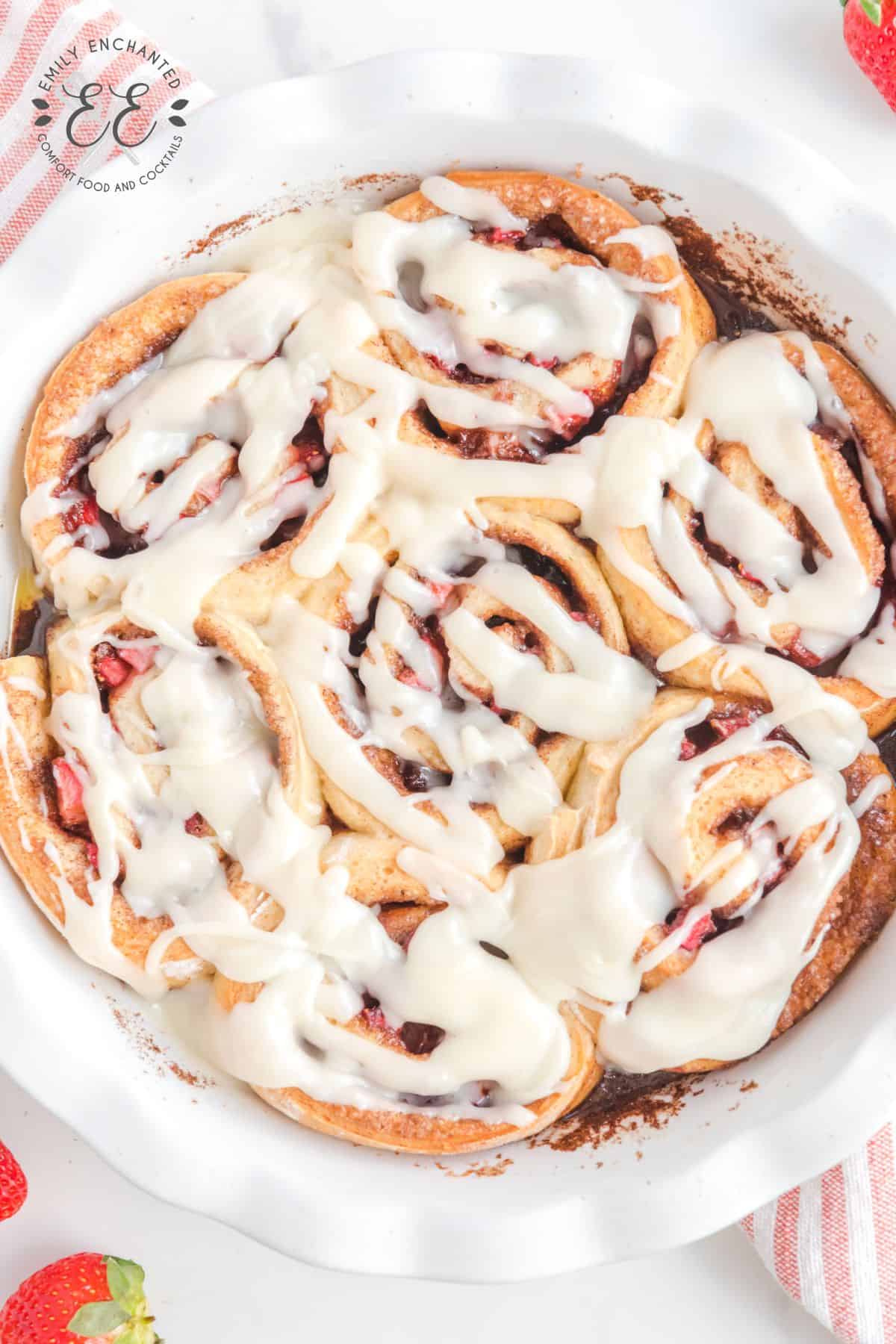 This post contains affiliate links.
Strawberry Cinnamon Rolls Ingredients
To make this flavored cinnamon roll recipe, you will need the following ingredients (see the recipe card at the bottom of this post for exact amounts):
Pillsbury Pizza Crust: Yes, you read that correctly.
brown sugar
granulated sugar
cinnamon
nutmeg
butter: salted and unsalted
fresh strawberries
cream cheese
powdered sugar
vanilla extract
lemon juice
salt
Special Tools Needed
Baking dish: I used a ceramic pie pan, which can fit 7 rolls. A 9×13 pan can fit 8 rolls.
Hand Mixer or Stand Mixer
Sharp Knife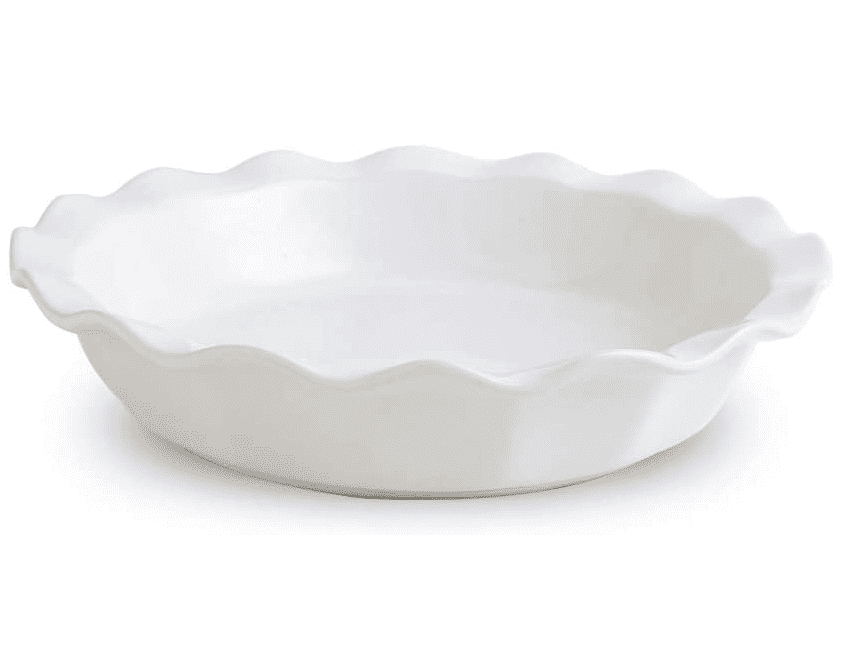 A ceramic pie plate is a beautiful way to serve dessert.
How to Make Strawberry Cinnamon Rolls
Preheat the oven to 350 degrees and prepare a baking dish with non-stick cooking spray.
Unwrap pizza dough from the can and lay flat on a flour surface.
In a medium mixing bowl, combine brown sugar, regular sugar, cinnamon, nutmeg and butter using an electric hand or stand mixer.
Add brown sugar mixture evenly on top of the pizza dough. Spread over the entire surface. The mixture should feel like wet sand.
Top with fresh strawberry pieces, distribute evenly.
Tuck one end of the dough in (longways) and roll tight until the entire log is formed. Some brown sugar mixture may fall out, that's okay.
Using a sharp knife, cut the cinnamon rolls into 7 or 8 even pieces. Carefully hold each cinnamon roll together as you cut.
Place each cinnamon roll into the baking dish. They can touch slightly.
Bake for 30-35 minutes or until the dough is cooked through.
Near the end of the cook time, begin to prepare your frosting. Add all frosting ingredients to a medium mixing bowl. Using an electric hand or stand mixer, beat ingredients until smooth.
Add cream cheese frosting over the cinnamon rolls immediately after they are out of the oven. Serve immediately.
Recipe Tips
Use a sharp knife to cut the cinnamon rolls, not a bread knife.
When cutting these cinnamon rolls and placing them into the 9×13 baking dish, be careful to hold them tightly, pinching them from all corners while transporting them.
These cinnamon rolls will enlarge while baking.
These are best served warm.
The strawberry and sugar mixture will form a liquid in the bottom of the baking dish.
Storage Instructions
You can leave cinnamon rolls on the counter for 2 days. Refrigerated, they last up to a week. To reheat these cinnamon rolls, place them inside the microwave for 30-45 seconds.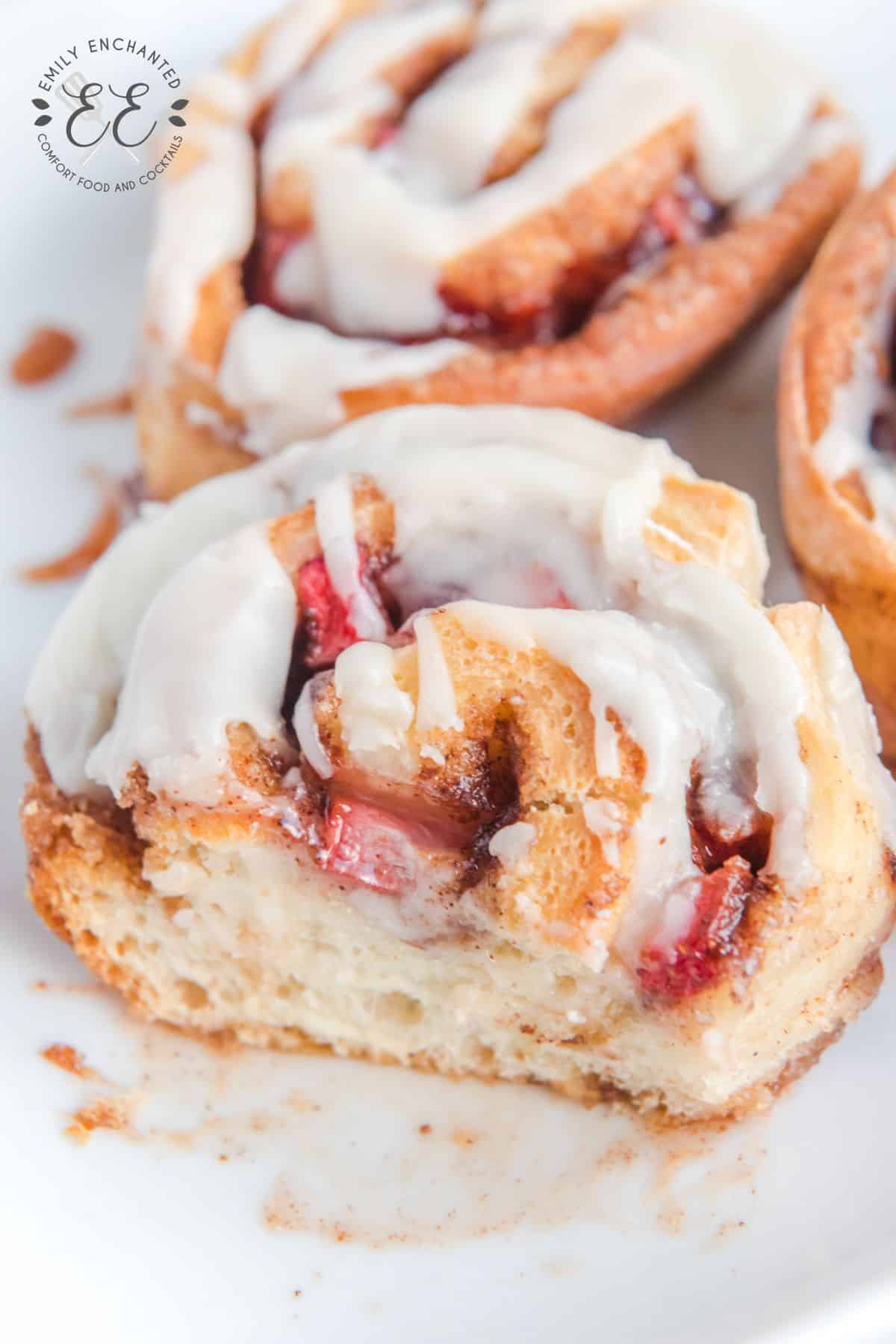 More Sweet Rolls Recipes