Homemade Hamburger Helper is a simple ground beef recipe that is traditional in many families. This classic recipe shows you how to make your own homemade hamburger helper from scratch. It is so cheesy and delicious!
This is one of my favorite super easy beef recipes. Noodles and ground beef are cooked in one pan for an easy cleanup. No mess here!
This recipe only takes 30 minutes, so you don't have to spend too much time in the kitchen.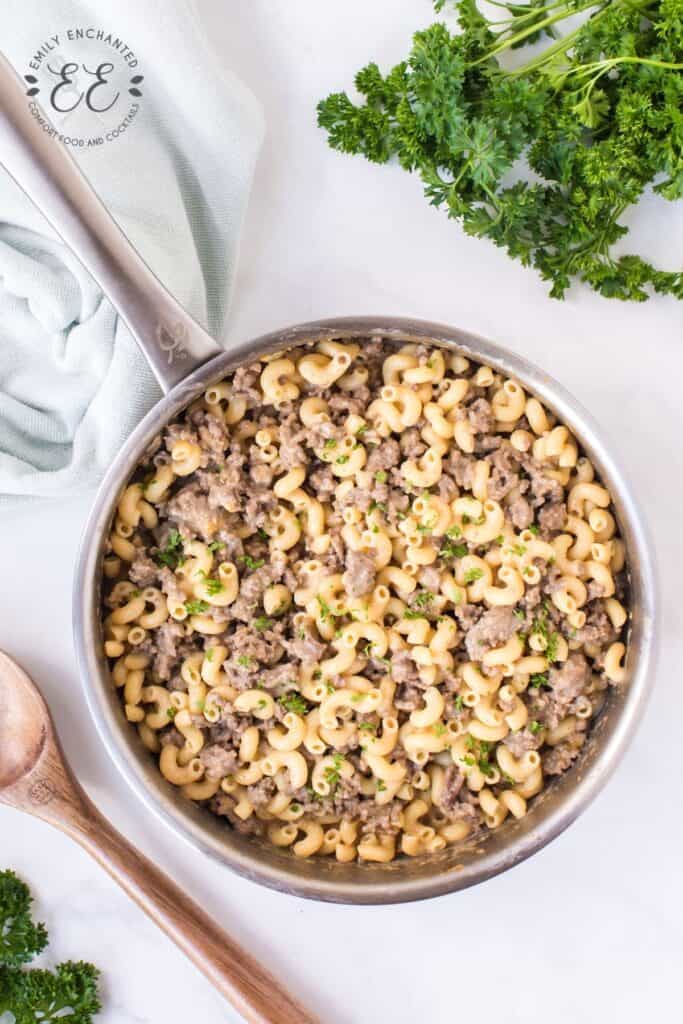 This post contains affiliate links.
Homemade Hamburger Helper Ingredients
To make this easy beef recipe, you will need the following ingredients (go to the recipe below for detailed amounts and instructions):
Ground beef: What is hamburger helper without the ground beef? If you want to spice things up, add in ground sausage (mild or hot) instead for a different flavor. Just make sure to drain the grease so that you don't end up with a greasy dish.
Ketchup, Dijon mustard, and sriracha: These don't look like much, but the blend of flavors is what makes this dish so great! It may not seem like a lot going in, but they add a lot to the flavor of this dish. The sriracha doesn't add any spice, so even if you don't love spice, you will be okay with that amount. If you like spice, feel free to add more sriracha or your favorite hot sauce to your hamburger helper.
Garlic powder: This also helps with the flavor. You are free to use fresh garlic as well, but I like how easy garlic powder is to use.
Elbow macaroni: I used elbow macaroni for this hamburger helper, but any small to medium sized pasta will work for this. Some of my favorites for hamburger helper are: bow tie, penne, rotini, and fusilli.
Low sodium chicken broth or stock: This will give your hamburger helper more flavor. You can use a canned broth, bouillon cube + water, or just water. If you only have regular sodium broth (instead of low-sodium), leave out the salt and only add it in once you have tasted the dish.
Sour cream: The sour cream adds a creaminess and helps everything come together. If you don't have sour cream on hand, you can use plain Greek yogurt (for a healthier option), or ½ cup heavy whipping cream, or even milk. If you use milk it may end up a little runnier, but will still taste fine.
Cheddar cheese: Feel free to experiment with the type of cheese used in your hamburger helper. I decided to go with the classic cheddar cheese, but you can also use sharp cheddar, Colby jack, mozarrella, etc.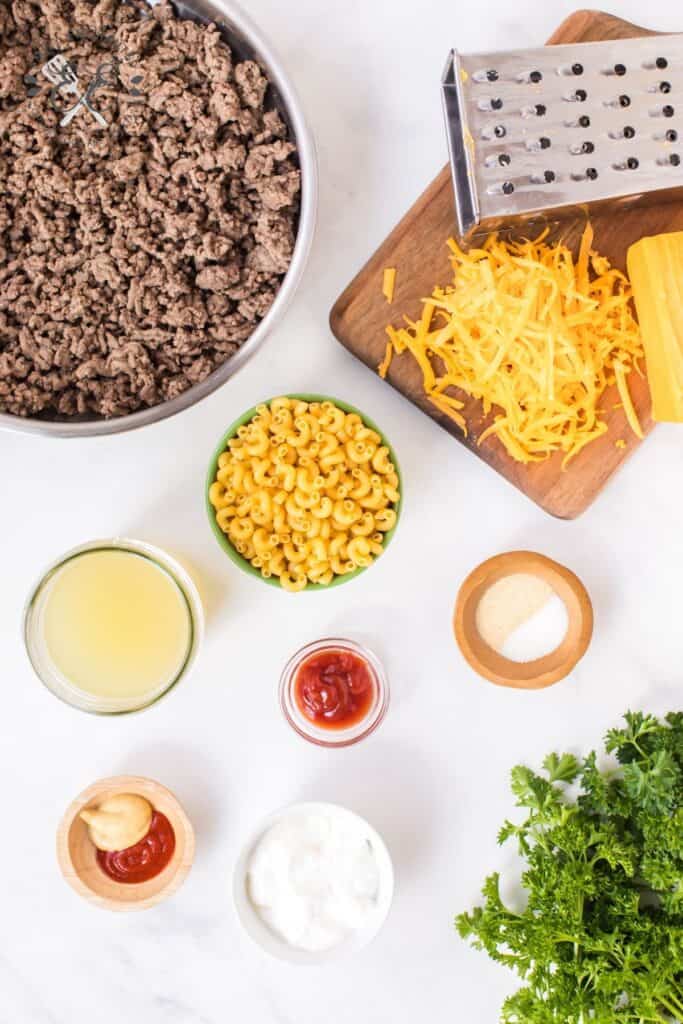 How to Make Hamburger Helper From Scratch
This hamburger helper recipe is so easy, it is made in one pan!
Brown the meat. In a large skillet over medium-high heat, cook ground beef until no longer pink in the middle. Drain grease.
Add ingredients and cook. Add in rest of the ingredients except the sour cream and cheese. Bring to a boil. Turn down heat and cover pan. Simmer for 13-15 minutes or until the macaroni is cooked to al dente.
Add sour cream and cheese. Remove pan from heat and stir in sour cream. Add in cheese and return pan to heat. Stir until cheese has melted.
Garnish. Take off heat and garnish with parsley, optional. Enjoy!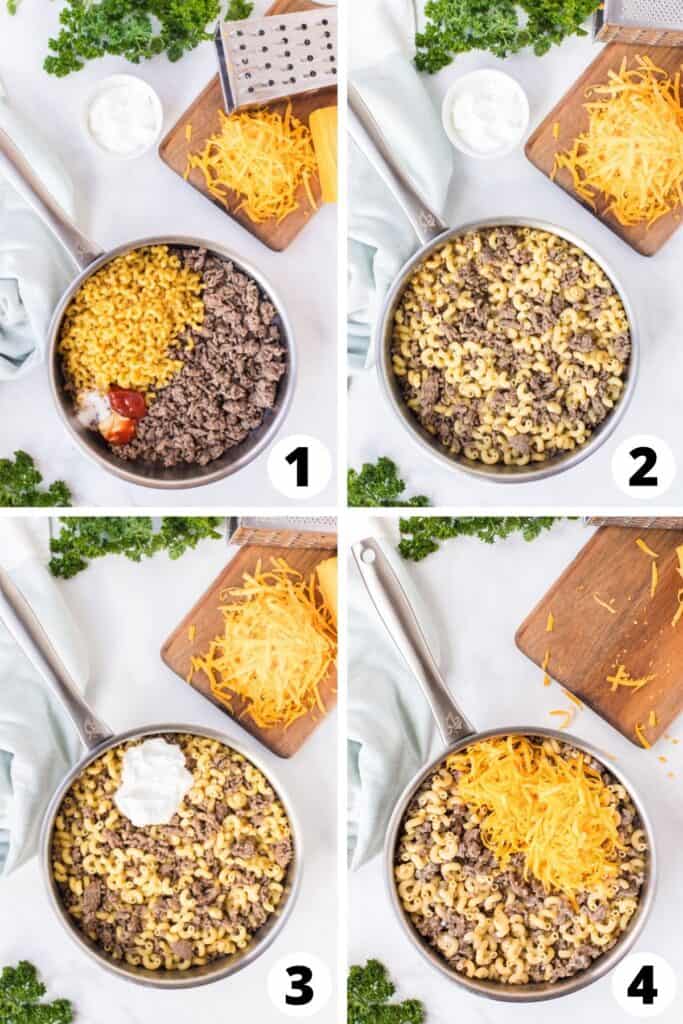 Tools You Will Need
You will need the following tools for this recipe: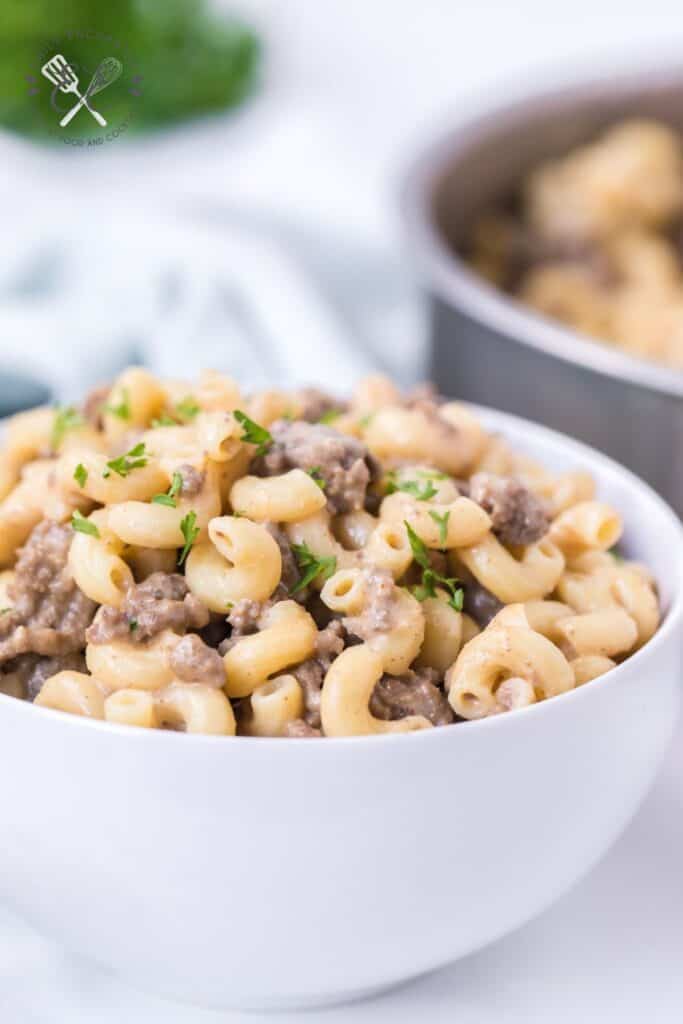 Storage Instructions
You can store homemade hamburger helper in the refrigerator for up to 3-4 days. You should be able to freeze hamburger helper for up to 3 months without any significant texture changes caused by the frozen sour cream.
Make sure that it is sealed in an airtight container before refrigerating or freezing.
Other Delicious Pasta Recipes
Easy Buffalo Chicken Macaroni and Cheese