These Easy Chicken Enchiladas are easy to make and so cheesy and creamy. Soft tortillas are filled with a green chile, sour cream, cheese and chicken mixture, and are baked to perfection in the oven.
If you love Mexican food, you will want to make chicken enchiladas. This recipe is not spicy at all. The cream balances out the green chile perfectly, while still getting that great chile pepper flavor.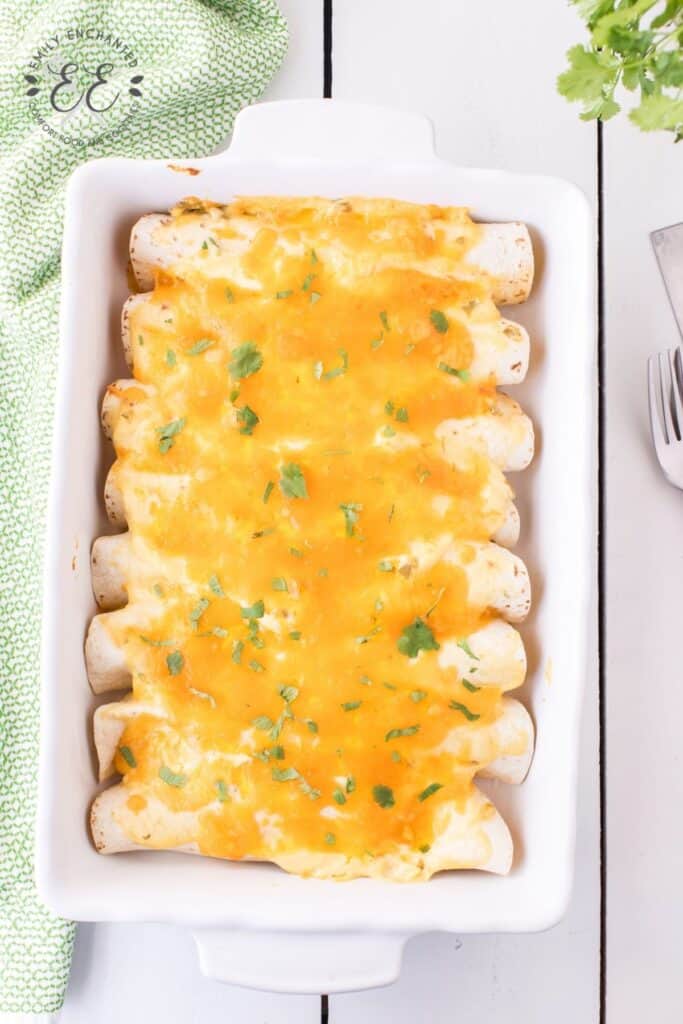 This post contains affiliate inks.
Easy Chicken Enchiladas Ingredients
To make this creamy enchilada recipe, you will need the following ingredients (see the recipe below for detailed amounts):
Chicken breasts: I used two chicken breasts that I had cooked over the stove and cut into cubes. Feel free to quickly cook up chicken breast in an instant pot, use shredded rotisserie chicken or even canned chicken.
Cream of chicken soup: If you don't have cream of chicken soup on hand, you can substitute this with cream of mushroom soup.
Sour cream: For a healthier option, you can use plain Greek yogurt. I love the tangy flavor in these enchiladas, though!
Shredded cheese: I used sharp cheddar cheese, but feel free to use your favorite cheese. Some great options are a mild cheddar, shredded mozzarella, monterey jack, Colby jack, or even pepper jack cheese.
Flour tortillas: I used an 8-inch flour tortilla for this recipe. You can also use corn tortillas if you prefer the taste of the corn tortilla. If you only have 4-inch tortillas available, you can fill them and lay them in 2 columns instead of just one. You will need double the amount of tortillas if you are using the smaller tortillas.
How to Make Homemade Enchiladas from Scratch
Making the best chicken enchiladas is as easy as mixing all the ingredients and throwing the baking dish in the oven for 30 minutes.
Preheat oven to 350 degrees F.
Mix all the ingredients. Combine cream of chicken soup, green chiles, and sour cream and stir. Measure out 1 cup and set aside.
Fill the tortillas. Add in chicken to remaining mixture and stir to combine. Divide chicken filling evenly and spoon inside tortillas (about ¼ cup per tortilla). Sprinkle shredded cheese into each flour tortilla before rolling it up and place it into a 9×13 baking dish.
Top off the enchiladas. Evenly spread set aside sauce over the top of the tortillas and sprinkle on remaining shredded cheese (~1 cup).
Bake the enchiladas. Cover with aluminum foil and bake for 25-30 minutes or until cheese is melted and bubbling.
Garnish with optional chopped cilantro and serve. Enjoy!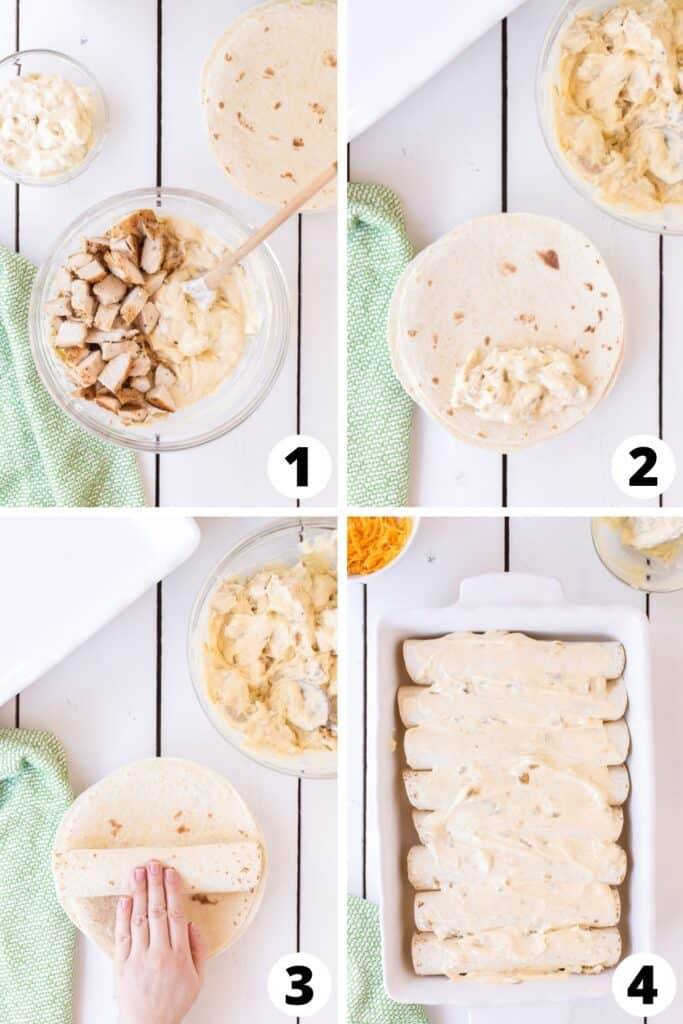 Optional Add-Ins for Even Tastier Enchiladas
You are free to leave your enchilada recipe as is, or substitute ingredients that you may have available. Some options include adding in:
Cream cheese
Salsa
Rice
Refried beans
You can replace the chicken with steak, your favorite cut of beef, ham, turkey, etc.
Some optional garnishes include: cilantro, shredded lettuce, diced tomatoes, and guacamole.
Storage Instructions
You can store your enchiladas in the refrigerator for up to 3-5 days.
Can I Freeze Enchiladas?
These also freeze well. You can freeze them for up to 3 months for best quality. Make sure that it is stored in an airtight container.