Hawaiian Coffee BBQ Flank Steak is an easy and delicious meat dish that you can eat on its own or use in Steak Tacos. Flank steak is pan seared and then oven finished to perfection. Roasting flank steak is a great way to enjoy meat if you do not have a grill. Made with Kona Coffee BBQ Rub, this recipe is full of flavor.
This post is sponsored by Honolulu Coffee. All opinions are my own.
Oven Roasted Hawaiian Coffee BBQ Flank Steak Recipe
This steak is bursting with flavor. I personally am not a coffee drinker. Caffeine does not agree with me. But I love to cook with coffee.
I have made chili with coffee and it is amazing. I am so glad I decided to try it on flank steak.
The Kona Coffee BBQ rub has a beautiful rich color and its aroma will greet you as soon as you break the seal on the package.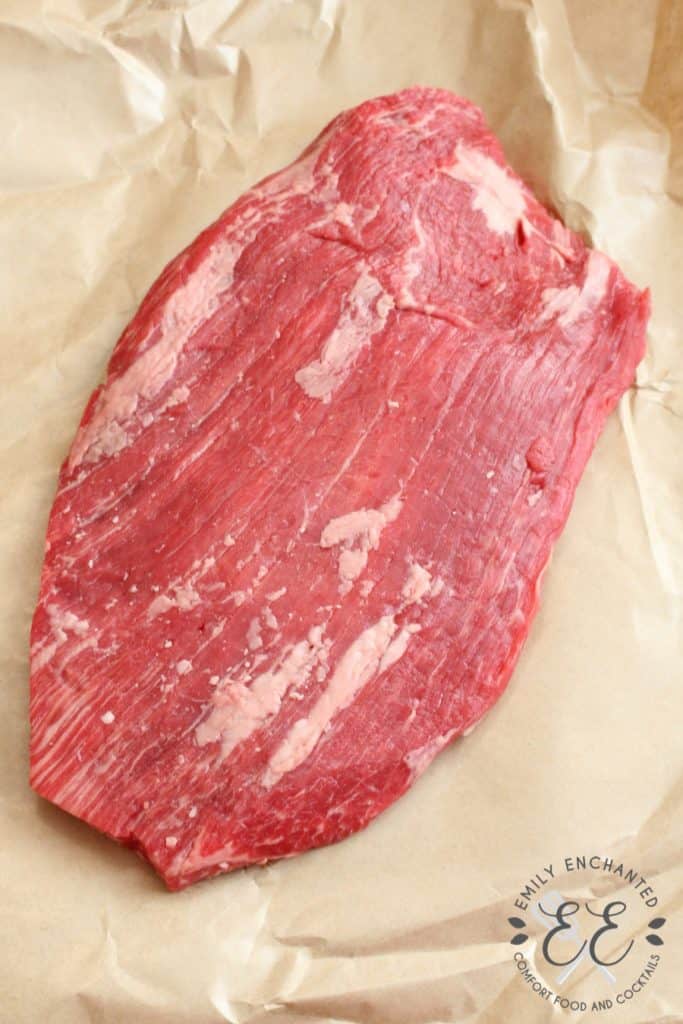 What is Flank Steak?
I enjoy eating flank steak because it cooks quickly. This thin piece of meat comes from the side of the cow, under the ribs. It tastes great on salad and in Mexican dishes like burritos and fajitas. There are many ways to cook flank steak, including:
Grilling
Oven broiling
Stove top skillet
Stir frying
Roasting
Flank steak is best when cooked to medium rare or medium, as it continues to cook for a few minutes after you remove it from the heat source and you want it to remain tender. With flank steak, you want to cut against the grain and you will get beautiful slices of meat.
What You Need for Oven Roasted Hawaiian Coffee BBQ Flank Steak
2 pounds flank steak
1 tablespoon olive oil
1 tablespoon unsalted butter
3 tablespoons Kona Coffee BBQ Rub
About Kona Coffee BBQ Rub
Kona Coffee BBQ Rub is made with Honolulu Coffee's Kona Coffee, Sugar, Sea Salt, Chilies, Onion, Garlic, Lime, Chocolate, Cayenne Pepper, Smoked Paprika. Try this spice rub on Ahi, Swordfish, Steak, and Ribs. It has just the right amount of heat to it. You can really taste each ingredient that is in the rub.
Honolulu Coffee is brewed with Aloha. Their beans are roasted right in Honolulu, Hawaii. I have heard tales of the rich soil around volcanoes, and this coffee is a testament to that. Honolulu Coffee farms their coffee right on the slopes of the volcano on the big island.
Honolulu Coffee offers a variety of blends, and they offer easy online ordering, allowing you to choose which grind you want. Whether you use the paper filter method or prefer to grind your own beans, Honolulu Coffee has an option for everyone.
How to Make Oven Roasted Hawaiian Coffee BBQ Flank Steak
Preheat oven to 400 degrees.
Cut the flank steak into 4 sections with a sharp knife, pat dry and rub the Kona Coffee BBQ Rub all over both sides of the steak.
In a large cast iron pan, heat oil over medium high heat until pan is very hot. Add 1 tablespoon of butter to pan and let melt. Sear steaks on both sides, about 3 minutes per side.
Place cast iron skillet into oven and cook for 3 minutes, or until the insides of the steaks reach 125 degrees.
Remove skillet from oven and return to stove top. Remove steaks from pan and set aside to rest for 5 minutes.
Slice flank steak against the grain and serve.
What to Serve with Oven Roasted Hawaiian Coffee BBQ Flank Steak
There are many side dishes that would compliment Hawaiian BBQ Flank Steak.
Hawaiian Macaroni Salad
Hawaiian Baked Beans
Hawaiian Coleslaw
Hawaiian Fried Rice