Mango Avocado Salsa is a delicious and fresh fruit salsa recipe made with mangoes, avocados, tomatoes and onion. It has a sweet, tangy flavor that pairs well with chips for dipping or salmon or chicken entree.
Salsa is not just for dipping. This salsa really adds a lot of flavor to fish and meat, but you can also put it on a salad, as a topping for chicken tacos, or serve it as a side dish.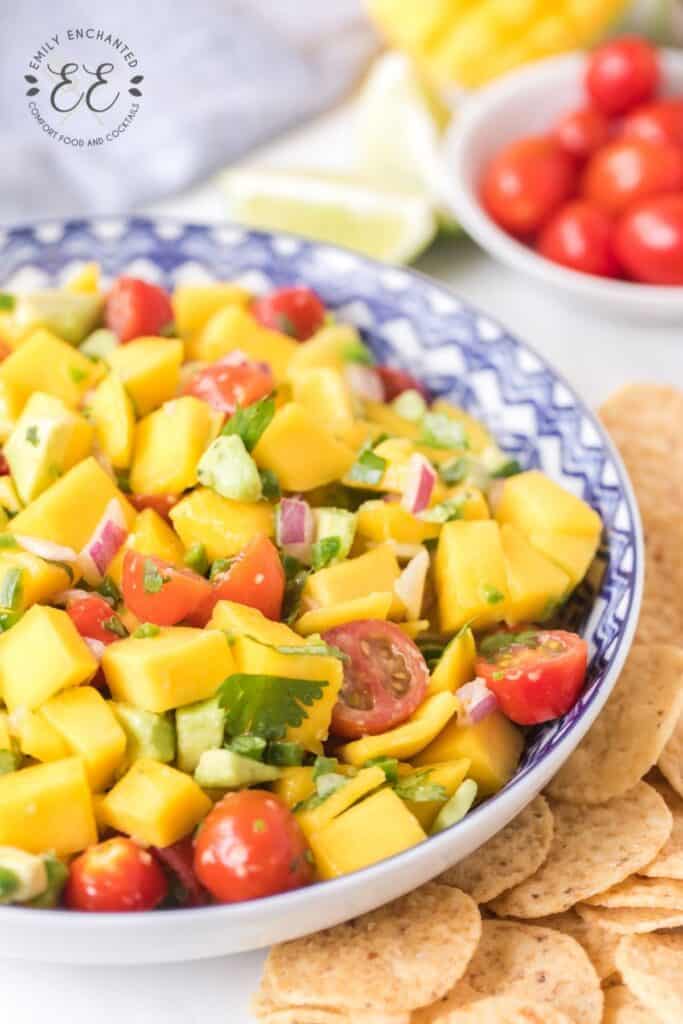 Why You Will Love This Recipe
It's so refreshing! The tropical mango mixed with summer tomatoes tastes so good on a hot day. I serve this recipe all summer, from Memorial Day to Labor Day.
It pairs perfectly with a variety of food! See my serving suggestions below for how to best enjoy avocado mango salsa.
Mango Avocado Salsa Ingredients
Only 8 of the freshest ingredients are used to make this aromatic salsa (go to the full recipe below for detailed amounts and instructions):
Mangoes: fresh mango is best for this recipe, I do not recommend frozen. Read the tips below to see how to pick out the ripest mangoes.
Avocado: make sure your avocados are ripe.
Cherry tomatoes: or grape tomatoes.
Red onion: you can also use sweet onion, but red onion adds more zing and color. You can substitute with chopped red bell pepper.
Cilantro: I can never get enough fresh cilantro – it makes everything taste better, unless it tastes like soap to you.
Jalapeño: be careful when handling peppers. Remove the seeds and don't touch your eyes.
Lime juice: squeezed fresh lime juice is the best in my opinion, but you can used bottled lime juice.
Apple cider vinegar: the acidity of the apple cider vinegar helps to preserve the salsa while also giving it some extra flavor.
How to Make Mango Avocado Salsa
Making this mango salsa recipe is so easy! All you have to do is cut up the ingredients and mix together. Just follow these simple steps:
Prep all ingredients and combine in a medium sized bowl.
Let mango salsa sit in the refrigerator for 30 minutes to 2 hours to let the flavors meld together.
Serve with chips or over grilled chicken or salmon. Enjoy!
Recipe Tips
I like mango salsa a little bit on the chunkier side, but feel free to cut the ingredients smaller if you want less in each bite.
Make sure that your mango is ripe, but not super soft or it will almost be soupy in the salsa. You want it to hold its shape, but also have lots of flavor.
Mangoes are most available during the summer months.
FAQs
How to Tell if a Mango is Ripe
Focus first on feel instead of color. When you squeeze your mango, it should be soft to the touch, not rock hard. This is similar to when an avocado or a peach is ripe. Mangoes might also have a sweet aroma at the end.
What will happen if I don't use a ripe mango?
If your mango is unripe, it will lack flavor, which will affect the quality of your salsa.
Can I Freeze Mango Salsa?
I wouldn't recommend freezing this salsa. I am not sure what kind of consistency it would have when it thaws.
How to Cut a Mango
Cut mango in thirds by cutting lengthwise on the side of the pit until you have three different pieces – your two sides and the pit in the middle. Cut a lattice pattern in each side of the mango. Flip each side inside out and gently cut off the cubes.
Serving Suggestions
Mango salsa is versatile in its uses. I enjoy eating it alongside tortilla chips, but it goes very well with almost any type of cooked meat such as:
Grilled chicken or salmon
Grilled shrimp or fish tacos
With pork chops or pork tenderloin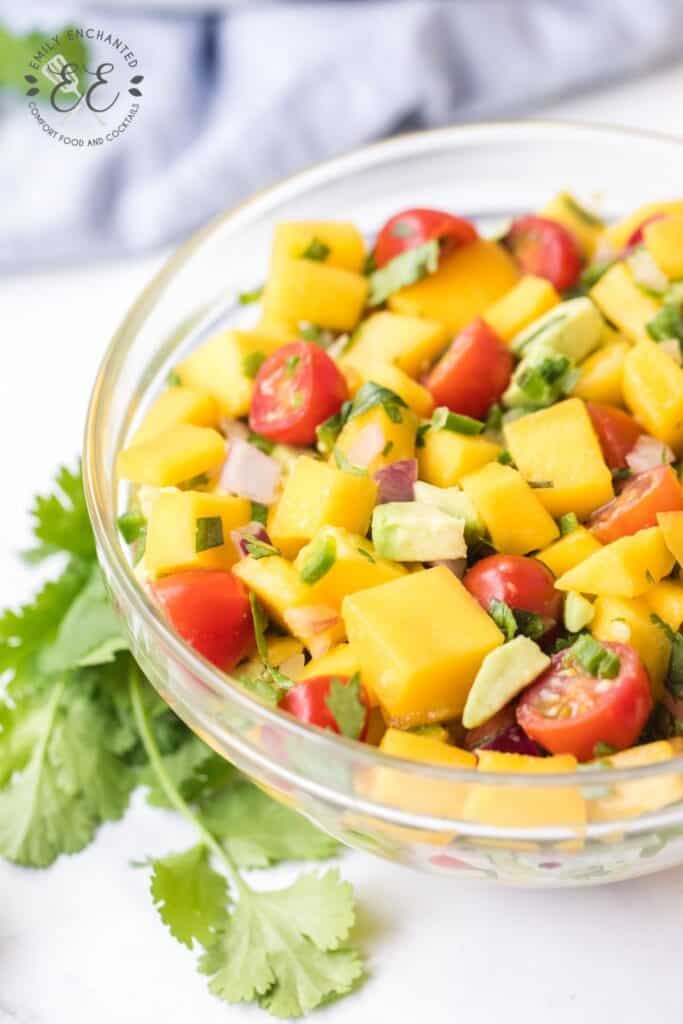 Storage Instructions
Mango salsa can be stored in the refrigerator for up to 3 days, but it is best when eaten fresh the day of. It can get a little slimy overnight. You can still eat it when it's slimy, but it's not as appealing. When that happens, I like to blend it into a puree and serve it over chicken or fish.
More Refreshing Salsa Recipes