Sweet Potato Casserole is a classic Thanksgiving side dish. Sweet potatoes are mixed with spices and pecans and topped with warm marshmallows.
For more delicious Thanksgiving side dish recipes, try my Squash Casserole with Stuffing, Sugar Free Cranberry Sauce, and Rosemary Sweet Potatoes.
Sweet Potato Casserole Ingredients
To make this classic Thanksgiving side dish recipe, you will need the following (scroll down to the recipe below for exact amounts and variations):
Sweet potatoes
Brown Sugar
Maple syrup: The maple syrup can be substituted with honey or replaced with brown sugar.
Salted Butter: You can use unsalted butter if desired.
Ground cinnamon
Ground nutmeg
Vanilla extract
Salt
Mini marshmallows: If you don't have mini marshmallows, feel free to cut up full sized marshmallows and use those instead.
Pecans: The pecans can be substituted with walnuts
How to Make Sweet Potato Casserole with Marshmallows
Preheat oven to 350 degrees F.
Prepare sweet potatoes. Place the sweet potatoes into a large pot and cover with water. Bring to a boil, reduce to a simmer, and let simmer for 15-20 minutes or until very tender. Drain and set aside to cool for 5 minutes. Transfer the sweet potatoes to a large bowl and mash with a potato masher until smooth.
Mix the ingredients. Mix sweet potatoes with sugar, maple syrup, butter, cinnamon, vanilla extract, nutmeg, and salt until well combined. Optional: Add ½ cup of chopped pecans into mixture.
Bake the casserole. Spoon the sweet potato mixture into a lightly greased 9×13 inch pan. Spread in an even layer. Sprinkle the pecans on top. Bake for 30-40 minutes or until bubbly.
Top with an even layer of marshmallows. Turn oven to broil and return pan to oven. Cook for 1 minute until marshmallows have turned a golden brown (keep a close eye to avoid burning).
Storage Instructions
After storing your sweet potato casserole in an airtight container at room temperature, you can freeze it for up to two months.
It can also be stored in the refrigerator for up to five days. Although this casserole does not have any eggs, don't leave at room temperature for too long.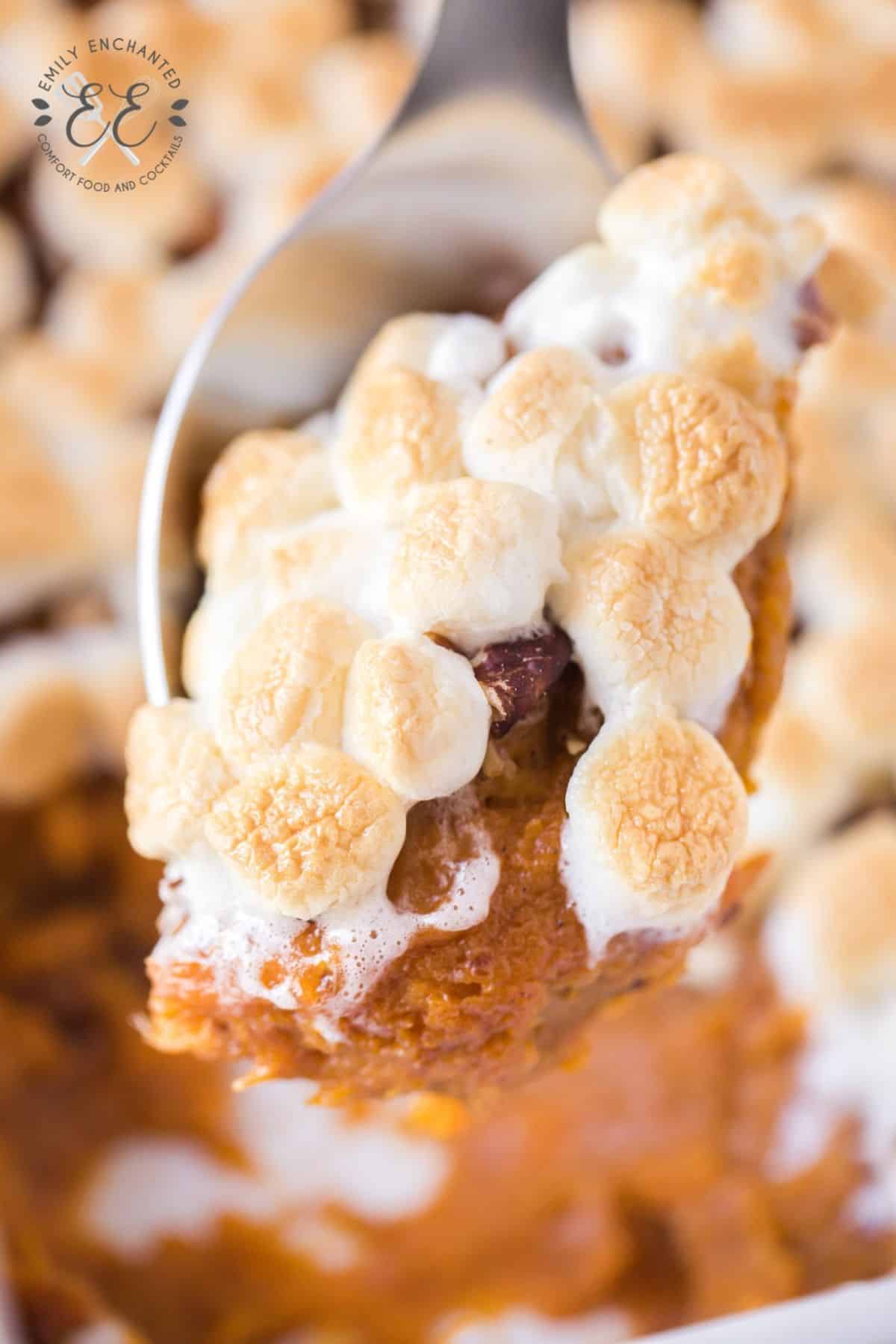 What are Sweet Potatoes?
Sweet potatoes are a starchy root vegetable that have a sweet taste. There are white and purple sweet potatoes, as well as the deep orange sweet potatoes that are most commonly used during the holidays.
I thought I knew what a sweet potato was until I went to buy them myself at the grocery store for the first time. There were different kinds of sweet potatoes to choose from. To make things even more confusing, sometimes sweet potatoes are mistakenly called yams.
Do I Have to Include Extra Pecans in the Filling?
Adding extra pecans to the sweet potato mixture is a completely optional step. However, it does give the casserole a nice extra contrast in texture. Some people prefer a creamy casserole, and some like the crunch. You get to choose.
What Do I Do if the Marshmallows Don't Look Right?
The marshmallows give that extra kick of sweetness to make the casserole truly delectable. However, they can be a little tricky to bake.
When you broil the marshmallows in the oven, they will cook very quickly. Watch them closely because they can go from golden brown to burnt in the blink of an eye. If your marshmallows do burn, just scrape off the burnt layer and try again with another layer of marshmallows.