Graveyard Halloween Brownies are a chocolatey, festive treat with gravestones and candy pumpkins. This easy Halloween recipe is made with boxed brownie mix and creamy pumpkin layer.
Halloween Brownies can be cut into large pieces or smaller bites and added to a Halloween dessert board.
Graveyard Halloween Brownies Ingredients
To make this spooky brownie recipe, you will need the following ingredients (see the recipe card below for exact amounts):
boxed brownie mix
canned pumpkin puree
cinnamon
nutmeg
allspice
granulated sugar
egg
vegetable oil
water
cream cheese: Make sure to use full-fat cream cheese. It creates a delicious flavor that the reduced-fat cannot.
Green and black cookie frosting
Milano cookies
Black food-safe marker
Mini candy pumpkins
How to Make Graveyard Brownies
Preheat oven to 350 degrees F. Oil and line an 8×8 baking dish with parchment paper. Set aside.
In a large mixing bowl, combine brownie mix, egg, water, and vegetable oil. Stir until smooth. Set aside.
In a medium mixing bowl, combine pumpkin puree, cinnamon, nutmeg, allspice, sugar, and cream cheese. Mix until smooth.
Pour half of your brownie batter into the prepared pan and smooth out.
Scoop your pumpkin mixture onto the first half of the brownie batter in the pan. Smooth evenly over the brownie batter.
Pour the remaining brownie batter onto your pumpkin mixture and smooth out evenly.
Bake for 30-35 minutes (until toothpick comes out clean)
While your brownies are baking, cut the Milano cookies in half and write "RIP" on each half to create a gravestone.
Once the brownies are finished and cooled, cut into 16 squares.
Add a line of black frosting into each brownie, then place a "gravestone" onto the frosting, upright.
Add a dot of green frosting in front of the "gravestone" and place a candy pumpkin. Embellish vines with the green frosting.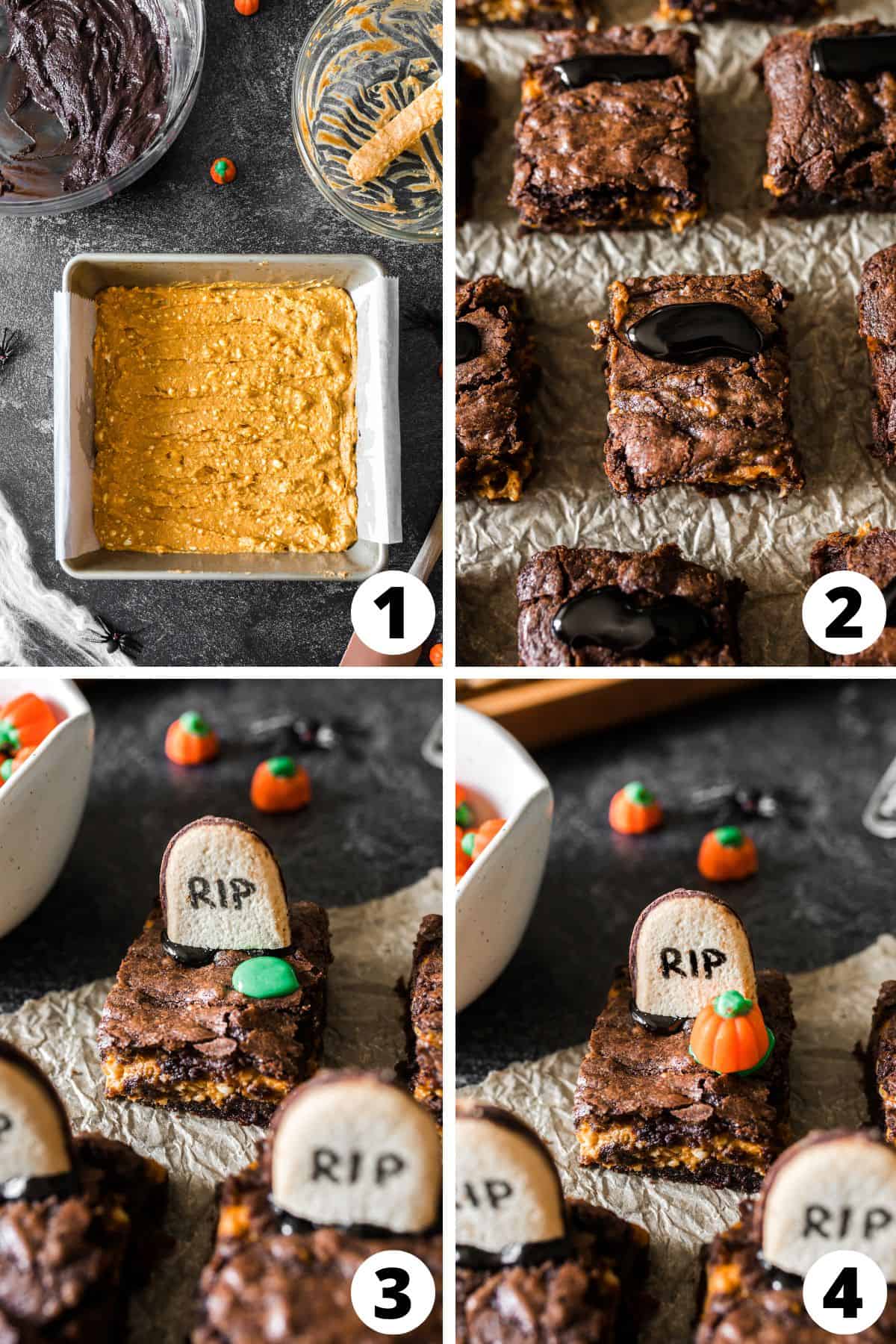 Recipe Tips
Swirl your pumpkin and brownie mixture with a skewer to create a fun pattern before baking.
You can skip the pumpkin layer altogether.
Storage Instructions
Brownies keep for 4 days in an airtight container.
More Spooky Halloween Desserts