This Halloween Charcuterie Board is full of spooky treats. Adults and children alike will love the cutie orange pumpkins, graveyard brownies, witches brooms, monster cookies and banana ghosts.
Halloween Charcuterie Board Ingredients
To make this Halloween dessert platter, you will need the following ingredients (the amounts are up to you!):
Oreos
Stick pretzels
Cutie oranges
Green Mike and Ikes
Nutter Butter cookies
Black cookie frosting
Graveyard Halloween Brownies: You can also use store-bought Halloween brownies.
Gummy worms
Chocolate covered graham crackers
Pumpkin candies
Verona cookies (thumbprint cookies)
Bananas
Candy eyes
How to Make a Halloween Dessert Board
Oreo Spiders. Using four pretzel sticks for the spider, break each pretzel stick in half. Separate the Oreo then add four pretzel halves on each side of the spider. Replace the top cookie. Using a dot of frosting, create two dots in the center of the spider and place a candy eye on each dot.
Monster Cookies. Place two candy eyes in the jam portion of a Verona cookie. Draw a squiggly line with the cookie frosting above the candy eyes. Create a large dot for a mouth with the cookie frosting.
Witches' Brooms. Cut each Nutter Butter cookie in half. Remove the top half of the cookie and place a pretzel stick into the filling (about ¼ of the way in). Replace the top half of the cookie and create a thin line over the bottom half of the "broom" with cookie frosting.
Cutie Pumpkins. Peel each cutie orange and make an impression on the top of each orange. Place a green Mike and Ike in the impression. This creates the "stem" of the pumpkin.
Banana Ghosts. Cut each banana in half. Create two eyes and a mouth on the top half of the banana with the black cookie frosting. Place a cake pop stick half way into the bottom of each banana.
Arrange all of the above with the Graveyard Brownies, gummy worms, chocolate covered pretzels, and chocolate covered graham crackers on a board and serve!
Recipe Notes
To create a large dessert board, I recommend using a serving tray that is at least 20 inches long.
Some of the cookies can be easily substituted with fruit, such as apple slices or purple grapes.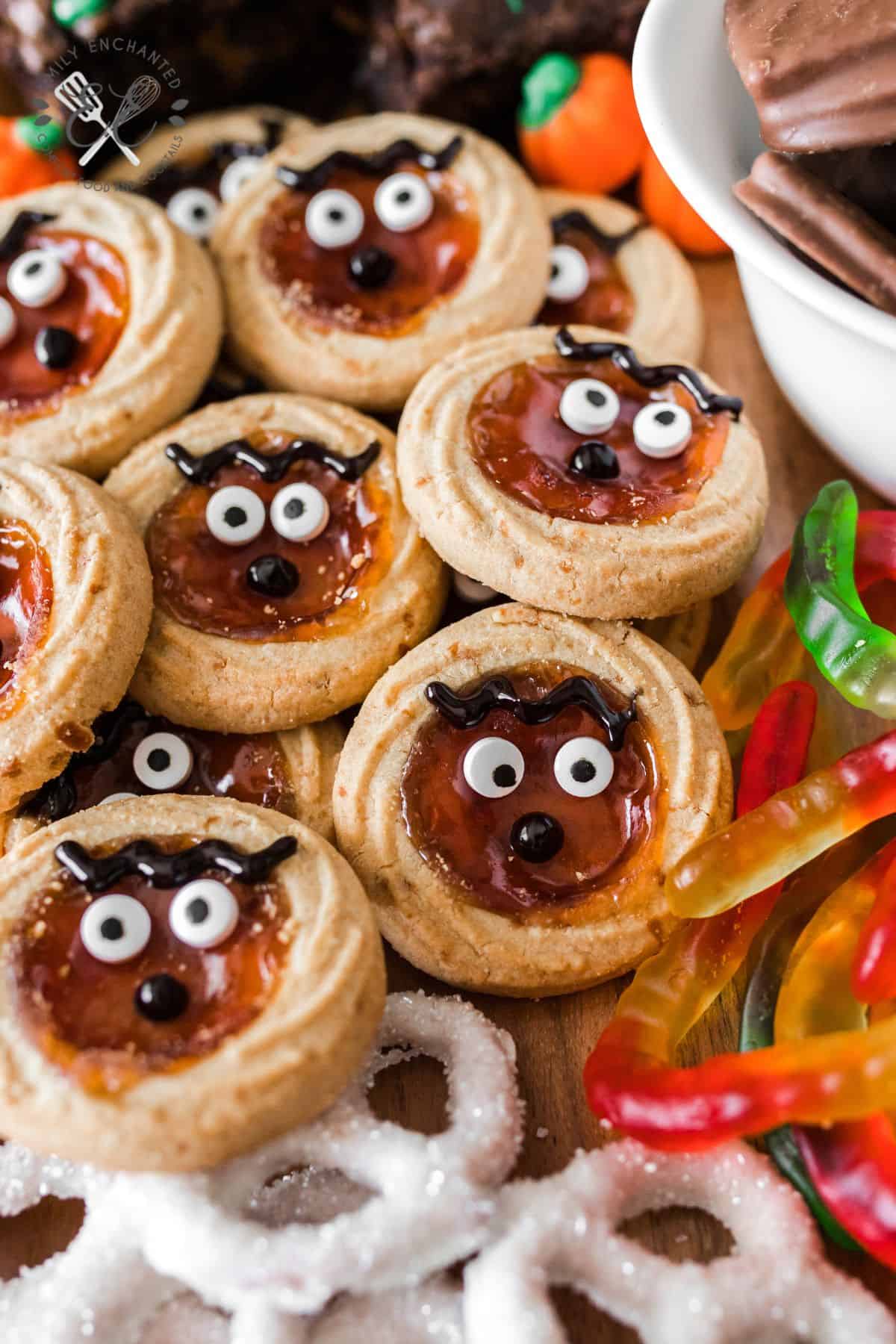 Storage Instructions
The cookies will keep for 5 days in a storage bag.
More Halloween Desserts: