Monster Rice Krispie Treats are a cute and spooky Halloween treat that everyone will love! This classic recipe comes to life with candy eyes and a little food coloring.
This post contains affiliate links.
Monster Rice Krispie Treats Ingredients
To make these Halloween treats, you will need the following ingredients (see the recipe card below for exact amounts):
unsalted butter
vanilla extract
mini marshmallows
Rice Krispies cereal
candy eyes: You can buy online or in the grocery store. They are kept with the frosting and candles in the baking aisle.
How to Make Halloween Rice Krispie Treats
Combine the butter and mini marshmallows in a large microwave-safe bowl. Place in the microwave for two minutes, stir the mixture halfway through until all the marshmallow mixture is melted. Stir in the vanilla and food coloring.
Fold the rice crispy into the marshmallows, allow the mixture to cool for 5 minutes.
Line a sheet pan with parchment paper. Spray a 1/3 measuring cup with nonstick spray, scoop the mixture into the cup and place it on the sheet pan. Lightly grease your hands and gently roll the blobs into rounded shapes.
Press a few eyes into the monster's head and allow them to cool at room temperature for one hour.
Is there a way to make these without a microwave?
Yes, you can make these on the stovetop. I like to make them in the microwave so kids can help make them without burning themselves. Just placed the butter and marshmallows into a pan and cooked over medium heat, making sure you continuously stir, then continue the recipe as stated.
How do I keep the rice crispies from sticking to my fingers or spoon?
If you're having some trouble with it being sticky, you can spray your hands or spoon with a nonstick cooking spray to prevent them from attaching to you.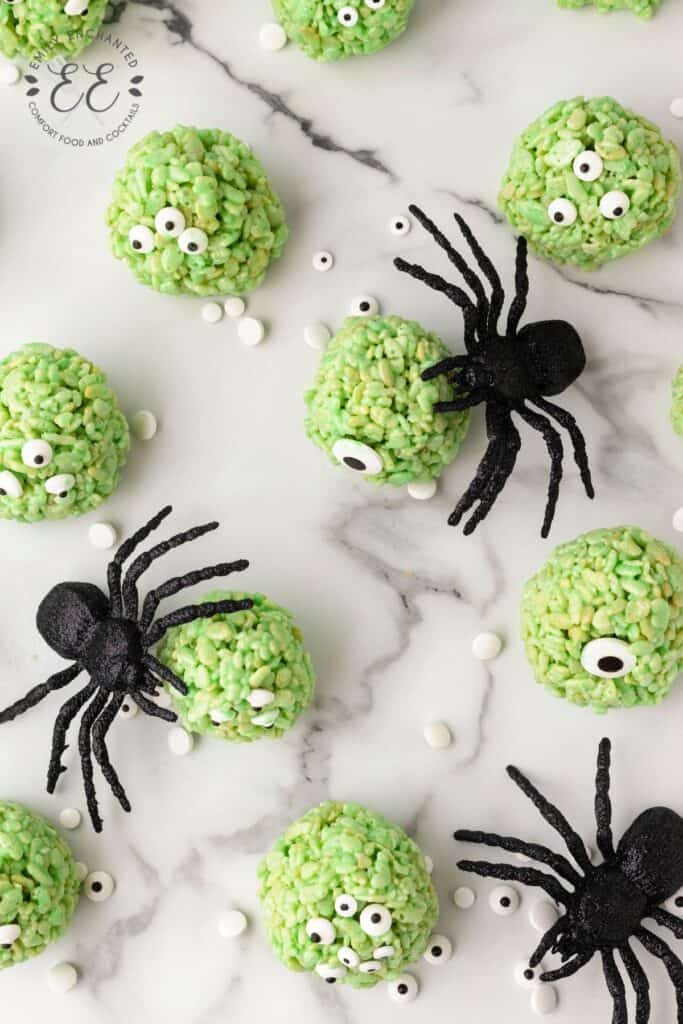 The eyes will not stick to the monsters. What am I doing wrong?
It sounds like you have used a little too much of the grease. It's a fine line of using too little and the cereal sticking to your hands vs. too much and the eyes not sticking. You can press a little bit of the marshmallow mix to the outside and stick your eyes to that.
Can I Make These Different Colors?
Yes! You can use any food coloring you like. You can even make them darker by adding more food coloring. Keep adding and stirring to get the color you want. Don't be afraid to use even up to 30 or more drops of food coloring.
Storage Instructions
You can store them in an airtight container right on your counter for up to three days before they start losing their crispiness.