These fun Witch Hat Cookies are quick and easy to make, super adorable and only use 4 ingredients! Bring the most loved treat to the next Halloween party with this recipe.
This is a great family recipe! It is especially great for little fingers that want to help but aren't quite coordinated enough for difficult tasks yet. Kids will love helping lay out the cookies, dip the kisses and put on the mini M&Ms. Be sure that the melting and stirring of the candy melts is done with adult supervision so that no one gets burned.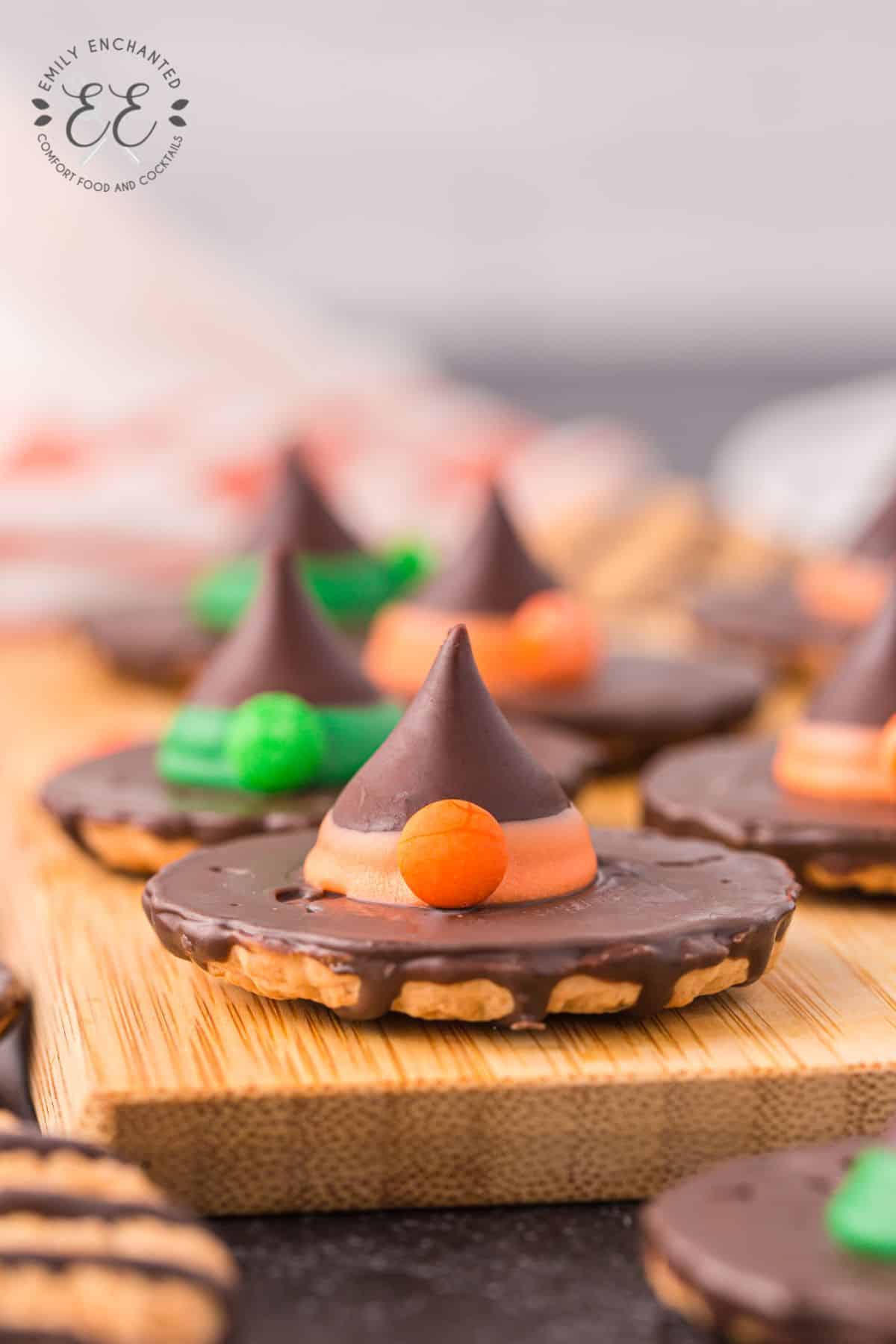 Witch Hat Cookies Ingredients
To make this Halloween cookie recipe, you will need the following ingredients (see the recipe card below for exact amounts):
Striped cookies: I used Keebler Striped Cookies but you can use any brand you'd like.
Candy melts: You can switch up the colors to make your own unique witches hat. You can easily find a variety of colored candy melts at craft stores like Michaels, or party stores such as Party City.
Dark chocolate kisses: You can also use milk chocolate or almond kisses for this recipe.
Mini M&Ms: You can also use decorative icing or another small candy or sprinkle if you prefer.
How to Make Witch Hat Cookies
Place the cookies upside down on a large, parchment lined baking sheet so that the solid chocolate bottom is facing up.
Pour each set of candy melts into a shallow, microwave safe bowl and heat for 30 seconds in the microwave. Stir the melts well and continue to heat in 10-15 second increments, stirring well between each heating, until the melts are completely liquid and combined.
Dip each chocolate kiss bottom into the candy melts to coat the bottom and just a tiny bit of the side edge.
Allow any excess to drip off and then place the kiss on the center of a cookie, creating a witch's hat.
Place one mini M&M, "m" side down, on the candy melt band and then repeat with the remaining ingredients.
Allow the witch hats time to set completely, about 15-30 minutes, before serving.
Recipe Tips
For a quicker set up you can put the decorated witch hats in the refrigerator. Be aware the cold chocolate is not as pleasant to eat.
Storage Instructions
These Witch Hat Cookies should be stored in an airtight container or bag so that the cookies don't get soft or stale. However they can be kept at room temperature for 2-3 weeks. If you choose to refrigerate or freeze them they will keep longer but the chocolate and cookies harden and should be brought back to room temperature before serving.
Variations
These Witch Hat Cookies are so easy to make that they leave plenty of room for individuality! Here are a few ideas to get you started:
Change up the cookie that you use as the base of the hat. While the striped cookies give the cleanest hat result you can use any round, flat based cookie with similar results. Try using coconut cookies, fudge covered oreos, chocolate chip cookies or even ritz crackers, plain or covered in chocolate.
Use a variety of colors. You can make witch hats with orange, green or purple candy melts. In fact, you can make a whole tray of hats with different band colors, either matched with mini M&Ms or switched up.
Decorate the hats with a variety of sprinkles, frosting or Halloween candies for more elaborate witch hats. This is a great way to let the kids individualize the witch hats. You can also use a variety of hugs or kisses, making the top of the hat different colors.
More Halloween Cookies