Is Cheesecake Fruit Salad a side dish or a dessert? You decide! Made with cream cheese, Cool Whip, berries and citrus, this recipe takes fruit salad to the next level!
This creamy fruit salad tastes just like cheesecake filling with whole berries and fresh fruit chunks. It is SO GOOD – a combination of a berry cheesecake and a tropical cheesecake in a bowl! You can't NOT love this recipe!
This post contains affiliate links.
Cheesecake Fruit Salad Ingredients
To make this easy fruit salad recipe, you will need the following ingredients (print the recipe below for exact amounts and directions):
Cream cheese: You can omit the cream cheese for a sweeter flavor.
Cool Whip: You can make your own whipped topping using heavy whipping cream instead of using frozen whipped topping for this cheesecake fruit salad.
Honey
Vanilla extract
Powdered sugar
Strawberries: Fresh fruit is best for this recipe. I do not recommend frozen fruit.
Blueberries
Raspberries
Kiwi
Pineapple chunks: You can use canned or fresh. Be sure to drain canned pineapple.
Mandarin orange slices: I used canned. Drain and pat dry with a paper towel.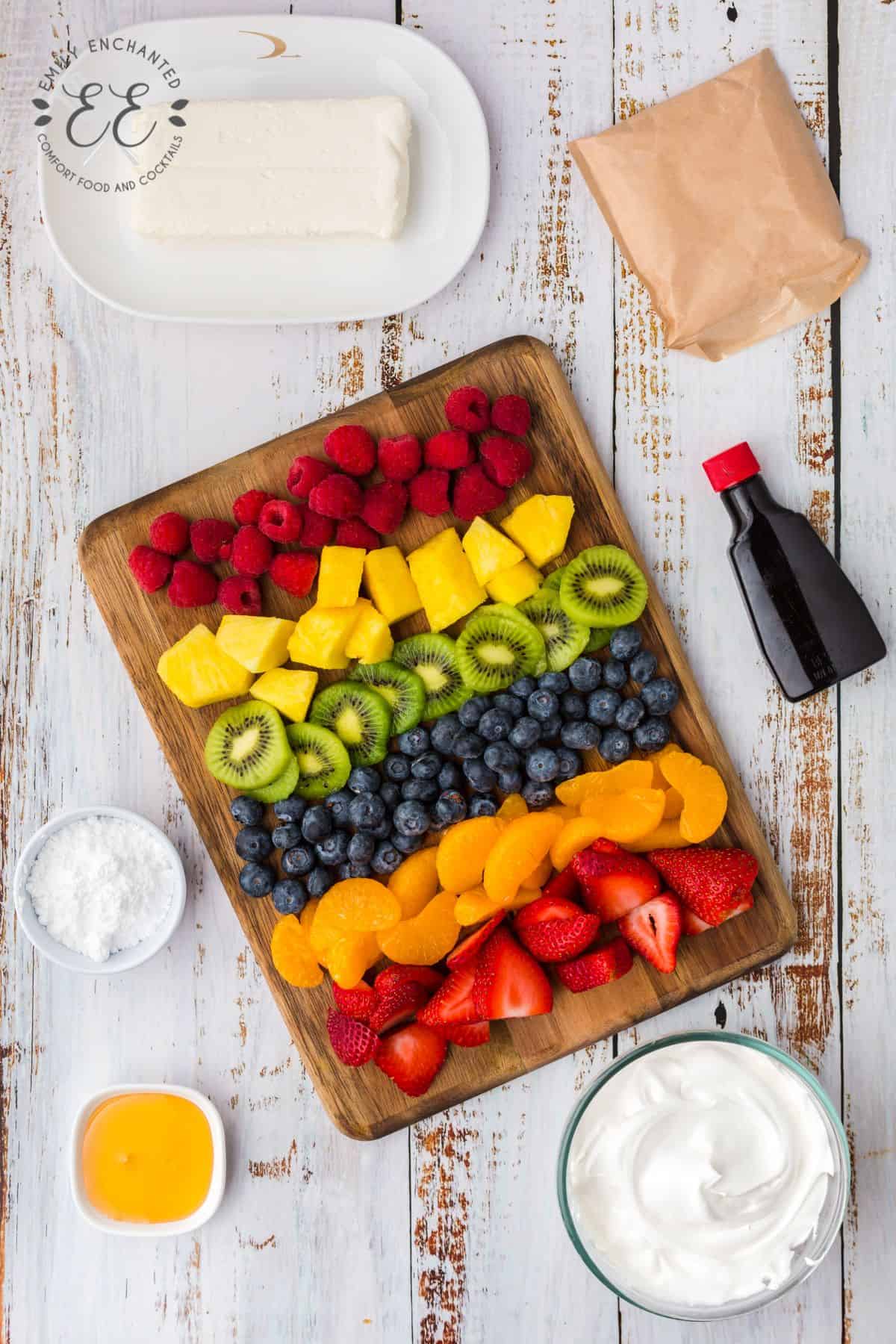 How to Make Cheesecake Salad
In a medium bowl, beat cream cheese, powdered sugar, honey, and vanilla extract for about 2 minutes or until very smooth.
In a large bowl fold powdered cheesecake pudding mix into cool whip until well mixed. [Note: It is best to mix the powdered pudding mix to the cool whip before combining all other ingredients, otherwise, the mixture becomes very chunky and hard to incorporate fruit.]
Pour the cream cheese mixture into the large bowl with the cool whip mixture and combine well.
Add strawberries, blueberries, raspberries, kiwi, pineapple, and mandarin to the mixture and combine them until the fruit is covered in the cheesecake mixture.
Chill in a refrigerator for at least 30 minutes and serve cold.
Storage Instructions
This cheesecake fruit salad can be stored in an airtight container in a refrigerator for up to 4 days or in a freezer for up to 4 months, which makes this a great recipe to make ahead. Just be sure to mix thoroughly in case any juices from the fruit have settled.
Serving Suggestions
This cheesecake fruit salad is best served cold. It can be served as a sweet side dish for a backyard barbecue or dessert. I recommend serving on top of angel food cake – YUM!
Substitutions
You can substitute any of the fruit with a variety of other fruit such as banana slices, grapes, peach slices, mango chunks, etc.
FAQs
How do I peel a kiwi?
Peeling or removing the skin from a kiwi is simple! You can simply cut it off with a sharp knife, or cut the ends off and use a spoon to scoop out the flesh in one piece.
More Delicious Fruit Recipes
Fruit Kabobs with Cream Cheese Dip
Watermelon Feta Salad with Mint
Honey Lime Fruit Salad
Sugar Cookie Fruit Pizza