Sugar Cookie Fruit Pizza is a cold dessert recipe that is sweet and yummy. The sugar cookie dough crust is layered with a cream cheese mixture and a colorful fruit assortment.
Fruit pizza dessert is the perfect summer dessert for parties. You can slice it like a pizza or cut it into squares. The baked cookie crust makes the fruit pizza easy to hold. You should also try my Brownie Ice Cream Sandwiches.
You can also turn the fruit toppings into a fruit salad.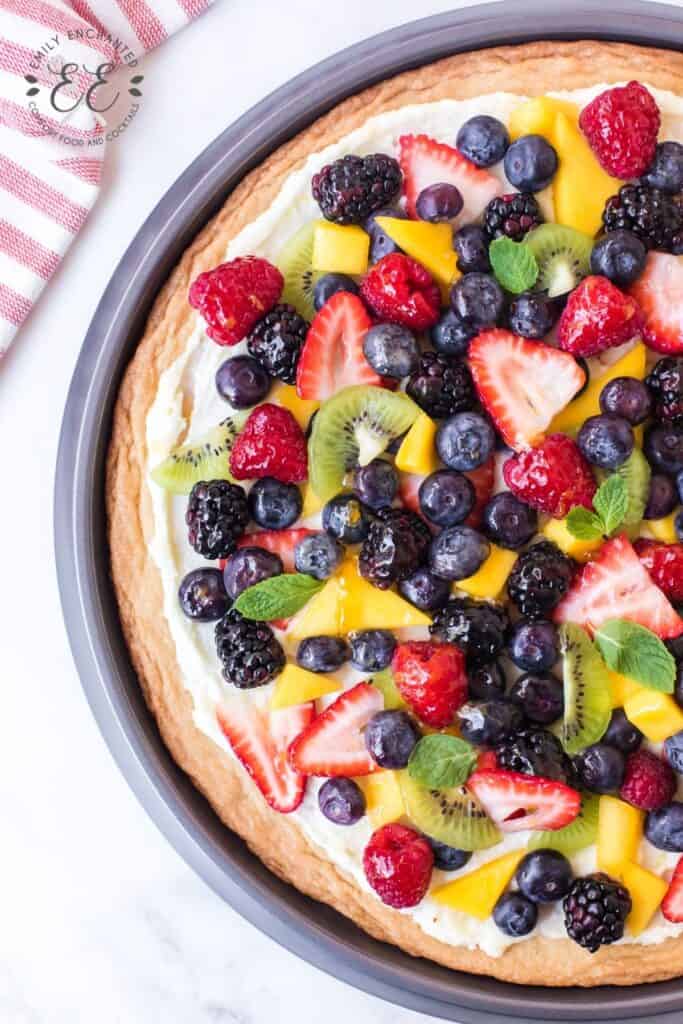 This post contains affiliate links.
Sugar Cookie Fruit Pizza Ingredients
To make this fruit dessert pizza, you will need the following ingredients (print the recipe below for exact amounts and directions):
refrigerated sugar cookie dough: this can be found in the refrigerated section of your local grocery store
cream cheese
powdered sugar
vanilla extract
lemon zest
kiwi fruit
strawberries
blueberries
mango
raspberries
blackberries
apricot spread
How to Make Fruit Pizza Dessert
Preheat oven to 350F.
Place refrigerated cookie dough onto 12" pizza pan (preferably one with a lip). Spread the cookie dough into a circle about ½ inch from the edge of the pizza pan to allow for spreading.
Bake in oven for 16-18 minutes or until edges are golden brown. Set aside and cool completely.
In a separate bowl beat together cream cheese, sugar, lemon zest, and vanilla extract until smooth.
Spread cream cheese mixture over cooled cookie crust. Arrange fruit on top.
Microwave apricot spread for 20-30 seconds to make it more spreadable.
Brush fruit with apricot spread. Cut and serve.
FAQs
What Kind of Fruits Can I Use for Fruit Pizza?
Some other fruit options are: grapes, bananas, apples, dragon fruit, mandarin oranges, pineapple, peaches, nectarines, or plums. I wouldn't recommend using melon for this reason. If your fruit is high in water content, you may want to consider patting each piece dry before placing it on your fruit pizza.
How Much Sugar Cookie Dough do I Use for a 16" Pan?
A 16" pie pan is a common size pan and you can definitely use it for this recipe. If you would like to fill the entire pan, you want to increase all the other ingredients by about 1/2. Use 1 ½ packages of dough, 1 ½ packages of cream cheese, etc. Another option would be to just make about an 11" circle inside of the 16" pan (because we are allowing a ½ inch just like with a 12" pan) and using the same proportions of ingredients. You may not end up with a perfect circle with this method, but it will allow you to use a pizza pan that you may already have.
Can I Make this Recipe Ahead of Time?
If you need to make this ahead of time, prep ingredients the day before and assemble just before serving.
Can I Use a Different Type of Glaze to Top the Fruit With?
The apricot glaze helps to not only add another depth of flavor to your pizza, it's also a method used to preserve the fruit and slow the oxidation process. If you don't have apricot spread available to you, you can use any glaze that is clear or lightly colored. These would include: apricot spread, peach spread, and apple spread. You may even be able to get away with using a strawberry or raspberry glaze depending on how dark red the spread is.
Storage Instructions
You can store fruit pizza in the refrigerator for up to 2-3 days. Make sure that you cover it with plastic wrap. It tends to get soggy after the first day, but it can still be eaten for an additional couple of days.