Creamy and rich, this garlicky Eggplant Pasta is full of fresh vegetables that are tossed with perfectly cooked spaghetti!
Also known as Pasta alla Norma, this traditional Italian pasta dish can be a side dish or the main meal. Even the pickiest eaters will love this simple eggplant spaghetti!
Eggplant pasta uses a cream based, homemade tomato sauce instead of a red tomato sauce! This delicious sauce is light and not too thick.
Eggplant Pasta Recipe Ingredients
To make this aubergine pasta recipe, you will need the following ingredients (scroll down to the recipe card below for exact amounts and directions):
Spaghetti: whole grain spaghetti tastes really good in this dish as well.
Extra virgin olive oil
Yellow onion
Garlic
Eggplant: also known as aubergine
Tomatoes
Salt
Ground black pepper
Crushed red pepper flakes
White wine: you can use chicken broth or vegetable broth instead.
Heavy whipping cream
Fresh basil
Fresh thyme
How to Make Pasta Alla Norma (Pasta with Eggplant)
Set a large pot of water to boil over high heat and salt generously then add the noodles and cook pasta to al dente according to the instructions on the package.
Heat the olive oil in a large pan or Dutch oven over medium heat then add the onion and stir and cook until they become translucent.
Stir in the garlic then cook just until it becomes fragrant, about 30 seconds.
Stir in the eggplant, tomatoes, salt and pepper, and red pepper flakes and cook for 12-15 minutes or until the vegetables have reduced significantly.
Stir in the wine and let the alcohol cook off for 3-4 minutes.
Stir in the heavy cream and bring it back to a simmer then stir in the basil and thyme and let it continue to simmer for 5-6 minutes.
Drain the pasta from the water then add it to the pan and toss and stir for 5-6 minutes until the pasta starts to emulsify and get very creamy.
Add more salt to taste then serve with basil leaves for garnish if desired. Sprinkle with grated parmesan cheese.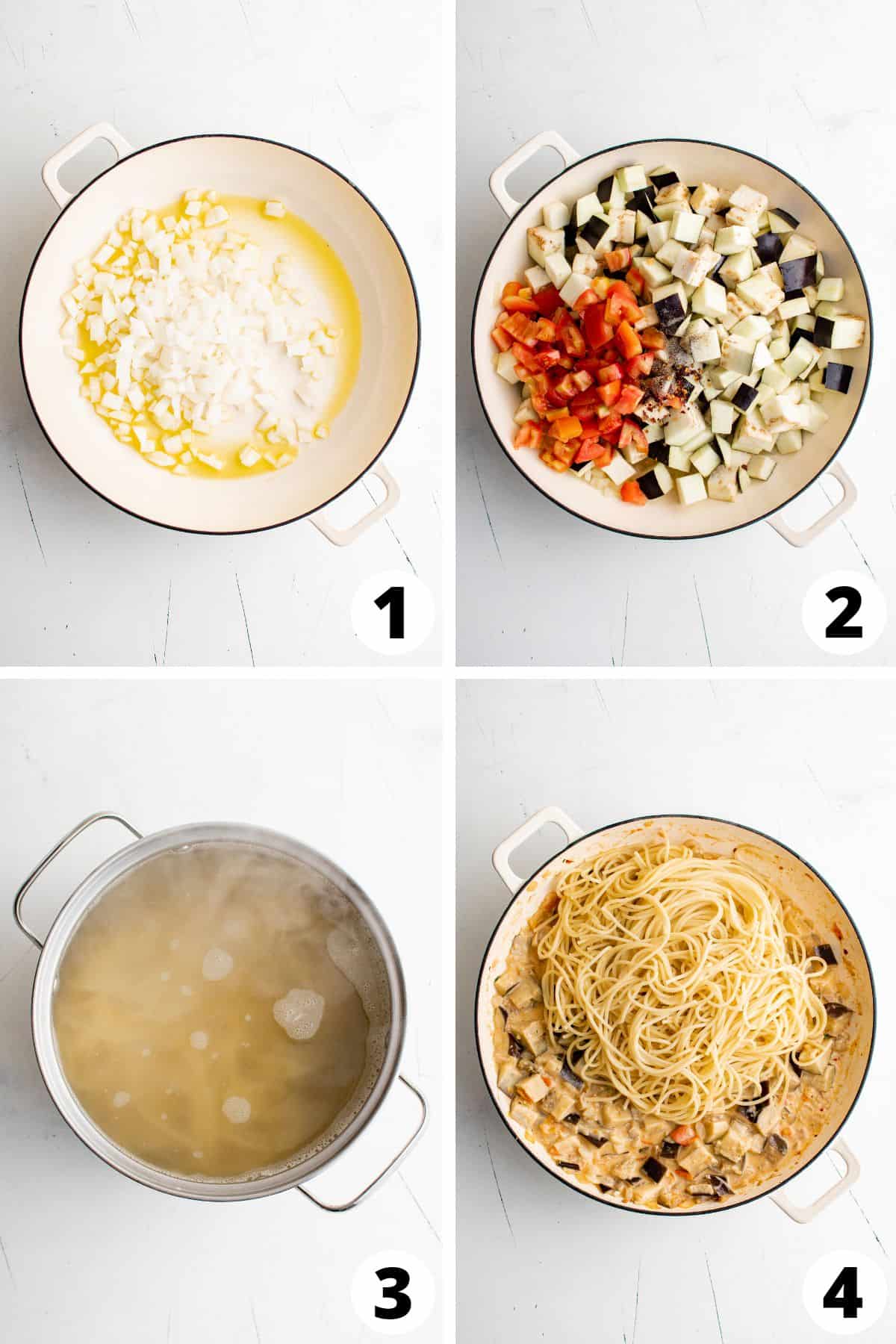 Variations
Roasted Eggplant – If you prefer, you can make roasted eggplant in the oven with the other veggies. There is not any real difference between sautéed eggplant and roasted eggplant.
Red Sauce – You can simplify this recipe even more by using a store-bought jar of pasta sauce. You can also substitute crushed tomatoes.
Storage Instructions
This eggplant pasta can be stored in an airtight container in the fridge for up to 4 days.
FAQs
Aubergine vs. Eggplant
Aubergine is the French word for eggplant. If you travel to Europe, you will hear this word in place of "eggplant." They mean the exact same thing.
How do I pick the best eggplant?
Eggplant should be slightly firm – not hard, but not mushy. It will look smooth and shiny, not brown.
Is eggplant healthy?
Eggplant contains potassium, fiber, Vitamin A and Vitamin C.
More Tasty Pasta Recipes You Can't Resist