Chicken stuffed poblano peppers are perfect for Mexican food lovers. They are filled with seasoned chicken, cheese, and salsa.
The poblano is a mild pepper, that is green and large, about the size of a bell pepper. They are frequently roasted and used in chile rellenos.
Chicken Stuffed Peppers Ingredients
To make this stuffed pepper recipe, you will need the following ingredients (scroll down to the recipe below for precise amounts):
Poblano peppers
Mexican cheese blend
Rotisserie chicken
Pico de gallo: may substitute salsa
Sour cream
Fresh cilantro
Green onion
Limes
How to Make Stuffed Poblano Peppers
Prep the peppers. Wash the poblano peppers and place them on a baking sheet. Broil about 4-5 minutes on each side. You want to see the skin blacken and start to bubble. Remove the peppers from the oven, cover with a towel and let cool for about 10-15 minutes. Once the peppers are cool, peel off the skin and cut a slit on the top of the pepper under the stem and down the length of the pepper, removing the inside and seeds.
Make the chicken mixtures. While the peppers are broiling, mix the chicken, sour cream, pico de gallo, lime juice, green onion and cilantro in mixing bowl.
Stuff the peppers. Stuff each pepper with about 3/4 cup of the cheese and chicken mixture, then sprinkle remaining cheese on top of each pepper.
Bake the peppers and serve. Bake at 350 for 20-25 minutes. Serve with garnish of fresh cilantro, green onions and sour cream on top.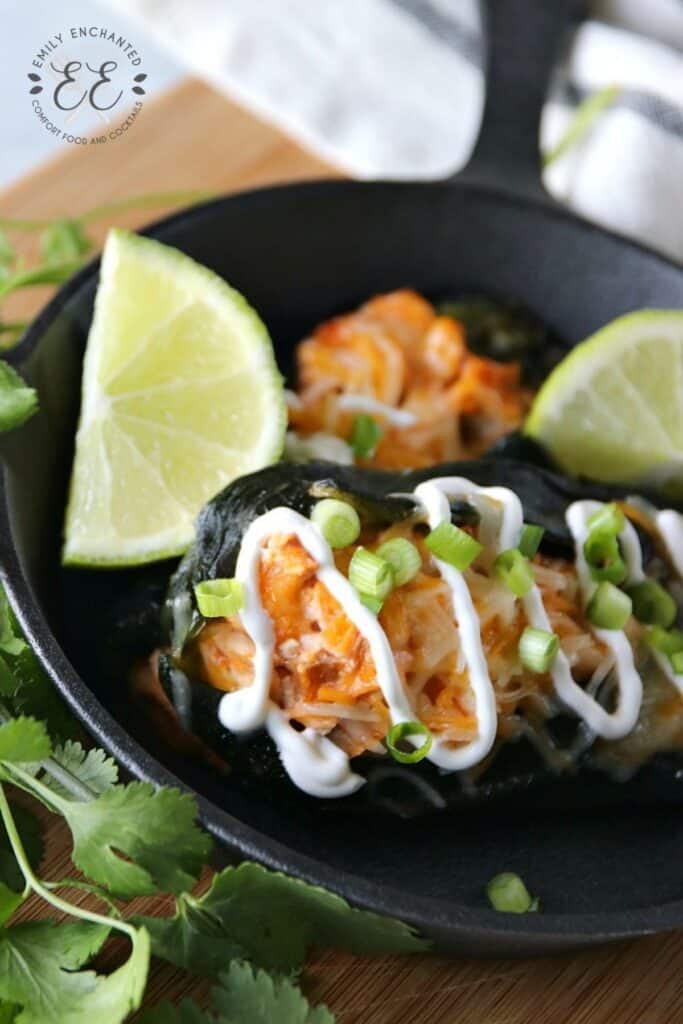 What to Serve with Poblano Peppers
Serve it up with a side of guacamole with tomatoes and tortilla chips! And don't forget to pour yourself another margarita. 😉
FAQs
Are poblano peppers healthy?
They are a great source of vitamins, minerals, antioxidants and fiber.