Instant Pot Pozole (or Posole) is a quick and easy version of the traditional Mexican dish. Pork and hominy are infused with delicious spices and cooked to perfection in an Instant Pot.
Pozole usually consists of multiple kinds of whole chilis, but this Instant Pot recipe uses an alternative blend of spices that produces just as much delicious flavor and still gets dinner on the table within 30 minutes!
This post contains affiliate links.
Pozole Ingredients
To make this Mexican Pozole recipe, you will need the following (scroll down to the recipe below for exact amounts and instructions):
Note that many of these ingredients can be found in the Mexican food section of your local grocery store, specialty Mexican store, or online.
How to Make Pozole in an Instant Pot
Prepare and sear the pork. Pat down pork ribs with paper towels to remove excess moisture. Season with salt and pepper. Put vegetable oil in the bottom of the Instant Pot and press the Saute button and let it heat up. Add seasoned pork ribs to the Instant Pot and sear for 3 minutes on each side.
First round of cooking. Add the minced garlic, chopped onion, chicken broth and water to the Instant Pot. Put lid on and seal. Press Manual button and adjust cook time to 16-18 minutes depending on how thick your pork ribs are. The ribs I used were about 2 inches thick so I cooked them for 18 minutes.
Add rest of ingredients for second round of cooking. Once the ribs are cooked, use two forks and shred. Add in the remaining ingredients, stir and seal again. Press Manual button and adjust cook time to 10 minutes. Let the pressure release before removing the lid.
Serve and enjoy. Once cooked, serve with suggested condiments on top or by itself and enjoy!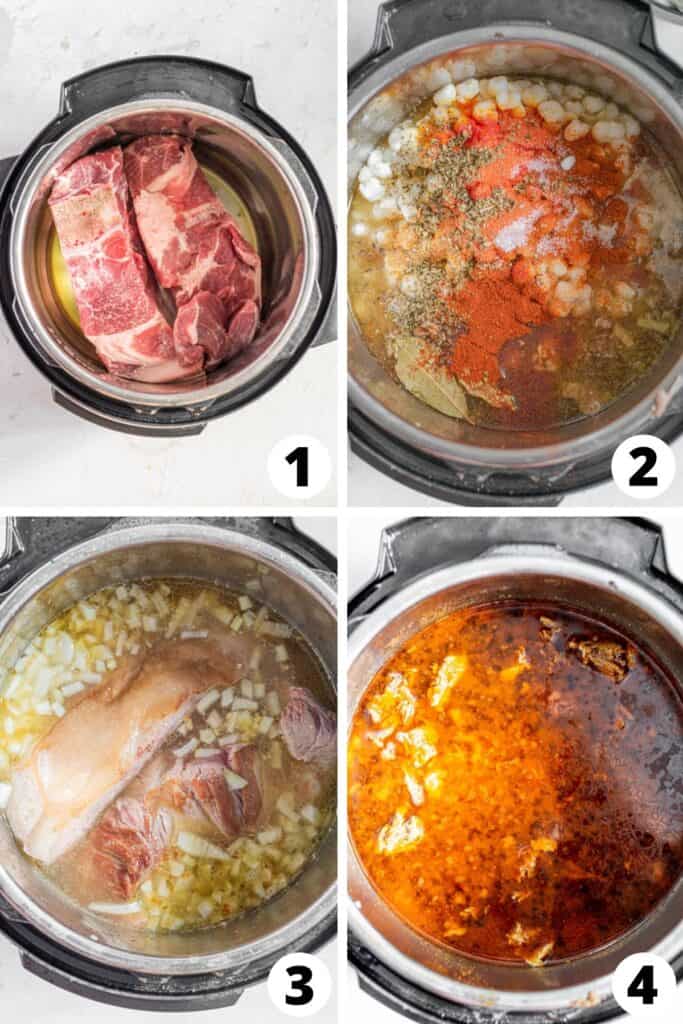 Pozole Toppings
There are so many toppings that you can serve with Pozole. I like to add raw veggies from some added crunch. Here is a list of ideas:
Avocado
Chopped onion
Cilantro
Lime
Shredded cabbage
Sliced radishes
Salsa
Tips for Making Posole in an Instant Pot
If you do not wish to have a spicy soup, first reduce or eliminate the cayenne as it is the spiciest of the chili powders.
This recipe is formulated to take as little time as possible, however, as with many soup recipes, the longer you cook it, the more the flavors will come forth. After you add the seasonings to the Instant pot, you can cook up to 45 minutes but I would not recommend doing so any longer than that as the hominy will start to break down.
FAQs
What is Pozole?
Pozole is a traditional Mexican stew made with hominy and pork. It is seasoned with chili peppers and can be made blanco, verde or rojo – white, green or red depending on the sauce. Pozole is commonly served with a wide variety of condiments.
What is Hominy?
Hominy is simply dried corn kernels that have been soaked to soften the outer shells. Traditionally made from maize, they are larger than regular corn kernels. Hominy has a meaty texture, sort of like a bean.
Serving Suggestions
Pozole can be either a main dish or a side dish. If you are looking for a full Mexican dinner night menu, try my Cheese Enchiladas and Stuffed Poblanos, or Milanesa Steak. Serve with chips and guacamole.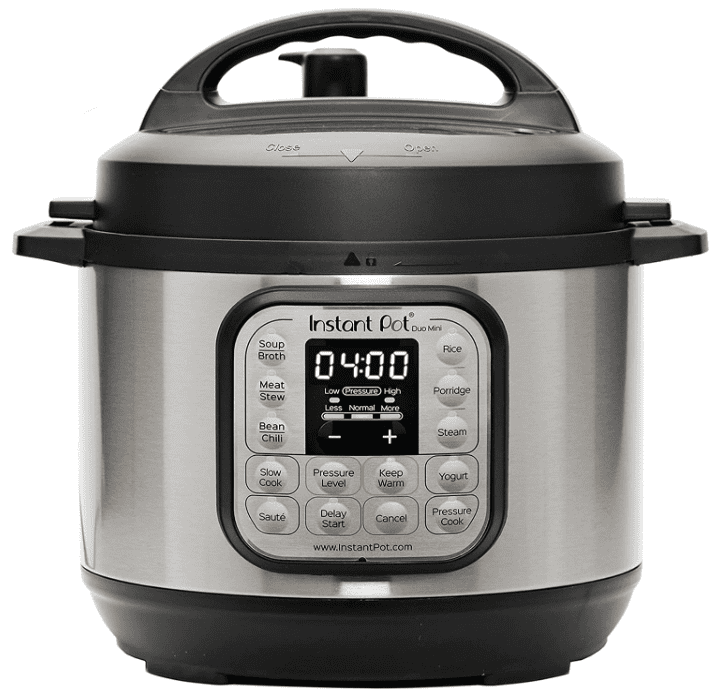 The Instant Pot Duo is simple and easy to use. This 7-in-1 appliance can pressure cook, slow cooker, steam, sauté & more.
Storage Instructions
This soup should be stored in a sealed container in the fridge for up to 5 days.