If you love burrito bowls, you must try this Instant Pot Barbacoa Burrito Bowl. This recipe requires a lot of love and time, but it is so worth it!
This Chipotle copycat burrito bowl recipe makes a lot and is great for a meal prep burrito bowl or for feeding a lot of people.
This burrito bowl is made with barbacoa, which is perfectly seasoned shredded beef. Barbacoa is a great filling for burritos, tacos, or even by itself! It sounds similar to barbecue, but it is not the same thing.
This is a great recipe to make for family dinner night. I love to create a burrito bar where are all the ingredients are arranged on the counter and you can pick and choose what you want to go in your burrito bowl.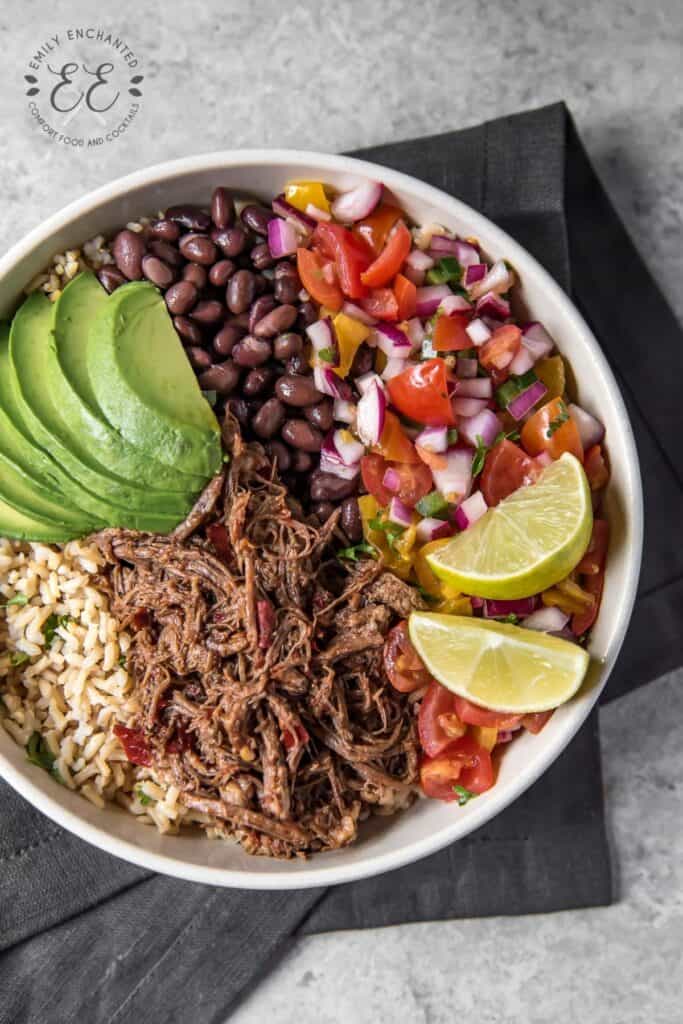 This post contains affiliate links.
Instant Pot Barbacoa Ingredients
This Instant Pot Barbacoa recipe calls for a lot of ingredients, so make sure to print the recipe below to take to the grocery store (go to the recipe below for measurements and instructions):
Beef chuck roast
Avocado oil
Salt and pepper
Guajillo peppers
Chipotle chilis in Adobo sauce
Garlic
Beef broth
Limes
Apple cider vinegar
Ground cumin, dried oregano, red pepper flakes and bay leaf
Brown rice
Water
Black beans
Avocado
Pico de gallo
Cilantro
How to Make Barbacoa in an Instant Pot
This recipe has many parts, so read the instructions carefully. You can make things easier by making the rice ahead of time.
Prep the peppers. Place dried guajillo peppers in a shallow bowl with hot water for 15 minutes to hydrate them.
Sear the meat. Set your Instant Pot to saute. Drizzle avocado oil inside. Cut the beef chuck roast into 3 sections and season with salt and pepper. Sear each section in the Instant Pot on all sides, about 2 minutes per side.
Process the barbacoa ingredients. When peppers are hydrated, place them in a food processor or blender along with ½ cup of the soaking juices & seeds. Add the remaining barbacoa ingredients (except the bay leaf) and blend until smooth.
Cook barbacoa in the Instant Pot. Pour the sauce over the roast and turn to coat. Add the bay leaf. Close the lid and pressure valve. Cook on Manual High for 60 minutes, and allow a natural release.
Shred the beef. Remove the beef from the pot and shred with two forks. Remove the bay leaf and discard. Return the beef to the pot and toss in the sauce.
DO THIS STEP IF NOT MAKING RICE AHEAD OF TIME. Heat oven to 200 degrees. Transfer the barbacoa to an oven-safe baking dish and cover with foil to keep it warm in the oven while rice cooks. Rinse out the Instant Pot.
Make rice in Instant Pot. Place the water and brown rice in the Instant Pot. Put on the lid, making sure the knob is set to sealed. Hit manual, high pressure. Set time to 22 minutes. Let pressure release naturally for about 10 minutes and then manually release the rest of the pressure.
Assemble the burrito bowl. Add rice to a bowl as your base. Serve the barbacoa over the brown rice. Garnish with pico de gallo, black beans, sliced avocado, cilantro, and lime wedges.
Tips for Instant Pot Burrito Bowl
You can also make the rice ahead of time, as it keeps well in the refrigerator. You can also use instant rice and cook it on the stove while the barbacoa is cooking.
If you are making a small batch of brown rice, it is best to use a 3-quart or 6-quart Instant Pot. If you use an 8-quart Instant Pot, increase the rice to 2 cups and water to 2.5 cups.
For a more in depth description on how to cook rice in a pressure cooker, see my Instant Pot Brown Jasmine Rice Recipe.
You can also use dry black beans and make black beans in an Instant Pot ahead of time.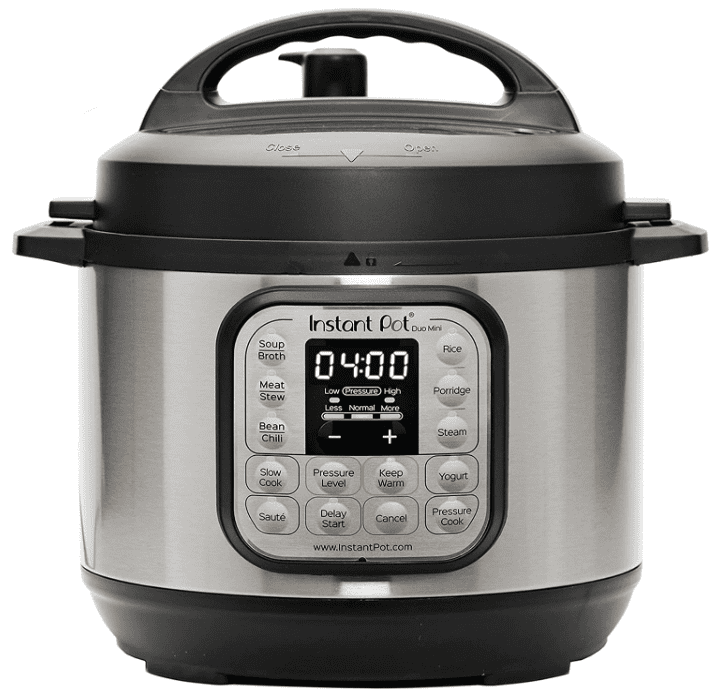 The Instant Pot Duo is simple and easy to use. This 7-in-1 appliance can pressure cook, slow cooker, steam, sauté & more.