This Chicken Pot Pie Casserole comes together in minutes and provides that warm, creamy, savory flavor you expect with a crispy crust. You're sure to make this casserole over and over.
This easy chicken casserole recipe uses a lot of already prepared and pre-packaged foods: cooked chicken, cream of chicken soup, shredded cheddar cheese, frozen peas and carrots, frozen hash browns, and refrigerated biscuits.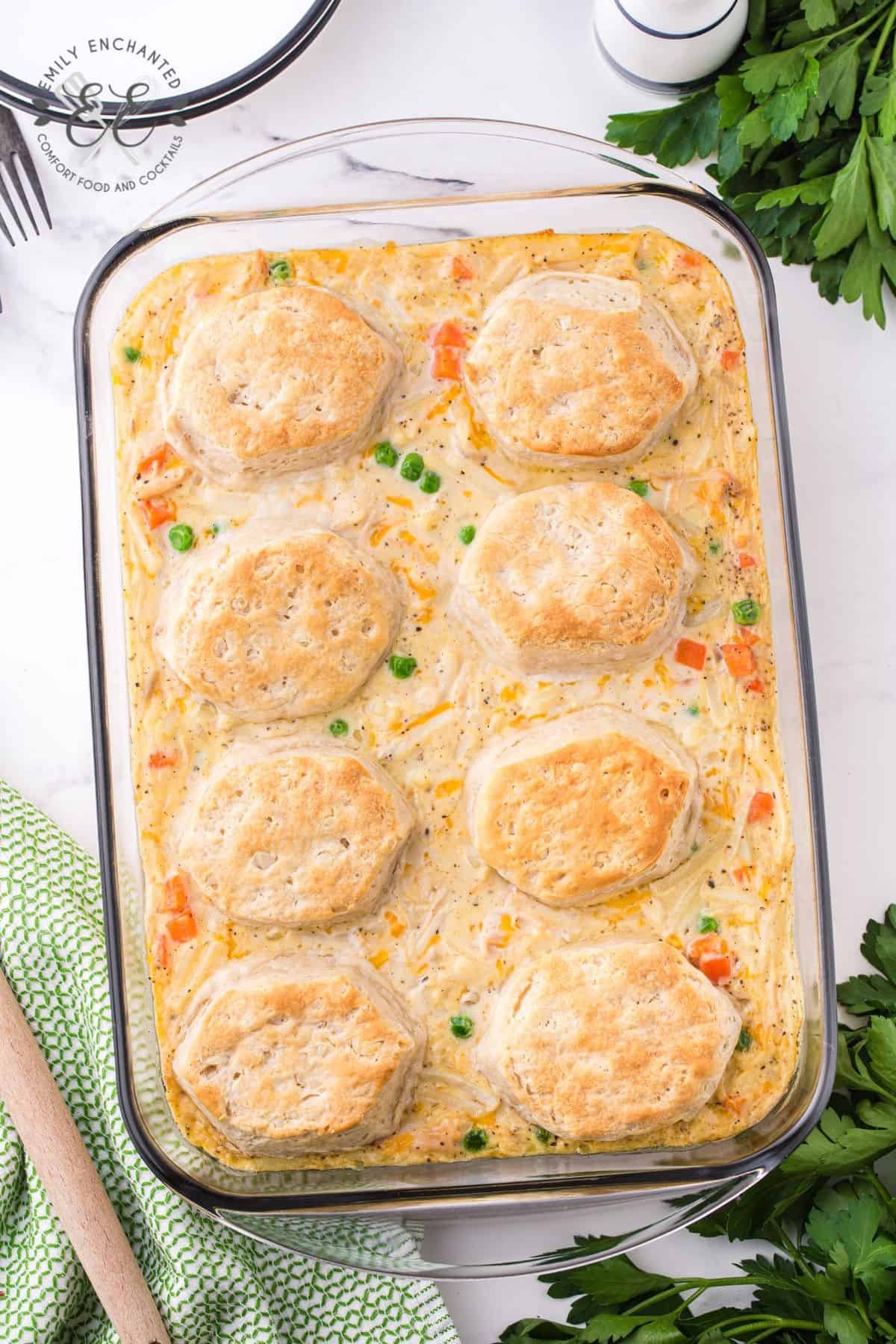 Chicken Pot Pie Casserole Ingredients
To make this easy chicken pot pie casserole, you will need the following ingredients (see the recipe card below for exact amounts):
Onion: You can use any onion type for this recipe. I prefer sweet or white onions in this dish.
Cooked chicken: This is a great dish to use up leftover chicken of any type. If you are cooking chicken for this dish be sure to season it for best results.
Sharp cheddar cheese: You can substitute mild or medium cheddar cheese or even use colby jack, monterey or mozzarella cheese for a slightly different flavor.
Garlic powder
Salt
Celery seed: If you can't find celery seed you can use celery salt but omit the salt in the recipe as it will be too strong if you use both.
Pepper
Evaporated milk
Cream of chicken soup: You can use cream of celery soup in a pinch. It will change the flavor slightly but still be delicious.
Sour cream: You can also use sour cream instead.
Frozen hash browns: You could also use fresh hashbrowns if you prefer. Don't use large pieces of potato or they may not cook through by the time the dough is finished baking.
Frozen peas and carrots: You can also use canned, drained peas and carrots if you prefer.
Refrigerated biscuits: I used the homestyle big biscuits, but you can use any type of refrigerated biscuits.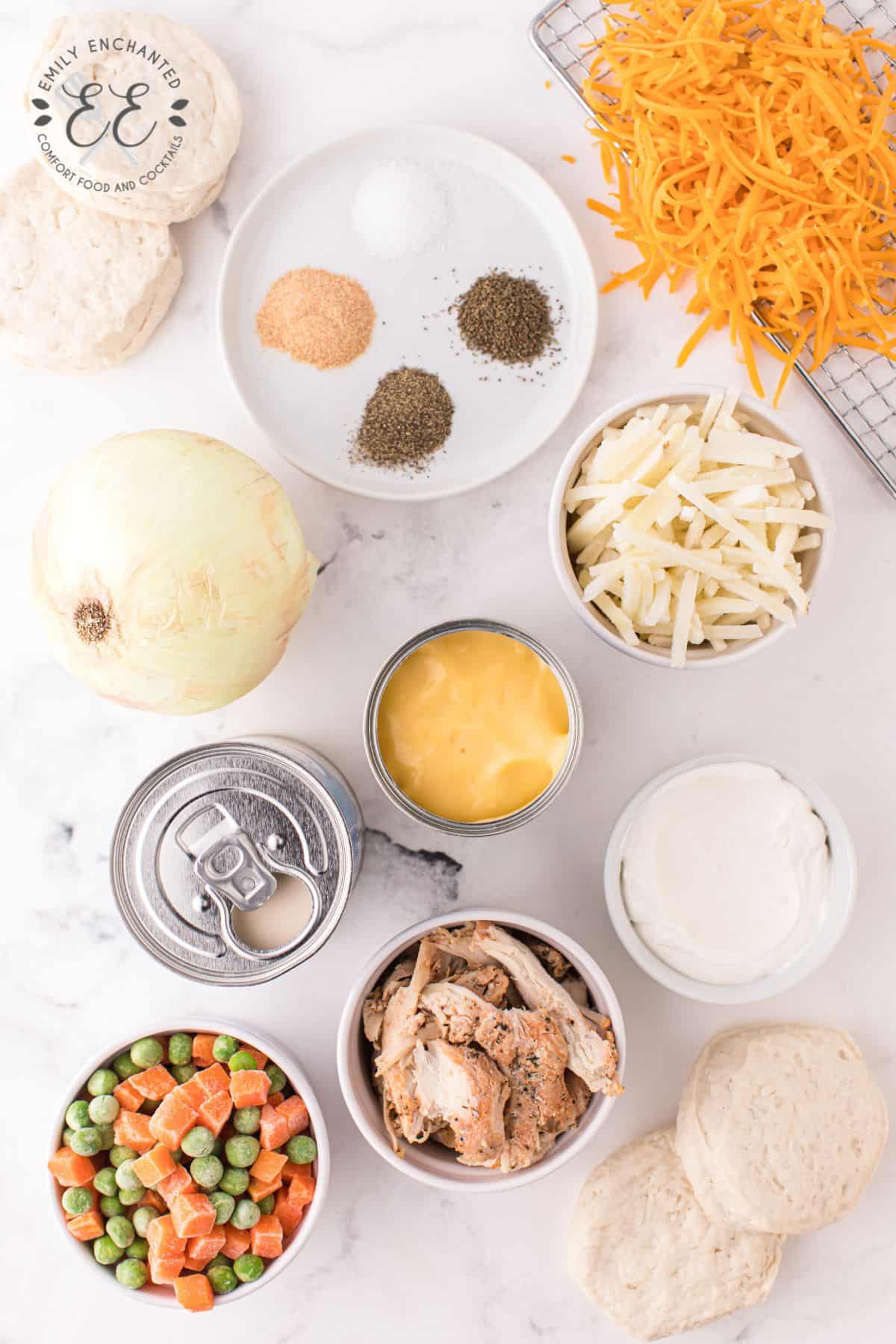 How to Make Chicken Pot Pie Casserole
Preheat the oven to 350 degrees Fahrenheit.
Saute the chopped onion in a medium skillet in butter or cooking oil until translucent, about 4-5 minutes.
Mix together the onion, shredded chicken, cheese, garlic powder, salt, celery seed, and pepper in a 9×13 inch pan.
Stir in the evaporated milk, cream of chicken soup, and sour cream until combined.
Add ½ bag EACH of the shredded hash browns and frozen peas and carrots to the pan. Save the rest for a different recipe.
Stir well and even out the top.
Open the can of biscuits. Lay the biscuits evenly onto the chicken mixture.
Bake for about 37-40 minutes or until the casserole is bubbling and the top is golden brown. Lift one of the biscuits to make sure the underside has been cooked through.
Best when served hot. Garnish with chopped parsley, optional.
Storage Instructions
Store leftovers in the refrigerator in an airtight container for 3 or 4 days.
FAQs
Can I freeze chicken pot pie casserole?
If you know you're going to be freezing the casserole later, line the pan with parchment paper before baking. Cool completely and put in the freezer until frozen, then slip out the frozen casserole using the parchment paper and put into a labeled Ziplock bag or airtight container. Freeze for up to 3 months. Thaw overnight in the refrigerator before reheating.
What type of cooked chicken should I use for this recipe?
This recipe is designed to go well with any leftover cooked chicken you have available! I prefer well seasoned chicken so that it adds to the flavors of the dish. For example, I'll take all the leftover chicken from a rotisserie chicken, use taco flavored shredded chicken or even baked chicken from last night's dinner. You can also buy cooked, seasoned chicken from the store if you like. In an emergency you can even use canned chicken, though it doesn't have the flavor of some of the other options.
Can I use uncooked chicken?
In the event that you only have raw chicken on hand, you can certainly cook that up to use! Be sure to thaw it in the refrigerator, in cold water or in the microwave if it is frozen and follow safe poultry handling practices. Season it simply with some salt, pepper or your favorite chicken seasoning and cook it in the instant pot, on the stove in a skillet or bake it until it reaches 165 degrees Fahrenheit. Once cooked, allow it to cool slightly and then shred or dice it and use it in your casserole.