You are sure to enjoy this incredibly delicious Banana Upside Down Cake. It's semi-homemade and simple to make, which is the best type of recipe!
This cake is like banana bread meets pineapple upside down cake – you have to try it! This cake mix isn't very difficult to create and is pretty hard to mess up. You can use a hand or stand mixer or you can use a stirring spoon or whisk to mix the batter.
This post contains affiliate links.
Banana Upside Down Cake Ingredients
To make this banana cake, you will need the following ingredients (see the recipe card below for exact amounts):
box yellow cake mix: You can also use a vanilla, spice, or white cake mix for this recipe instead. Or, try a homemade yellow cake recipe.
whole milk: Switch this out for half and half or water.
bananas: Make sure your bananas are ripe.
vegetable oil: You can use melted butter in a 1:1 ratio. Or use another oil, like grapeseed or canola.
eggs
light brown sugar
salted butter: Replace with unsalted butter, but add a little pinch of salt for extra flavor.
Springform Pans
SPECIAL ITEM NEEDED: For this recipe you will need a deep 9-inch springform pan or baking pan.
Some springform pans of lower quality can be kind of "leaky," so if that is the case, you can wrap some aluminum foil around the outside of the base to keep your oven clean.
How to Make Banana Upside Down Cake Recipe
Preheat the oven to 350 degrees Fahrenheit and spray a 9-inch baking or springform pan with parchment paper or cooking spray.
Prepare the cake mix by stirring the yellow cake mix, whole milk, mashed ripe bananas, vegetable oil, and large eggs together in a large bowl until completely combined. Set aside for now.
In a small bowl, whisk the light brown sugar with the melted butter until combined.
Pour the butter mixture into the bottom of the springform pan.
Place the sliced bananas in one layer, flat side down, onto the butter mixture. When sliding the bananas into place, press lightly.
Pour the cake batter into the springform pan atop the bananas.
Bake the cake in the oven for 30-35 minutes or until a toothpick comes out clean.
Remove the cake from the oven and run a knife along the edges of the cake pan to ensure easy removal.
Let the cake cool for 10 minutes before attempting to remove the cake from the cake pan.
Once the cake has cooled slightly, flip the cake onto a serving platter or cake plate so that the bananas will face up.
Gently remove the cake pan from around the cake. Slice your cake before serving it warm or cooled.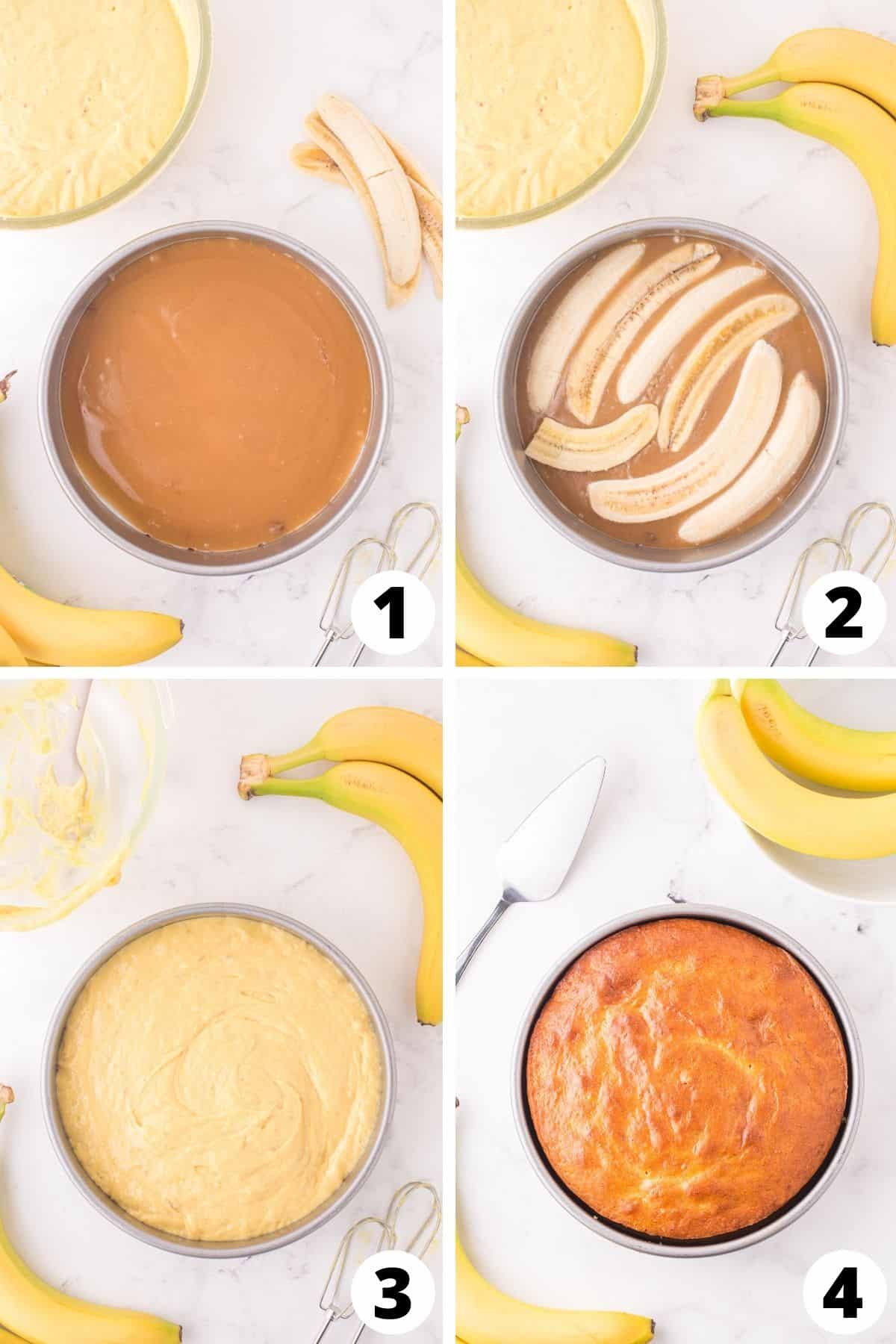 Recipe Notes
Try to get three long slices out of each banana. If you don't, that's okay; you will just have more space between slices.
You can decide how you want to place the banana slices for either a lovely aesthetic, or to pack in as many bananas as possible. Try some even lines of banana slices, or place them all as close as possible. It's up to you. You could even slice banana normally and place the banana circles over the entire bottom of the pan.
Serving Suggestions
Serve with vanilla ice cream, whipped cream, or even a splash of liqueur like bourbon or rum.
Storage Instructions
Fridge: Make sure you store this cake in the refrigerator, covered, for up to one week.
Freezer: You can also freeze it, but make sure to wrap it tightly with plastic wrap. It will last for about 3 months in the freezer, and you can thaw it in the refrigerator.
FAQs
How Do I Flip a Cake Over?
Be careful when flipping the cake over onto the cake plate. The best way to do this is to place a plate atop the springform pan before flipping it over, so that it drops as little as possible. If you don't flip with caution, the cake will fall apart. Alternatively, you can remove the ring from the cake and then place the cake plate directly on the cake and flip it so that it doesn't drop at all.
How Do I Tell if a Banana is Ripe?
The best way to tell if a banana is ripe is by the color. Look for bananas that have a yellow peel with some brown spots, as this indicates that the banana has been ripening for long enough to be eaten. If the peel is still green or mostly green with only a few brown spots, it's not quite ready yet and needs more time to ripen. Ripe bananas should also feel firm but slightly soft when you press your thumb into it.
More Easy Cake Recipes