This post holds the secret ingredient to making the best Banana Walnut Bread recipe. Enjoy a warm slice of banana nut bread spread with melted butter.
If you are wondering how to make banana bread at home, you have come to the right place. It is super easy to make a classic banana bread.
The key to making this recipe is overripe bananas. Bananas can go bad very quickly, so instead of throwing them away, put them in the freezer to make this recipe later.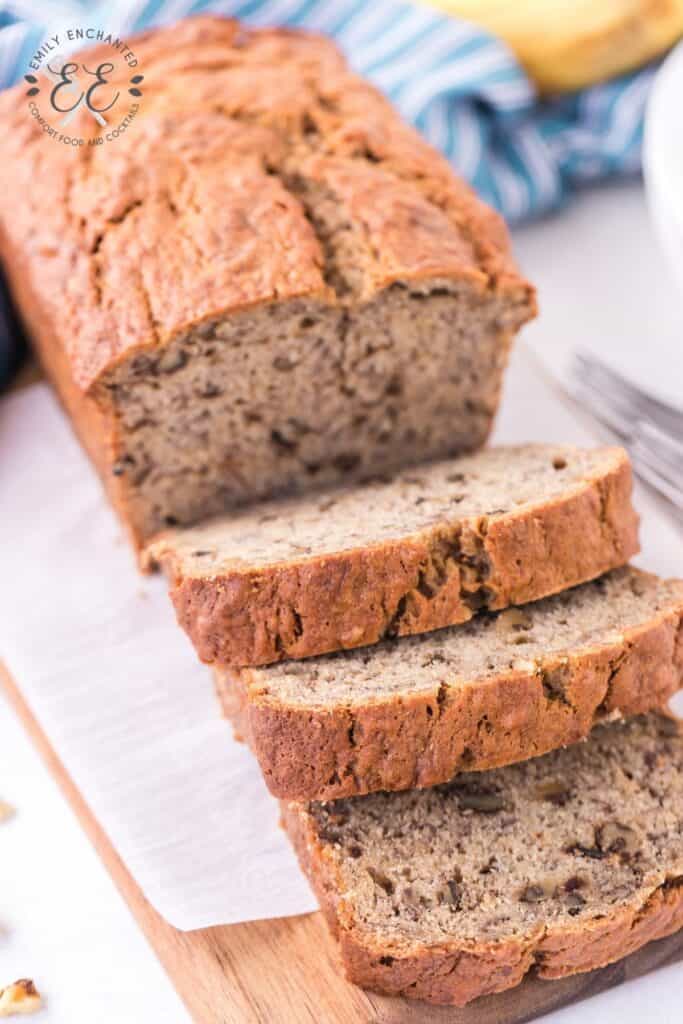 This post contains affiliate links.
Banana Walnut Bread Ingredients
To make this banana nut bread recipe, you will need the following ingredients (see the recipe card below for exact amounts):
Salted butter: if you don't have any salted butter available, add in an additional 1/8th tsp salt to your unsalted batter.
Brown sugar: Light brown sugar is the default in baking unless otherwise stated. Use light brown sugar for this recipe.
Eggs
Overripe bananas: Overripe bananas add the most flavor to your bread.
All-purpose flour, baking soda, baking powder, and salt: standard ingredients for baking
Walnuts or peanuts: you can always leave the nuts out if you need to. Everything else in the recipe can stay the same.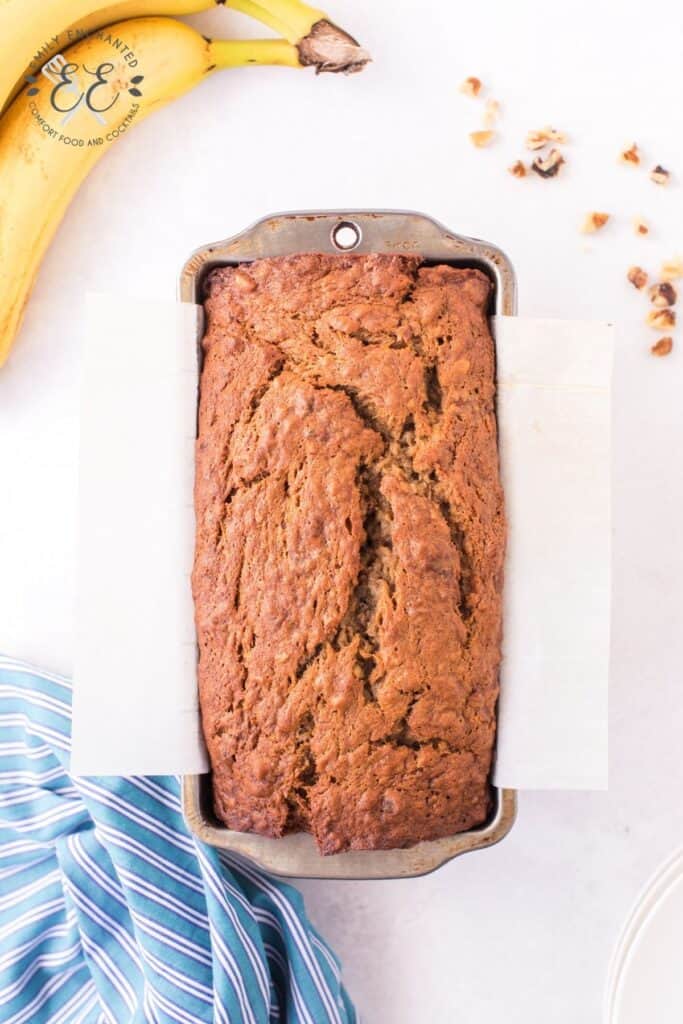 How to Make Banana Bread
To make this moist banana walnut bread recipe, just follow these instructions.
Preheat oven to 325 degrees F.
Mix wet ingredients and sugars. Cream butter and sugars together. Stir in eggs, bananas, and vanilla until just combined. Set aside.
Mix dry ingredients and add to wet ingredients. Combine all dry ingredients in a separate bowl and stir together. Add into wet mixture and stir until incorporated. Don't overmix.
Bake in oven. Pour batter into a greased or parchment lined 9×5 loaf pan. Bake in oven for 65-75 minutes or until golden brown and a toothpick comes out clean.
Let it sit. Leave banana bread in baking tin for an additional 15 minutes and then move to a cooling rack.
You can serve the bread warm or let it cool completely. Personally, I love a warm piece of banana bread spread with butter. YUM!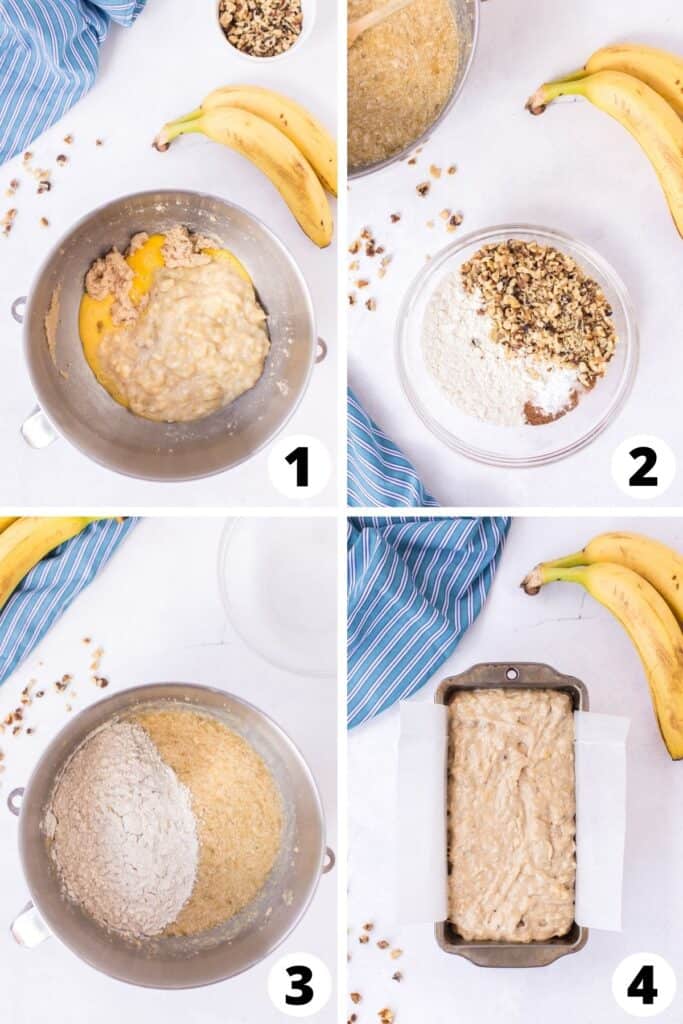 What Are the Best Bananas to Use for Banana Bread?
The best bananas to use are overripe bananas. There is no such thing as a too-ripe banana for this bread (unless it's moldy, then it's a no go). Look for brown streaks or dots on your banana peel.
One way that I like to preserve overripe bananas is to place the bananas (peels and all!) into the freezer. Take them out and let them thaw when you are ready to use them. They will turn black, but that's okay.
This recipe is great because it will use up a lot of overripe bananas all at the same time.
What To Do If You Don't Have Enough Bananas
If you don't have enough bananas available, you can add in the same ratio of applesauce in its place. You can use an unsweetened applesauce for a healthy bread recipe alternative.
Optional Banana Bread Add-Ins
There are a variety of different ingredients that you can add to your bread. Here are some of my favorites:
Walnuts or pecans: a soft nut works well in banana bread. I would stay away from peanuts, almonds, or any other harder nut.
Chocolate chips: Make your bread a little sweeter with your favorite chocolate addition. I prefer using mini chocolate chips because they are less likely to sink to the bottom of the pan during the baking process, but you can use your favorite type of chocolate. Chocolate chip banana bread is really good because the chocolate chips hold their form while baking in the bread.
Dried fruit: Add in raisins, golden raisins, dried cranberries, or dried cherries. You can even try a more tropical route and add in chopped dried mango, or apricots.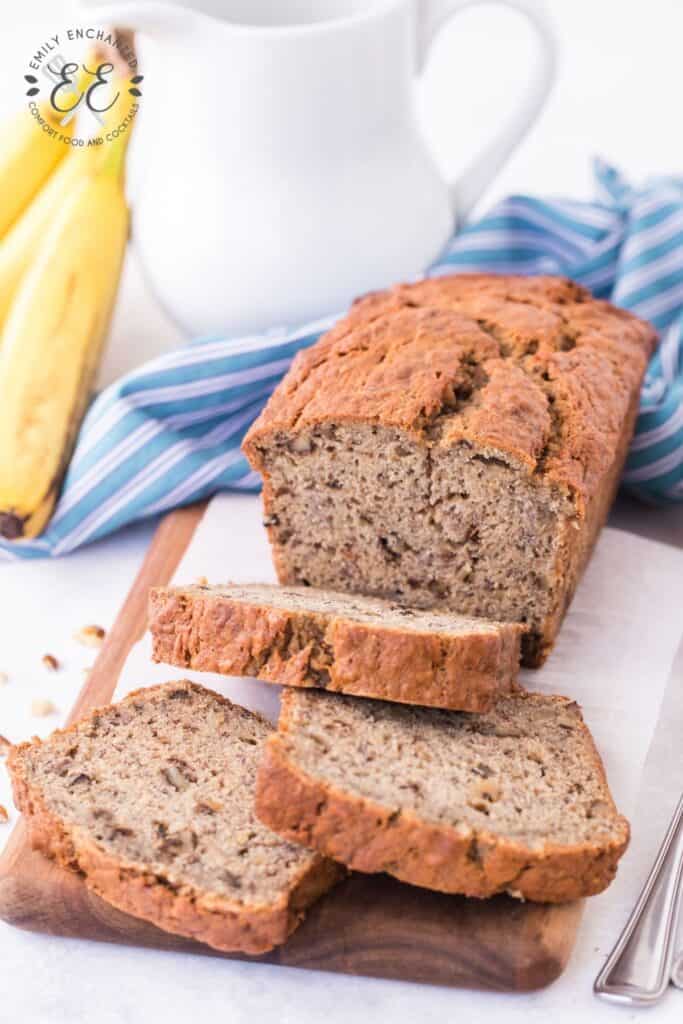 Storage Instructions
You can store your banana bread for up to 7-10 days at room temperature. Just make sure to store it in an airtight container or wrap it in plastic wrap to avoid the bread becoming stale.
This bread also freezes well! You can freeze it for up to 3-6 months for best quality.
More Banana Recipes You Might Like
Chocolate Peanut Butter Banana Energy Balls