Chocolate Texas Sheet Cake is a decadent cake recipe that is so easy to make. You don't need to be a baker to make this cake!
Sheet cake is a cake made in a shallow half sheet pan. Baking cake in a sheet pan is so much easier than using cake forms, layering cakes, and decorating a whole cake.
This cake uses icing and not frosting. Frosting is thicker and needs to be spread with a spatula. Icing is thin and glossy, and glides right onto the cake.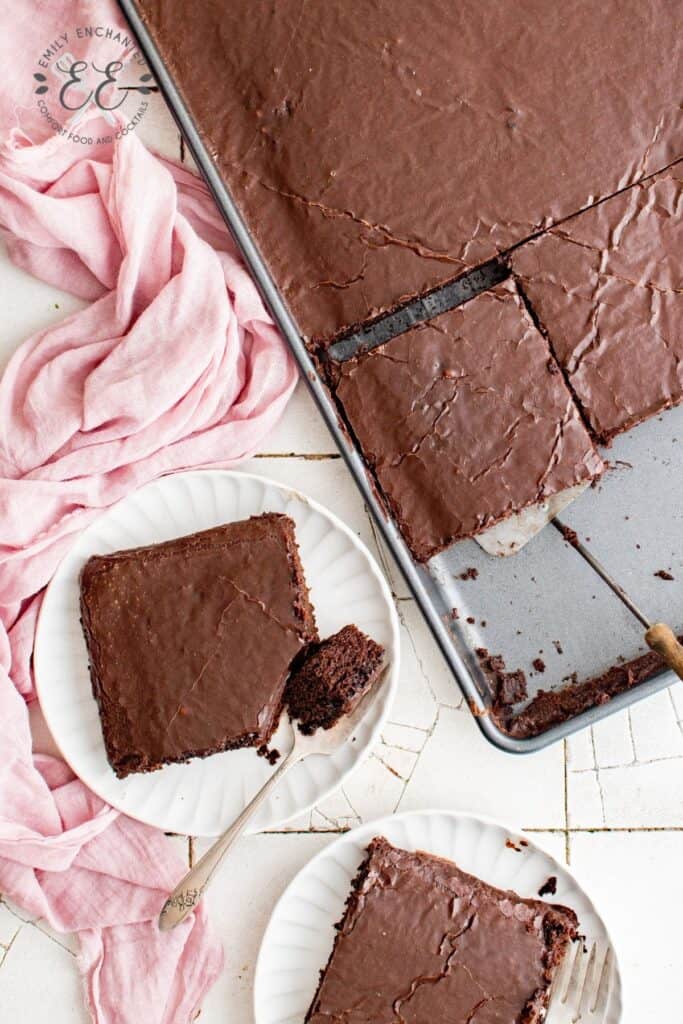 Chocolate Texas Sheet Cake Ingredients
To make this chocolate sheet cake, you will need the following ingredients (see the recipe card below for exact amounts):
Unsalted butter
Hot water
Unsweetened cocoa powder
Eggs
Light brown sugar
Granulated sugar
Sour cream
All-purpose flour
Baking soda
Salt
Milk
Vanilla extract
Powdered sugar
How to Bake a Cake on a Sheet Pan
Preheat the oven to 350 degrees Fahrenheit and line a large baking pan such as a 12×16-inch baking pan with sides.
Heat the butter, water and cocoa powder in a medium saucepan over medium and let it come to a simmer for 5 minutes before removing the pan from the heat and letting cool completely for 20 minutes.
Mix the eggs, brown sugar and granulated sugar together in a large bowl until combined then stir in the sour cream.
Whisk the flour, baking soda and salt together in a medium size bowl then gradually add it into the wet ingredients until smooth.
Pour the batter into the baking pan and bake for 15-20 minutes or until a toothpick comes out clean when inserted into the center.
In the meantime, make the icing by adding the butter, milk, cocoa powder and vanilla to another saucepan over medium heat then let it simmer for about 10 minutes.
Gradually stir in the powdered sugar and when the cake is fresh out of the oven, evenly pour the icing over the cake and let it cool for 1 hour before serving.
Storage Instructions
Sheet pan cake can be stored in an airtight container for up to 5 days.
Can I Add Anything To This Cake?
Sure! Chop up some of your favorite nuts and sprinkle on top, or decorate with colorful icing for a birthday party.
More Decadent Cake Recipes