P.F. Chang's Mongolian Beef Copycat Recipe is easy so you can make your favorite restaurant meal at home! Fried flank steak is tossed with green onions in a sweet soy glaze.
This copycat Mongolian beef recipe is so delicious. If you want a recipe that your whole family will love, you definitely have to try it. It is also great for leftovers when you are in a pinch or want a quick lunch.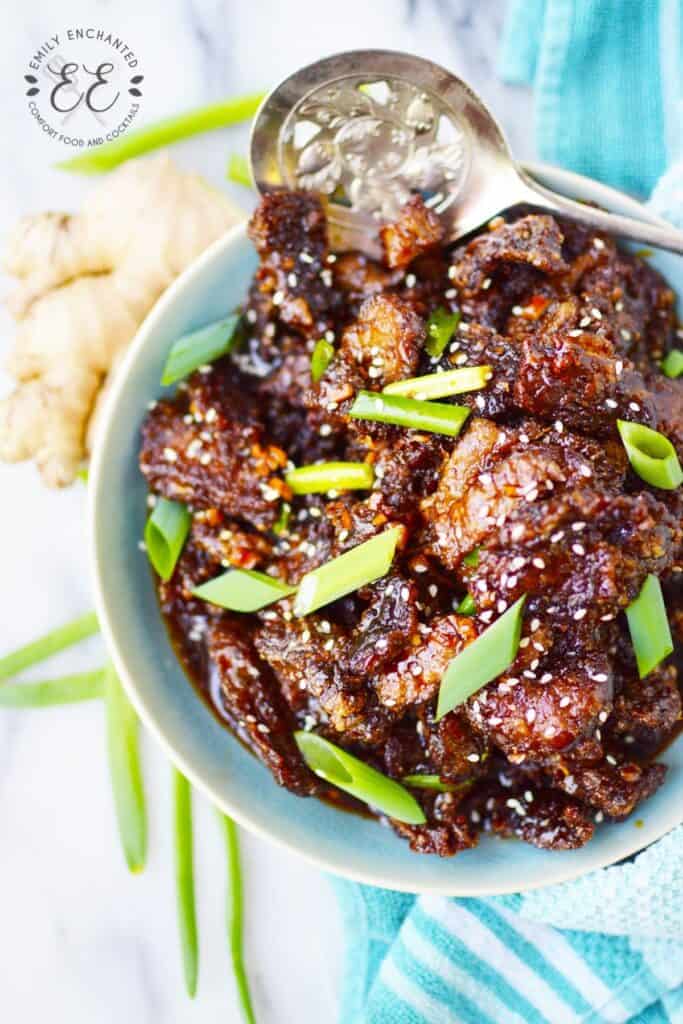 This post contains affiliate links.
P.F. Chang's Mongolian Beef Copycat Recipe Ingredients
To make this better than takeout Mongolian beef recipe, you will need the following ingredients (see the recipe below for exact quantities):
Flank steak: You can substitute chicken or pork for your Mongolian beef and it tastes delicious as well.
Ginger
Garlic cloves
Green onions
Water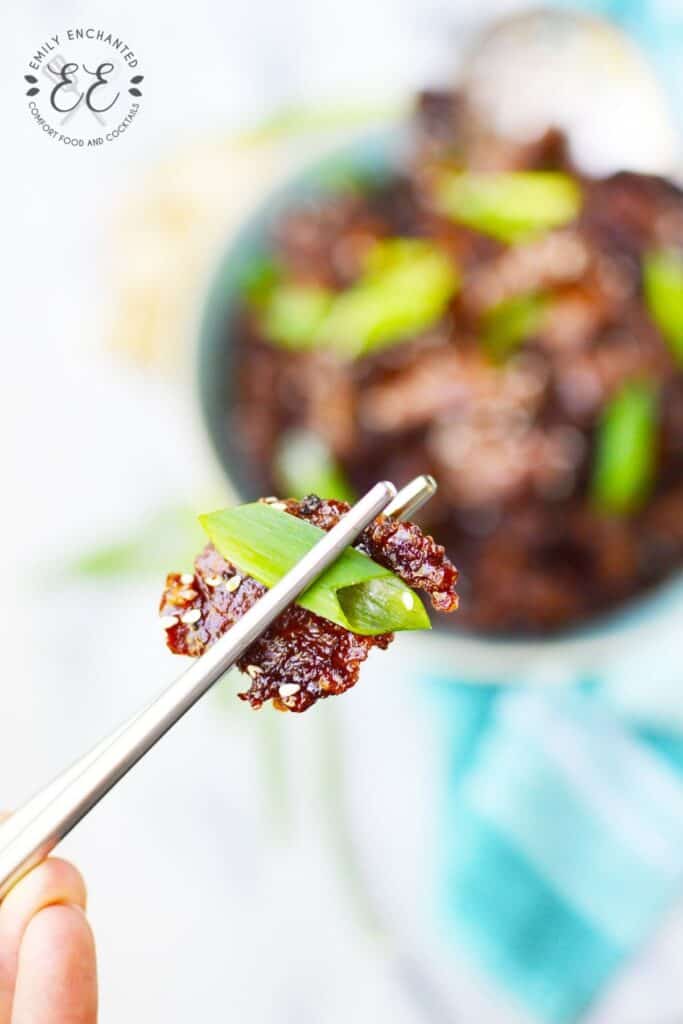 How to Make Mongolian Beef at Home
This recipe takes some time and patience, so read these instructions carefully and print the recipe below.
Make the sauce. Add a teaspoon of canola oil to a pan, bring to medium heat and cook the ginger and garlic for about 1 minute. Add the water, soy sauce and brown sugar. Stir well and let simmer for about 15 minutes so the sauce can thicken and flavors can develop.
Prepare the meat. While the sauce is cooking, cut the meat into thin slices, about ¼ inch thick. Cut across the grain for a more tender finish. Coat each piece of meat in the cornstarch. Make sure not to put coat it too much or it could become gummy.
Cook the meat. Heat the rest of the oil over medium heat in a large and deep pan. When its hot, add in a few pieces of meat at a time and fry on each side for about 30 seconds. Then carefully remove from the oil, and let them drain off and rest while you fry the rest of the meat.
Combine the sauce and meat. When all of the meat has been fried and excess oil has drained off, pour the sauce over the meat in a bowl and toss in some snipped green onions, about 1 inch long.
Tips for P.F. Chang's Mongolian Beef Recipe
You can use arrowroot powder instead of cornstarch.
Add sesame seeds on top for a little added flair.
If you want your sauce to be thicker, you can add cornstarch 1 teaspoon at a time until it reaches the consistency you desire.
Use a meat carving knife to easily slice the beef into thin slices. The proper knife makes a huge difference!
What Do I Serve with Mongolian Beef?
Mongolian Beef can be enjoyed alone or plated on a bed of white rice. You can also serve it with a fresh serving of steamed broccoli or egg drop soup.
Chopsticks are a fun way to serve Mongolian beef, but using a fork is just fine. Serve it with egg rolls and this Yum Yum Sauce.
FAQs
What is the Best Meat to Use for Mongolian Beef?
The best meat to use for Mongolian beef is flank steak. The key to good flank steak is to make sure each piece is uniformly thick, so that you do not undercook or overcook any part of it. Flank steak should be cooked to medium rare, or it will be too tough. I like to purchase meat cuts at my local butcher's shop, so I know I'm getting the best cut of meat.
Can I Freeze Mongolian Beef?
Yes, you can freeze Mongolian beef. If you are planning on freezing Mongolian Beef, make sure you bag the sauce separately from the beef. I like to bag the sauce in smaller portions, so I can use it for other dishes as well. This soy sauce is also great for stir fry.
More Asian Recipes You'll Love