Here is an Instant Pot Teriyaki Chicken recipe that is easy to make and tastes better than any restaurant dish. Savory and sweet all at once, this chicken recipe will be a hit with the whole family.
Chicken breast or chicken thighs are flavored with teriyaki sauce, brown sugar, vinegar and garlic. Don't forget to garnish with green onion and sesame seeds! If you love this recipe, try my bbq chicken for another yummy flavor.
This mouth-watering chicken recipe can be served on on plain rice or just on its own. It's that good!
Teriyaki chicken also makes a great freezer meal. Meal prepping and making food ahead will save you time during the week. You can freeze this chicken before or after cooking.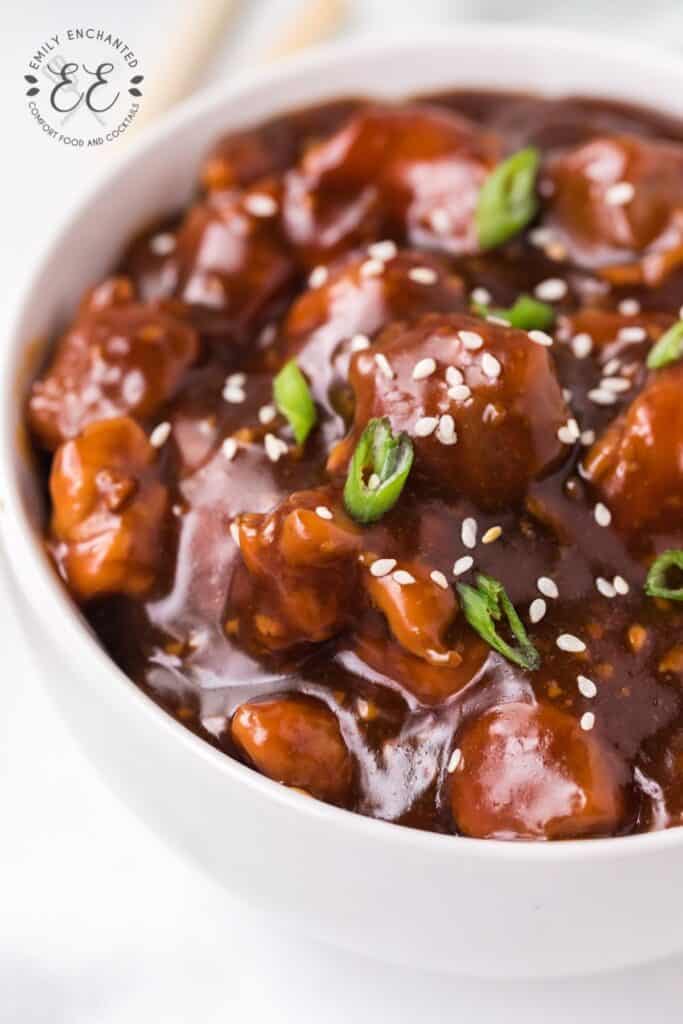 This post contains affiliate links.
Instant Pot Teriyaki Chicken Ingredients
To make this Instant Pot chicken recipe, you will need the following ingredients (see the full recipe below for detailed amounts and instructions):
Chicken: breast or thighs (about 2-3 pieces)
Teriyaki sauce: use store bought teriyaki sauce for an easy dinner, or make your own
Brown sugar: when heated and reduced, the brown sugar will help create a nice glaze
Garlic: I love adding garlic for some extra flavor
Water: for cooking in the Instant Pot, you need that moisture!
Garnishes: green onion, sesame seeds
Cornstarch: this is optional for thickening the sauce
You will need an Instant Pot for this recipe, as well as gallon freezer bags.
How to Make Teriyaki Chicken in an Instant Pot
First, you are going to make the teriyaki chicken marinade. Add chicken breast, teriyaki sauce, brown sugar, vinegar, and garlic to freezer bag. Shake the bag until the chicken is coated.
Place contents in an instant pot and pour in ¾ cup water. Cook for 9 minutes at high pressure then allow 10 minutes for natural release.
If you would like to thicken your sauce, take out meat and set aside. Turn instant pot to sauté and whisk in cornstarch until it reaches desired thickness. Turn off sauté mode.
Place chicken back into sauce and stir until coated.
Garnish with sliced green onions and sesame seeds, optional. Enjoy!
RECIPE TIPS
If you are in the habit of seasoning your food, wait to add salt until you have tasted the chicken. The teriyaki marinade by itself is very salty, so you may not need to add any salt to this at all.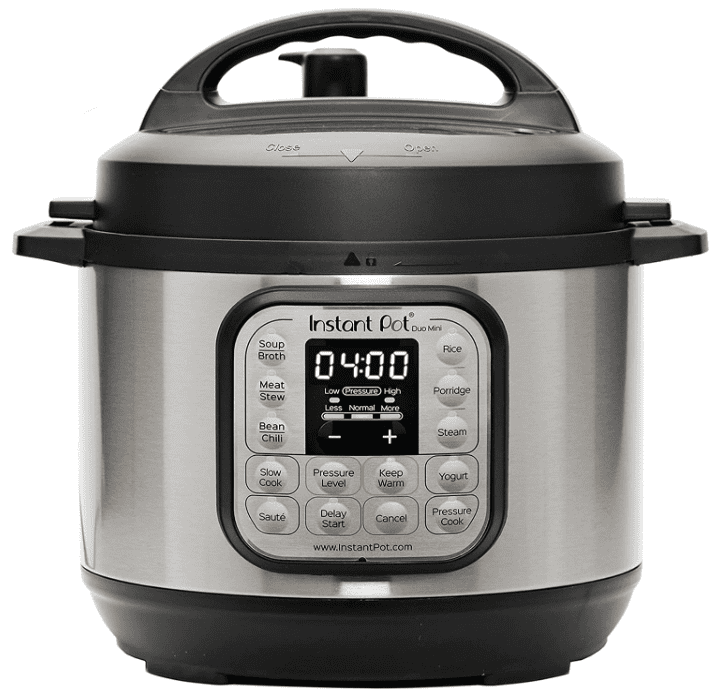 The Instant Pot Duo is simple and easy to use. This 7-in-1 appliance can pressure cook, slow cooker, steam, sauté & more.
SLOW COOKER VARIATION
If you do not have an Instant Pot, you can still enjoy this recipe. There are two ways to cook Teriyaki Chicken in a slow cooker or crock pot:
Cooking frozen: Add contents of bags into slow cooker on high for 4-5 hours or on low for 7-8 hours. Chicken should reach a minimum internal temperature of 165 degrees.
Cooking fresh: Add contents of bag into slow cooker and cook on high for 2-3 hours or on low for 4-5 hours. Chicken should reach a minimum internal temperature of 165 degrees.
SERVING SUGGESTIONS
What do you eat with teriyaki chicken? Teriyaki chicken is most commonly eaten over rice and alongside steamed broccoli. Here are some other ideas for what to serve:
By itself – this dish is perfectly tasty just by itself and you can enjoy with a fork or chopsticks.
Pasta – put an Asian spin on a pasta dish by using soba noodles and teriyaki sauce.
Vegetable Fried Rice with Eggs – this classic rice dish pairs perfectly with Teriyaki Chicken.
Edamame – this traditional side dish is just steamed sugar snap peas.
STORAGE INSTRUCTIONS
You can store chicken in the refrigerator for up to 3-4 days in an airtight container.
FAQs
Can I Freeze Cooked Chicken?
You can freeze cooked Teriyaki chicken for up to 3 months. Thaw overnight in the refrigerator when ready to eat.
Can I Freeze Uncooked Chicken?
If you want to freeze it before cooking, first write the name, date, and instructions below on a resealable freezer safe plastic bag. After the first step above, let out the air and seal bag. Place in freezer until needed or for up to 3 months.
Can I Cook Frozen Chicken?
When you are ready to cook the frozen raw chicken with marinade, you may need to cut the ziploc bag open. To cook the frozen chicken, add frozen contents to the Instant Pot. Add in ¾ cup water. Cook for 12 minutes on Pressure cook and then allow 10 extra minutes for natural release.