Pool Party Jello Shots are perfect for summer fun at the pool! Blue raspberry Jello, peach rings and gummy bears make up these delicious little treats.
These are so cute! They look like a little teddy bear sitting in a floatie enjoying the pool.
You can add vodka for an adult summer shot or leave out the alcohol for a refreshing, kid-friendly treat.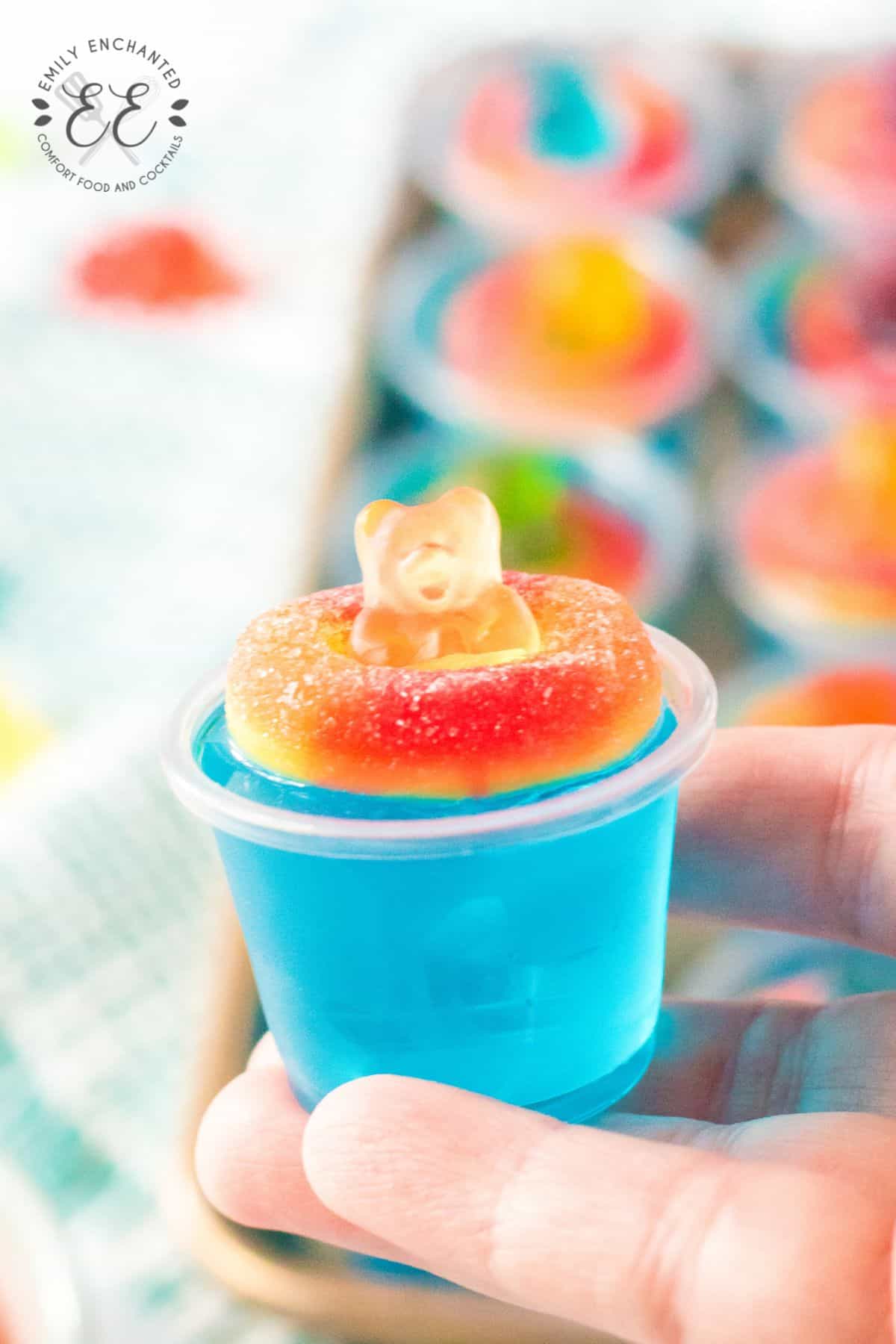 This post contains affiliate links.
Pool Party Jello Shots Ingredients
To make these summer vodka shots, you will need the following ingredients (see the recipe card below for exact amounts):
Blue raspberry Jello: You can use any flavor you like, but I use blue to represent water.
Water: You will need to boil water for this recipe.
Vodka: If you are not making alcoholic shots, substitute cold water.
Peach rings: You can also use green apple or watermelon gummy rings, whichever you can find.
Gummi bears
Special Items Neeced
You will need 1 ounce disposable cups. Some people prefer the 2 ounce cups for Jello shots and those work well too, you just will get less shots out of each batch.
How to Make Pool Party Jello Shots
Place your cups on a tray and set aside for later.
In a large measuring cup with a spout (or a mixing bowl with a spout) add 1 cup of boiling water and the Jello.
Whisk until the Jello is all dissolved.
Add in your 1 cup of vodka and whisk again.
Carefully pour the mixture into the cups almost all the way up.
Place them in the fridge for 3 hours or until they are set.
Place a peach gummy ring on each one. Cut a gummy bear in half and stick one in each ring.
Keep these refrigerated until ready to serve and keep cool while serving.
Storage Instructions
You can store Jello shots in the fridge for a week.
Recipe Tips and Tricks
Don't forget to make sure you have room in your fridge for the tray of jello shots.
This recipe is really easy to double or triple (and I recommend it).
If you think these will be too strong you can use ½ cup water and ½ cup vodka or ¾ cup vodka and ¼ cup water, or any variation you like as long as you have 1 cup.
FAQs
What is the best way to eat a Jello shot?
A common way to eat Jello shots is to move your tongue around inside of the cup to separate the Jello from the sides of the cup, then suck it into your mouth. You can also use a spoon. For these, I would eat the gummies first.
How can I keep these cold at the pool?
You can put some ice in the bottom of a cooler and place the shots on top of the ice.
More Amazing Pool Party Drinks