Stained Glass Cookies are beautiful sugar cookies made with colored candies. Cut them into heart shapes for a cute Valentine's Day cookie idea!
While this special cookie recipe takes a little more time and patience, you do not need to be a professional baker or candy maker to make these delicious Valentine's Day treats! If you love Valentine's Day cookie recipes, try my Strawberry Cake Mix Cookies.
This cookie recipe is very common and basic. This particular cookie recipe is from the Joy of Cooking cookbook with some simple changes that improve the recipe and simplify the instructions.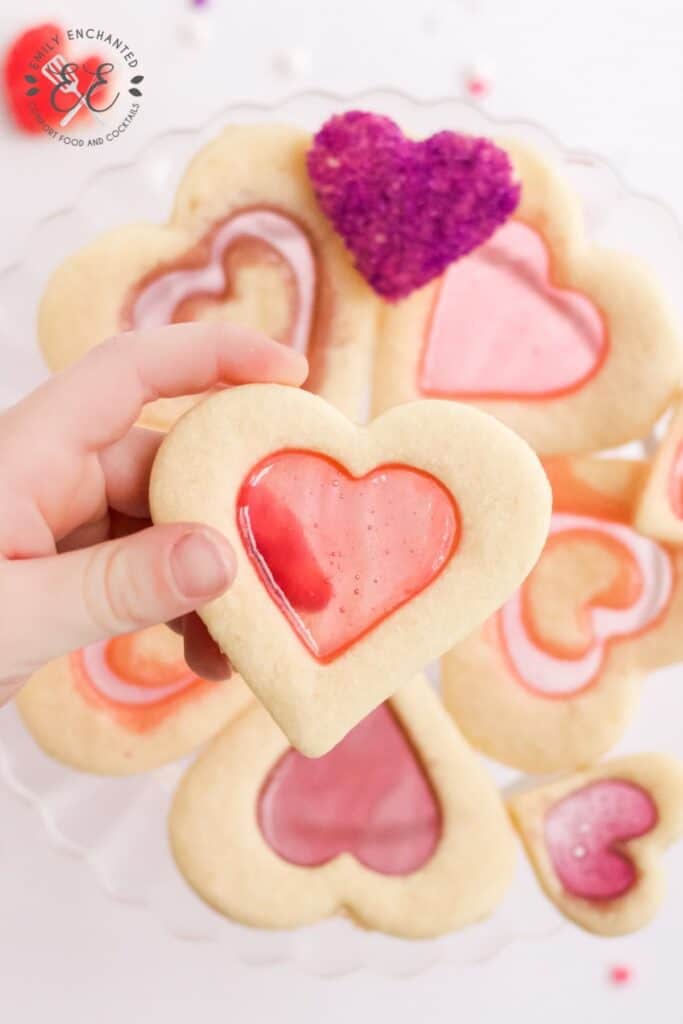 This post contains affiliate links.
Stained Glass Cookies Ingredients
To make these heart shaped cookies, you will need the following ingredients (go to the recipe below for exact amounts):
Unsalted butter
Sugar
Salt
Eggs
Vanilla extract
All-purpose flour
Jolly Ranchers, in desired colors
How to Make Stained Glass Cookies
This recipe is for a simple sugar cookie. The fun begins when you cut out shapes with cookie cutters and add candy. The candy melts in the oven and your cookies look like stained glass windows. So cool!
In a large bowl, cream together the butter and sugar with an electric mixer on medium speed. Add the eggs, vanilla and salt and continue blending until thoroughly combined. Slowly add the flour, mixing just until combined. Cover the dough and place in the refrigerator for one hour.
While the dough is chilling, preheat the oven to 350 degrees and line a baking sheet with parchment paper. Remove dough from the refrigerator and roll out onto a floured surface about a half of an inch thick. Cut into desired shapes, being sure to cut out hollow areas to place candy.
Place shapes onto a baking sheet lined with parchment paper.
Unwrap the hard candies and place into a plastic bag. Crush into small pieces. Place the candy in the hollowed out areas.
Bake for 10-12 minutes or until the cookies are set and the candy centers are melted. Allow to cool on the baking sheet until the candy is completely cooled.
Stained Glass Cookies Tips
Jolly Ranchers work best for this. I did try with some off brand candies and the bubbling was awful. I also tried some butterscotch but those got really dull when they dried.
Crushing the candy as finely as possible will reduce the amount of candy spilling over the edge.
Don't overcook the cookies. If they are golden brown, you overcooked them. They are done when they are set and no longer shiny, don't wait for the edges to turn.
Be sure to cool completely before moving off the parchment.
More Valentine's Day Desserts
Instant Pot Chocolate Lava Cake
Valentine's Day Charcuterie Board