Your favorite old fashioned apple crisp recipe is divided into individual jars to make for easy serving and storing. Mini apple crisps in a jar are easy to make and easy to clean up. Brown sugar and cinnamon add amazing flavor to baked apples and are topped with a crispy oat topping.
If you like individual desserts in mason jars, try my Lime No Bake Cheesecake.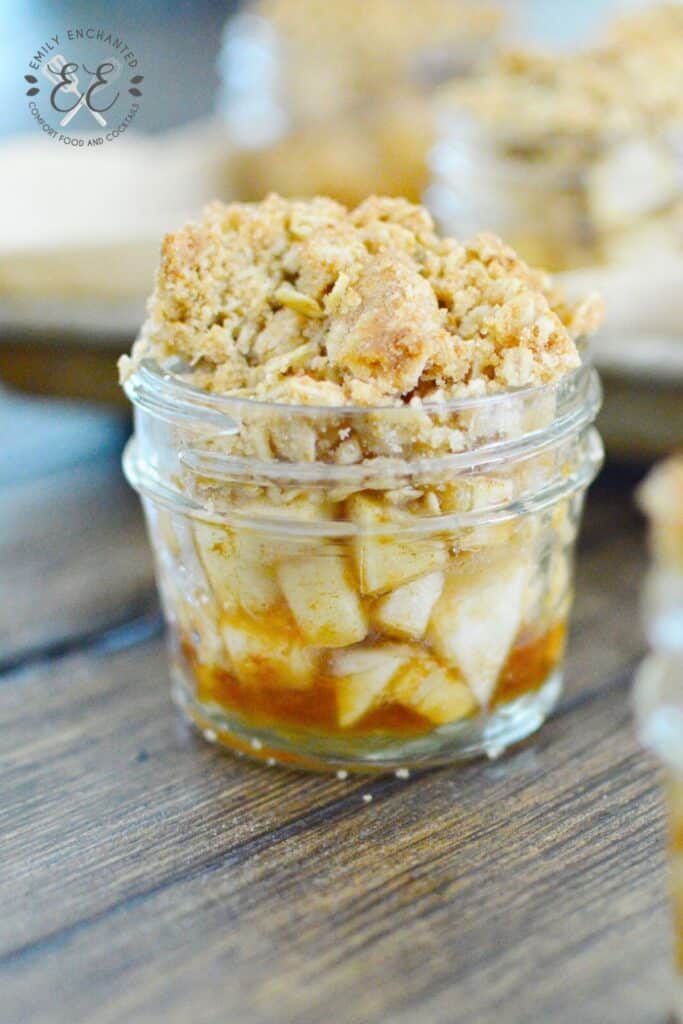 This post contains affiliate links.
Apple Crisp Ingredients
To make these fun apple crisp dessert jars, you will need the following ingredients (see the recipe below for detailed amounts and instructions):
Special Tools Need to Make This Recipe
For this recipe you will need some special items.
4 oz canning jars – glass canning jars are oven safe, making them perfect for baking and then storing
Set of mixing bowls – this recipe contains 2 parts that will need to be prepped at the same time, so you will need multiple mixing bowls
Baking sheet – no, you're not making cookies, but placing the mason jars on a baking sheet makes it easier to put them in and take them out of the oven
How to Make Mini Apple Crisp in a Jar
Preheat the oven to 350 degrees.
Prepare the apples. Wash, peel, core and cut the apples into uniformly sized pieces. Toss the apples with the flour, brown sugar and cinnamon. Set aside to let the flavors start to blend together while you prep the crumble.
Make the topping. In a separate bowl, combine the old fashioned oats, flour, butter, and cinnamon. Mix until the it will hold together in clumps. Depending on the oats, you may need to add a little more butter.
Fill the jars almost to the top with the apple mixture and then carefully pile up the crumble on top, lightly pressing in and down if needed. The apples will reduce in size as they bake, allowing for the extra room inside the jars.
Bake the apple crisp. Place the jars on a baking sheet. Bake for about 20 minutes or until the tops are golden brown and you can see the apples bubbling through the sides of the jars.
Cool and serve. Let the mini apple crisps cool for about 10 minutes before enjoying.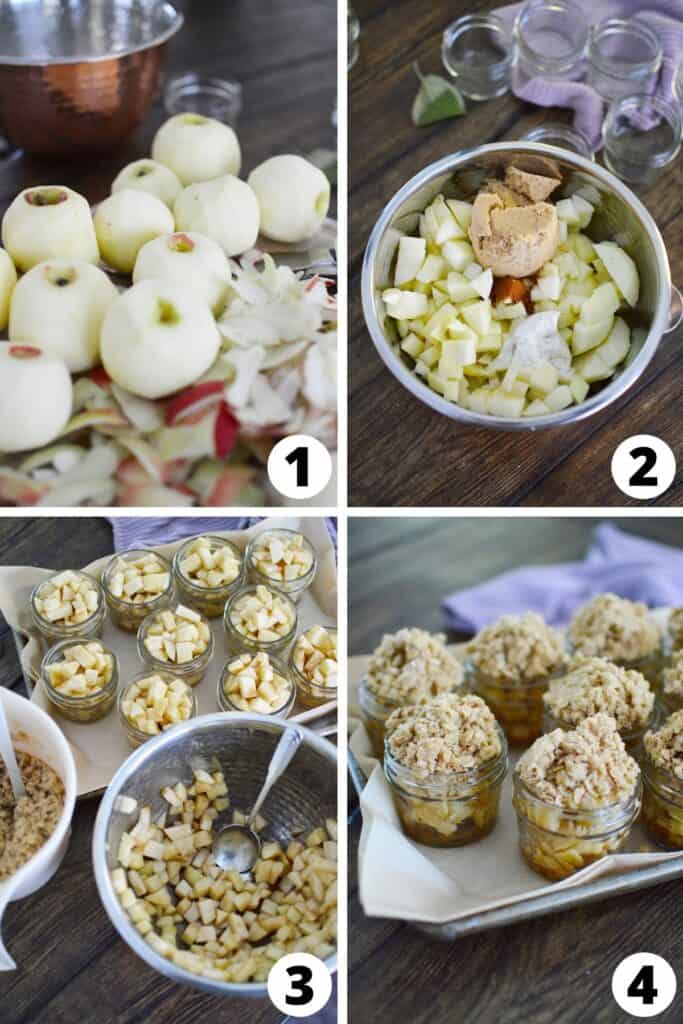 What are the Best Apples to Use for Baking?
Believe it or not, certain apples are better for baking than others. Texture and sweetness has a lot to do with it. You want to use a combination of sweet and tart apples. Here are the best apples to use for apple crisp:
Sweet Apples – Honey Crisp, Rome Beauty, Golden Delicious, McIntosh
Tart Apples – Granny Smith, Jonathan, Northern Spy
Toppings for Mini Apple Crisp
This apple crisp tastes great all by itself, but you can add toppings to make it even better!
vanilla ice cream
honey
caramel syrup
whipped cream
cranberry sauce
Storage Instructions
After the apple crisp has cooled, twist on the lids or cover tightly with a plastic wrap. These store nicely in the fridge for about a week.
I love the individual mason jars because you can always find room to store them in the fridge, versus using a huge 13×9 baking dish.
More Baked Apple Recipes