Oatmeal Pumpkin Chocolate Chip Cookies are the perfect fall twist on a classic cookie recipe. Cinnamon and pumpkin give this oatmeal chocolate chip cookie recipe added flavor that everyone will love.
This post contains affiliate links.
Oatmeal Pumpkin Chocolate Chip Cookies
You can't have fall without pumpkin flavored everything! It is in coffee, creamer, ice cream, craft beer, and even candles. So why not put pumpkin in your favorite cookies? These cookies have 4 main ingredients:
Rolled Oats – Also called old-fashioned oats.
Pumpkin – You can find this in the baking aisle in a can. The pumpkin gives these cookies such a beautiful color!
Chocolate chips – Choose your own adventure – will you get regular, mini, or chocolate chunks?
Cinnamon – Try using allspice, clove, or nutmeg instead of cinnamon for a different but equally fall-tastic flavor.
Fall Inspired Recipes
If you are looking for more amazing fall inspired recipes, try Chocolate Chunk & Candy Corn Cookies or Halloween Boo Bark.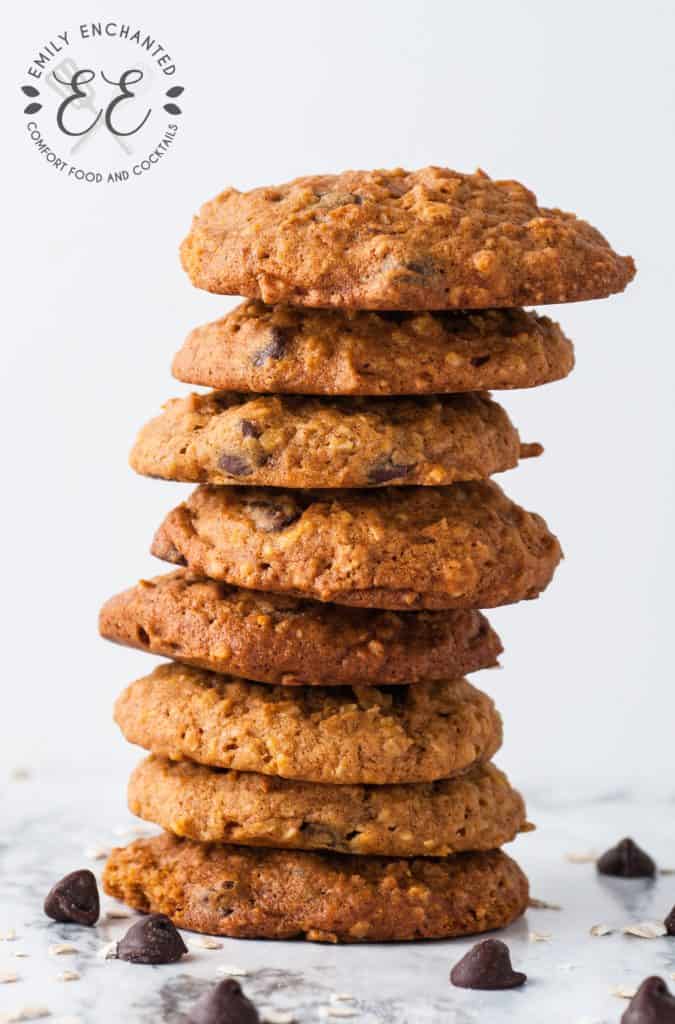 Ingredients You Need For Oatmeal Pumpkin Chocolate Chip Cookies
2 C flour
1 C rolled oats
1 tsp baking soda
2 tsp cinnamon
½ tsp salt
1 C butter
1 C brown sugar
1 C white sugar
1 egg
1 tsp vanilla extract
1 C pumpkin
1 C semi-sweet chocolate chips
How to Make Oatmeal Pumpkin Chocolate Chip Cookies
Making Oatmeal Pumpkin Chocolate Chip cookies is easy! Just follow these simple steps.
Preheat oven to 350 degrees. Layer a cookie sheet with parchment paper. Set aside.
In a large bowl, cream together the butter and sugars.
Add the egg and vanilla to the butter sugar mixture and mix well. Stir in the pumpkin.
In a medium bowl, mix together the flour, oatmeal, baking soda, cinnamon, and salt.
Stir the flour/oatmeal mix into the pumpkin/butter mixture a little at a time. Stir in the chocolate chips.
Drop batter by tablespoonful onto the prepared cookie sheet. Bake for 20-25 minutes.
You can let them cool or eat them warm. I like them warm! Enjoy with a Pumpkin Spice Latte, a glass of milk, or apple cider.