This Instant Pot BBQ Ribs Recipe with homemade BBQ sauce will rock your world! A rack of ribs is effortlessly cooked to perfection in a pressure cooker. The ribs come out juicy and full of flavor, and are nicely finished under the broiler.
I absolutely love to grill in the summer time. Sometimes grilling is not possible due to weather (too hot or rainy) or because of where you live. Some apartment buildings don't allow grills.
If you don't have a grill, you need to get creative and learn how to cook ribs without a grill. You can use a griddle or skillet to cook up your favorite chicken or burgers, but have you heard of using an Instant Pot to cook ribs? Well it is possible! And they turn out really good! No one will even know you didn't grill them.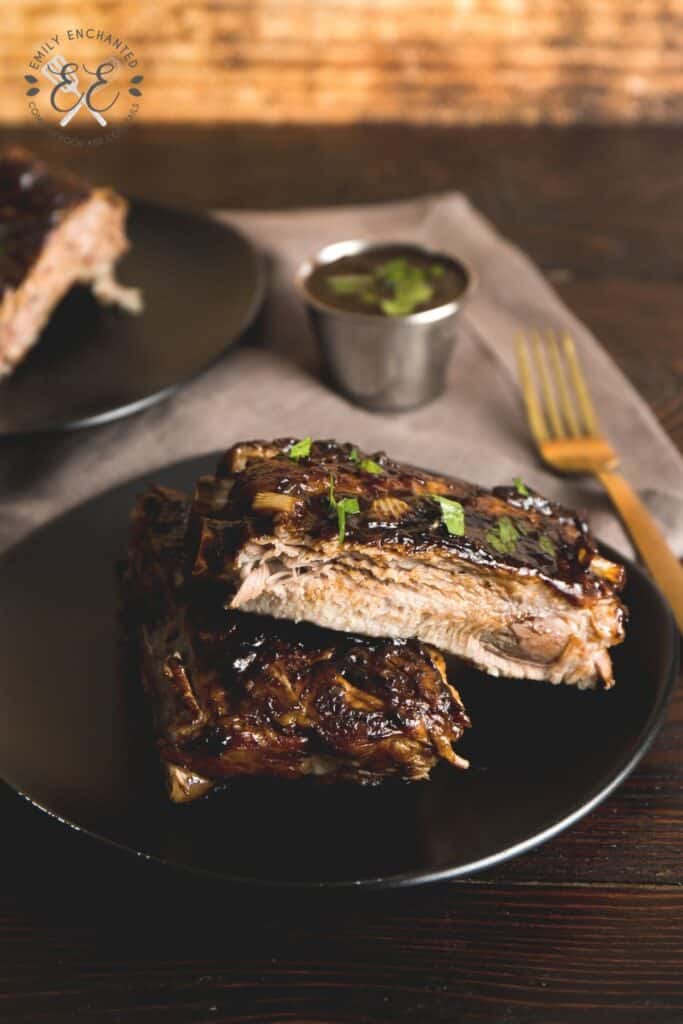 This post contains affiliate links.
Instant Pot BBQ Ribs Ingredients
To make this pressure cooker ribs recipe, you will need the following ingredients (see the recipe card below for exact amounts):
You will also need an Instant Pot for this recipe. The Instant Pot Duo is a Pressure Cooker, Slow Cooker, Rice Cooker, Steamer, and more all in one. This is probably the most common Instant Pot and works with this recipe.
How to Make BBQ Ribs in an Instant Pot
No grill? No problem! Making BBQ ribs in an Instant Pot is so easy. Cooking meat in a pressure cooker really seals in the flavor and the moisture. Dare I say this is better than grilling?
Season the ribs. Season the ribs liberally with salt and pepper on both sides of the rack.
Add ingredients to Instant Pot. Place trivet in the Instant Pot and ribs on top of the trivet in a circular fashion. Add water, liquid smoke, and the orange juices along with the leftover orange slices and rinds, into the Instant Pot.
Cook in Instant Pot. Secure the lid and set on manual pressure at High for 25 minutes. Allow for natural release for an additional 15 minutes.
Add BBQ Sauce and broil. Upon removal of the ribs from the Instant Pot, place on a foil lined baking sheet and coat both sides of the ribs with the homemade BBQ sauce. Broil in the oven on high for 2-3 minutes each side. Check the meat with an instant read meat thermometer to make sure the internal temperature is at least 145 degrees.
How to Make Homemade BBQ Sauce
Making homemade BBQ sauce is easy! It is also way more delicious than store bought sauce.
First, Combine the ingredients into a small pot on the stove. Whisk and cook ingredients over medium-low heat for approximately 15 minutes. Flavors will come together, onions will cook through, and the sauce will become thicker. Remove from heat.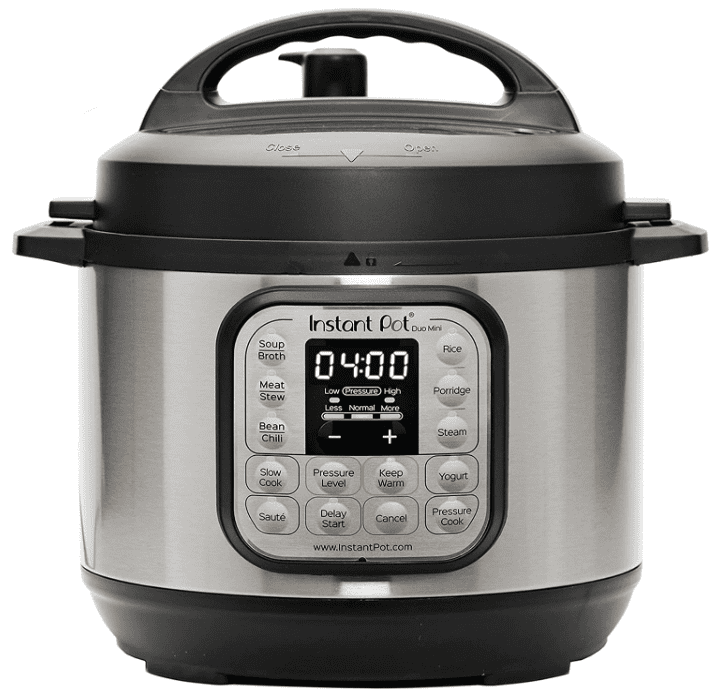 The Instant Pot Duo is simple and easy to use. This 7-in-1 appliance can pressure cook, slow cooker, steam, sauté & more.
Tips for Instant Pot Ribs
Use position two (the second highest rack) in your oven when broiling for best results.
You can saute the onions first in some butter for more depth of flavor.
If the back of the ribs has a membrane, do your best to remove that prior to cooking in the instant pot. It will not ruin your rib experience if you don't though.
Want to double the recipe? No problem! This recipe works for one or two sets of ribs. No need to adjust the sauce quantities. Just add a second set of ribs in the Instant Pot.
What to Serve with BBQ Ribs
Barbecue ribs are so rich and tasty, I could eat a whole rack! If you are looking to balance out your meal, I recommend serving with a vegetable side dish. A rack of ribs go great with potatoes, dinner rolls, and a variety of other vegetable side dishes.
If you are wondering what to serve with spare ribs, try one of these side dish recipes: