Skeleton Cookies are a Halloween sugar cookie recipe that are so cute, everyone will be wanting to grab one. With the homemade royal icing, you can also make mummy cookies.
Skeleton Cookies Ingredients
To make these skeleton and mummy cookies, you will need the following ingredients (see the recipe card below for exact amounts):
Butter, unsalted
Granulated Sugar
Clear Vanilla Extract
Almond Extract
Egg
All Purpose Flour
Unsweetened Natural Cocoa Powder
Baking Powder
Salt
Powdered Sugar
Whole Milk
Light Corn Syrup
Candy Eyeballs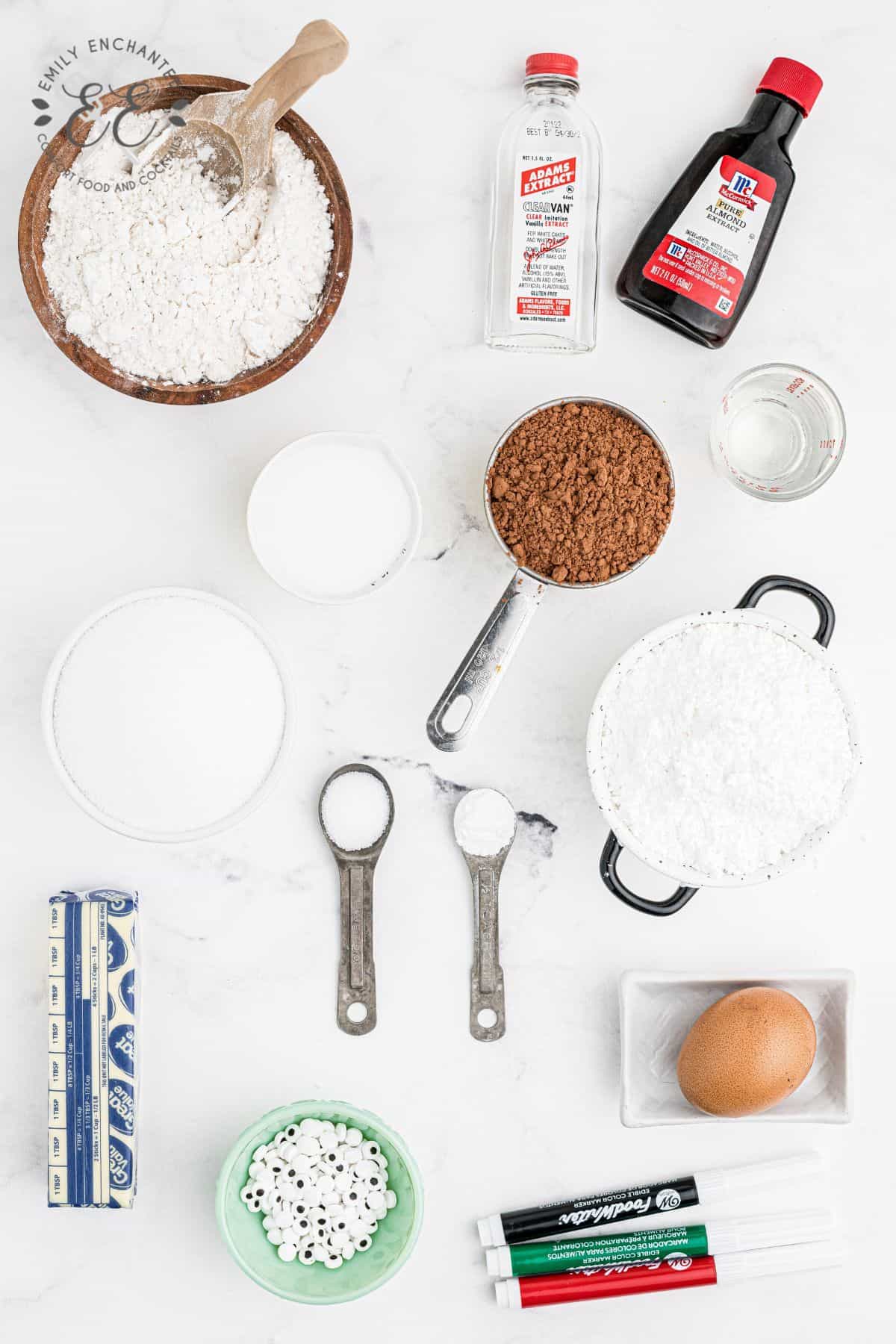 How to Make Skeleton Cookies
In a large mixing bowl of a stand mixer, add the butter and granulated sugar and beat until creamy (about 5 minutes).
Add the egg, 1/2 teaspoon clear vanilla extract, and almond extract. Beat again until mixed well.
In another large mixing bowl add the flour, cocoa, baking powder and salt. Mix with a whisk.
Add the dry ingredients in batches to the wet ingredients and mix until incorporated.
Take half of the batter and spoon onto plastic wrap. Once wrapped in the plastic wrap, flatten into a disc and refrigerate. Repeat with the remaining ingredients. Place the batter discs into your refrigerator and cool for 2 hours (or more).
Preheat your oven to 350°F. Line a cookie sheet with parchment paper.
Take one of the discs of cookie dough and unwrap. Place on a liberally floured surface, and roll out with a floured rolling pin. Roll out the dough to between 1/8" and 1/4" thick.
Using a gingerbread cookie cutter, cut out as many cookies as you can and lay out on the cookie sheet. Re-roll out the remaining dough and cut more cookies out until there's no dough left.
Bake for 8-10 minutes, remove from the oven, allow to cool for 10 minutes on the cookie sheet, and then transfer to a cooling rack. Repeat with the second disc of cookie dough.
In another large mixing bowl add the sifted powdered sugar, whole milk, light corn syrup and remaining clear vanilla. Mix well until you get the perfect consistency for the royal icing. When you drizzle the icing back onto itself it should hold its shape a little before melting back into the icing.
Spoon the icing into a piping bag with a Wilton #1 piping tip and coupler. Carefully pipe the icing onto a completely cooled cookie.
When making the skeletons, start by drawing a hole which will be the open mouth. Then pipe around it for the skull. Use a tooth pick where necessary to help fill in. Then add two eyeballs to each skull.
For the mummies, pipe out the lines (not too close together or they will bleed into each other and be less distinguishable). Then add the eyeballs.
Allow the cookies to dry a few hours, the royal icing will harden nicely.
Storage Instructions
Once the icing has hardened these cookies can be stored at room temperature in an airtight container for up to 2 weeks.
More Halloween Cookie Recipes