Fall Chocolate Covered Pretzels with Sprinkles is a colorful and easy fall dessert. Colored chocolate and festive sprinkles make this a fall treat that everyone will love.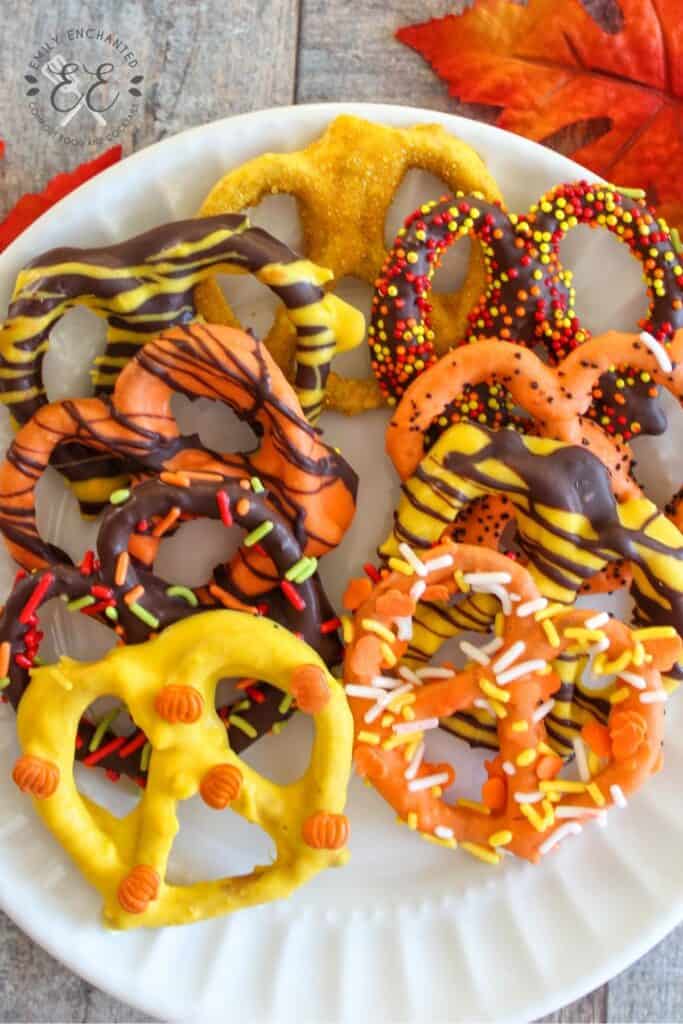 This post contains affiliate links.
Fall Chocolate Covered Pretzels Ingredients
This recipe makes as much as you want! So the quantity is up to you.
Pretzels
Fall sprinkles
Orange chocolate candy melts
Yellow chocolate candy melts
Brown chocolate candy melts
How to Make Chocolate Covered Pretzels
Using 3 separate bowls, melt the candy melts in the microwave for about 30-45 seconds (time may vary depending on your microwave).
Dip the pretzels in the chocolate with a fork, let the excess chocolate drip off, and place the pretzel on a parchment lined baking sheet. Using a fork allows you to cover the whole pretzel with chocolate. If you only want to dip half of the pretzel, you can use your fingers.
If you want to take your chocolate pretzels to the next level, drizzle different colored chocolate on top of the already covered pretzels. For example, on a brown dipped pretzel, drizzle orange and yellow chocolate on top.
Decorate with your sprinkles as desired. Place in the freezer for about 30 minutes to set.
What Kind of Pretzels are Best For Dipping in Chocolate?
For this recipe, I like to use large pretzel twists or tall pretzel rods. These are easiest for dipping in chocolate.
I have linked them here so you know what to look for, but I recommend buying them from a grocery store so you can make sure you get a bag that doesn't have many broken pretzels.
More Fall Dessert Recipes