Grape Salad is an easy dessert recipe that is sweet and creamy. Whipped cream cheese and mascarpone cheese are mixed with red and green grapes for a colorful side dish recipe.
This recipe can be either a dessert or side dish. My family loves eating sweet side dishes – jello "salad", marshmallow fluff salad, and this snickers salad. Grape salad is great for bringing to potlucks and picnics.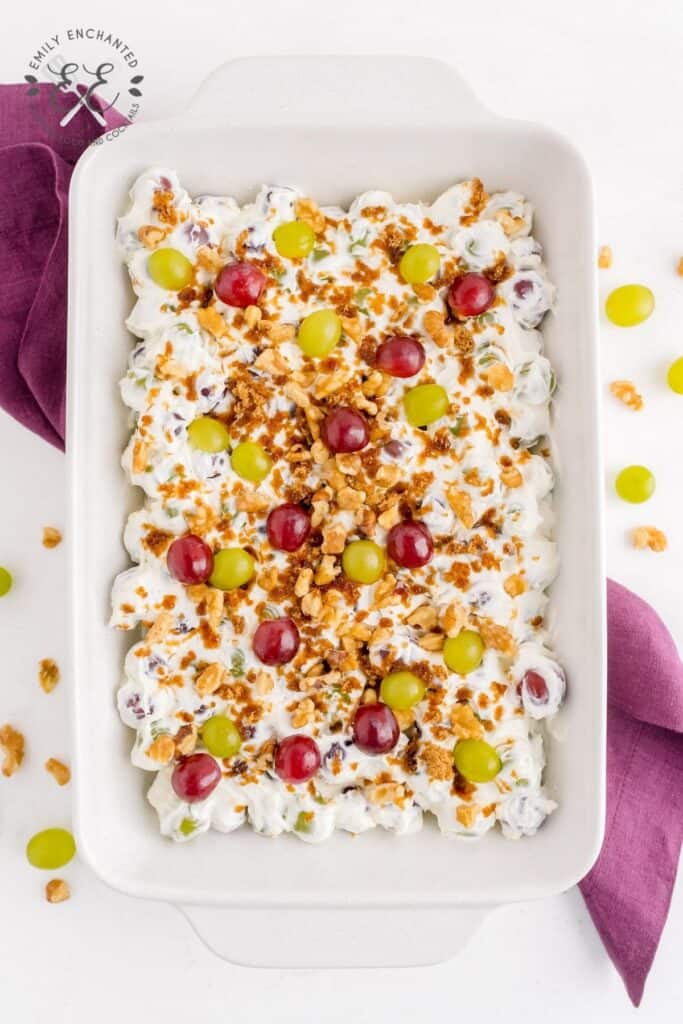 Grape Salad Ingredients
To make one of my favorite grape recipes, you will need the following ingredients (see the recipe card below for exact amounts):
Whipped cream cheese: whipped cream cheese is way easier to mix
Mascarpone cheese
Cool Whip
Grapes: using both red and green grapes makes this dish so pretty. Of course, you can use just one or the other.
Powdered sugar
Walnut pieces: If you only have halves and whole pieces, you can chop the walnuts in a food processor.
Brown sugar
How to Make Grape Dessert Salad
Make cream mixture. In a large mixing bowl beat whipped cream cheese, mascarpone cheese, and cool whip until smooth with a handheld mixer. Slowly beat in powdered sugar.
Add grapes. Fold grapes into mixture and pour into a 2-3 quart serving dish or bowl.
Add toppings. Sprinkle with brown sugar and walnut pieces.
Do I Need to Chill this Dessert Salad before Serving?
No. The only time you will need to chill this recipe is if you choose to let your whipped cream cheese and mascarpone cheese set at room temperature prior to mixing.
Storage Instructions
This recipe will last up to 4 days if stored in an airtight container in the refrigerator.
Grape Salad Tips
You can add more brown sugar for extra sweetness and more walnuts to your preference.
You can eliminate the powdered sugar if you do not want the salad to be as sweet.
You can cut the grapes in half if you have large grapes to make the salad easier to eat.
I always recommend using Cool Whip whipped topping because generic brands seem to be more watery.
Feel free to add more grapes if you think you have too much cream mixture.
What Grapes Should I Use for this Recipe?
You can use any style of grapes that you like. I like to use grapes of varying colors to make it pretty. Choose grapes that are firm and do not have splits or soft spots. This will help to ensure your grape salad leftovers stay fresh.