This Easy Macaroni Salad is a cold side dish made with pasta and colorful vegetables like red bell pepper, green bell pepper, and red onion. It is mixed with a light, creamy sauce of mayonnaise, mustard, and seasoning. This simple pasta salad goes with any meal.
Macaroni Salad is the perfect side dish for pool parties, barbecues and picnics. Because you serve it cold, you can make it ahead of time.
This colorful pasta salad is one of my favorites and I know you will love it too. Many summer macaroni salad recipes are heavy on the sauce, but this one really lets the veggies shine through.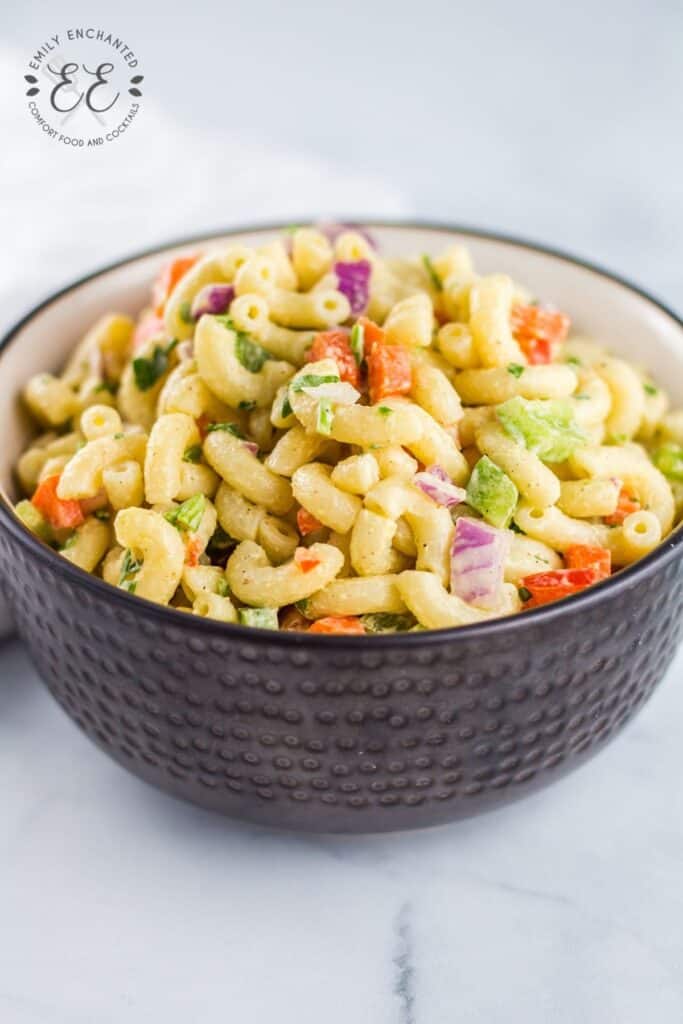 This post contains affiliate links.
Easy Macaroni Salad Ingredients
To make this cold side dish recipe, you will need the following ingredients (go to the recipe below for exact quantities and instructions):
Red Onion
Green Bell Pepper
Red Bell Pepper
fresh Parsley
Carrot
Mayonnaise
Salt and Pepper
How to Make the Best Macaroni Salad
Cook the pasta. Cook macaroni to al dente texture according to package directions, drain and rinse. Transfer to large bowl, let cool. You can put the bowl in the refrigerator if you want the noodles to cool more quickly.
Prepare the veggies. While macaroni cooks and cools, chop red onion, bell peppers, parsley and dice carrot.
Mix with sauces. Add red onion, bell peppers, parsley, carrot, mayonnaise, mustard and salt and pepper to macaroni. Mix well and refrigerate until cool.
Serve and enjoy! Serve cold or at room temperature.
How to Cooke the Perfect Al Dente Noodles
Al dente means that a noodle is firm to the bite. I like to scoop a few noodles out of the pasta water with a spoon and run under cool water in the sink, then bite into the middle of the noodle. If it is still white inside, it is not done cooking. You want to cook the noodles just until the white disappears.
This summer macaroni salad recipe calls for al dente noodles so that they keep their shape when you mix with the other ingredients.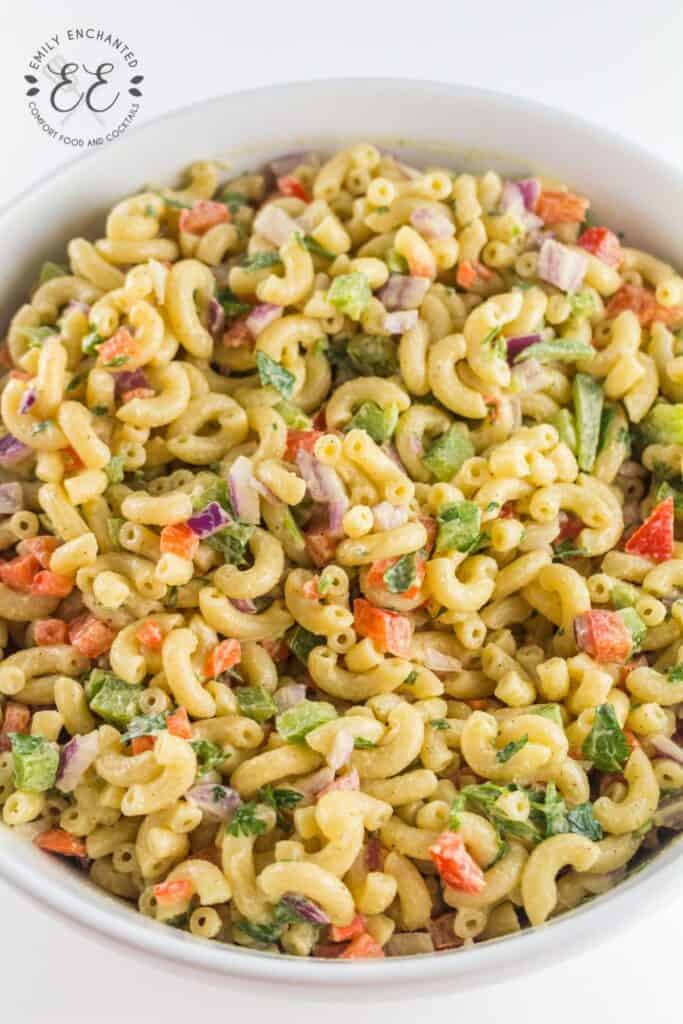 Pasta Salad Variations
You really can't go wrong with any version of pasta salad. Here are some things you might want to try:
Horseradish: add just a teaspoon for a little added bite
Salami: add some chopped pieces of thick salami
Bacon bits
Other Summer Side Dish Recipes