Unicorn Poke Cake is a magical cake with pastel colors inside and a Cool Whip frosting. Add sprinkles on top for a fun and colorful cake.
Poke cake is really fun to make. By poking holes in the baked cake, you can add other flavors to the middle for a fun surprise!
Unicorn themes are great for birthday parties and baby showers. This is the perfect cake for a unicorn party! Serve with Unicorn Hot Chocolate.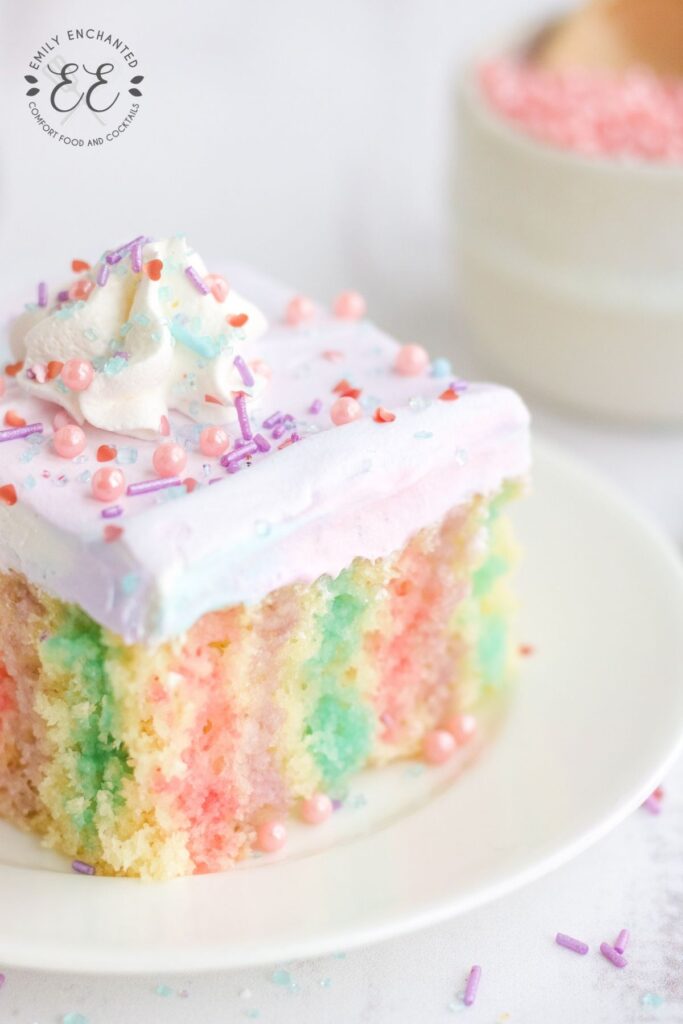 Unicorn Poke Cake Ingredients
To make this unicorn cake, make sure you have the following ingredients on hand (see the recipe below for exact amounts and instructions):
White cake mix
Water
Vegetable oil
Eggs
Water
Strawberry jello mix
Grape jello mix
Blue raspberry jello mix: If you cannot find blue raspberry jello, you can add blue food color to unflavored gelatin.
Cool Whip
Optional: food coloring and sprinkles
How to Make Unicorn Poke Cake
Preheat the oven to 350 degrees and prepare a 9×13 inch baking pan with a light coating of cooking spray. Set aside.
In a large bowl, combine cake mix, water, vegetable oil and eggs. Mix until thoroughly combined.
Pour batter into the prepared baking pan and bake for 25 minutes or until a toothpick inserted in the center comes out clean.
Allow the cake to cool, then using the handle of a wooden spoon poke holes over each inch of the cake. Set aside.
In three small bowls, combine each jello package with 1 cup boiling water. Whisk together until fully combined.
Use a Tablespoon to pour jello mixture into the holes in cake, alternating colors according to preference until each hole has been filled. Do not use all the jello.
Place the cake into the refrigerator and let it cool for 2 hours.
If desired, color the whipped topping and spread over the cooled cake and top with sprinkles as desired before serving.
What Can I Do With the Leftover Jello?
You will have lots of jello leftover, so be sure to prepare a glass pan for some jello jigglers!
More Poke Cake Recipes